Unfunny money
Tuesday, 4/24/2007 16:46
This bank note is no more; it has ceased to be...
THIS BANK NOTE is no longer acceptable currency in Zimbabwe. It "expired" when the Reserve Bank withdrew it in Dec. '05, being replaced by new notes.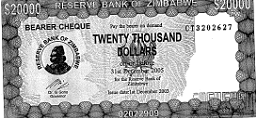 Runaway inflation, currently at 1700% annually, has decreased the value of the central bank's payments and resulted in constant and large increases in the costs of labor and supplies. The concept of the "bearer cheque" still exists in Zimbabwe, but two or more noughts have been added.

Shopping has to be done daily, not only to spend the depreciating money, but in the search for much-needed items.

Now the Reserve Bank of Zimbabwe (RBZ) is allegedly failing to pay for gold. That's resulting in most gold producers not receiving payment for gold remitted at the start of this year.

"Since October last year, the RBZ has been experiencing severe difficulties in paying gold producers for gold lodged with Fidelity Printers and Refiners," according to reports. "As of the beginning of April, most gold producers were not paid for gold lodged in January. The delays have impacted negatively on production."

The local Chamber of Mines reports that delayed payment and a misaligned exchange rate have "understandably combined to create a viability crunch that is threatening the very existence of the gold industry in Zimbabwe".

Available statistics show that gold remitted to the RBZ in February declined to 768kg from 819kg in January.

CEO of the Chamber of Mines, David Murangari says that owing to delays in payment, both local and foreign suppliers are now demanding cash upfront for goods and services provided to miners.

"At the current exchange rate, we have a big mismatch between operating costs and returns. The price of Z$15,000 per gram has to be reviewed upwards if miners are to benefit from the international price of US$650 per ounce," he told reporters.

The current per gram price of Z$15,000 has been in place since last October despite the increase of "basically everything" on the local market. But the RBZ has referred all questions to Fidelity Printers and Refiners. When contacted for comment, they referred all questions back to the central bank.

Gold production currently accounts for over half of Zimbabwe's mineral production, one third of the country's GDP, and is one of the few remaining sources of access to foreign currency. As a result, this industry is key to Mugabe's continued ability to provide key elites with all their wants, plus more.

Consequently, the new platinum mines in Zimbabwe have to be a target for Mugabe too, at some point.

Here in South Africa, we hear much talk of how Zimbabwe will improve once Mugabe is dead. But we are saddened to report that the whole political system from top to street level has been corrupted. The Zanu PF are unashamedly persecuting their opponents. Investors have to ask, from where will a new leader come and to serve whose interests? The political scene is entirely inept at changing the situation in that country. South Africa has no interest in stepping in to change matters either, so who will?

Here at GoldForecaster.com, we continue to say this is not a home for a wise investor's money.