See Uncle Sam Borrow
Thursday, 8/27/2009 10:23
And just watch him spend...

SEE UNCLE SAM BORROW, writes Eric Fry in his Rude Awakening.

Uncle Sam, borrow! Borrow. Borrow. Borrow. Uncle Sam likes to borrow. Borrowing is fun.
See Uncle Sam spend. Spend, Uncle Sam, spend! Spend. Spend. Spend. Uncle Sam likes to spend. Spending is fun. It is fun to borrow and spend...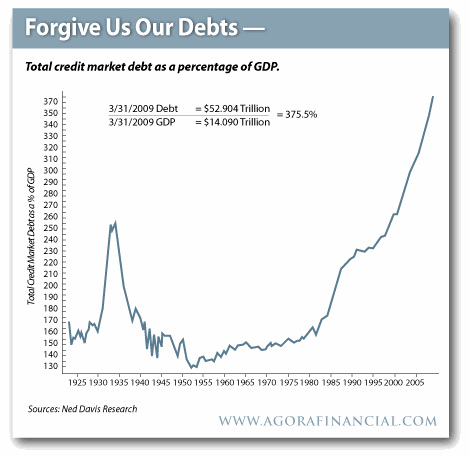 Sustainable or Unsustainable?
But is it wise? Let the reader decide...
And while trying to decide, let the reader also guess whether America's skyrocketing debt load will ever cause a rain cloud to pass over Wall Street.
Based on recent trends, for example, the more money the government borrows, the higher the stock market flies. The eager buyers of common stocks don't seem to care about the uncommonly large debts the government has been piling up lately. Nor do the eager buyers of common stocks seem to care about the sluggish economy, the rising unemployment rate, the slumping Dollar or any other seemingly sub-optimal data point.
The federal debt has clearly snapped loose from its moorings to fiscal probity. But since so many investors have snapped loose from their mooring to caution, the stock market continues to soar. Rising prices are fun. They cause investors to imagine wonderful things about the economy...and to assume that share prices will continue rising for a long time.
Meanwhile, over in the bond market, investors continue to show up to buy Treasury bills, notes and bonds...no matter how large the quantities of debt that Uncle Sam is peddling.
Last week's auction schedule was truly amazing, in and of itself:
$31 billion in three-month bills
$30 billion in six-month bills
$27 billion in 52-week bills
$42 billion in two-year notes
$39 billion in five-year notes
$28 billion in seven-year notes
"This is the price of supporting the graft and fraud in our banking system," gripes market commentator, Karl Denninger. "I count $207 billion, coming two weeks after a $250 billion dollar week. Let's annualize – that would be about $5 trillion a year in annualized issuance.
"My-oh-my how long can this continue? Who knows?" Denninger says in response to his own question. "What I do know is that this is absolutely unsustainable, it is approaching 40% of GDP annually, and yet this is what is required to keep all the balls and plates in the air...
"The world's tolerance for this will eventually end."
Maybe yes. Maybe no. The world's investors seem to tolerate dubious investment propositions for a very long time. At present, for example, they are tolerating a 30-year Treasury bond yielding only 4.24%. In fact, they aren't merely tolerating it; they're diving in and buying the stuff hand over fist.
Seems like a funny response to America's soaring indebtedness. It would be like refusing to lend your unemployed brother-in-law ten bucks...until he had already borrowed $10,000 from someone else.
If we were inclined to worry, we might worry that investors are confusing government debt with private capital. Money is money, of course, but the source of the money might matter a little bit.
Usually, economies flourish when the private sector amasses capital and re-invests that capital in productive endeavors of various sorts. Unusually – as in, never – economies flourish when governments borrow outrageous sums of money and disperse the proceeds across the economy like confetti over a ticker-tape parade.
The confetti contributes to a temporary feel-good atmosphere, no doubt. But after the parade ends, the confetti is just a messy pile of worthless paper.