Fancy Some Fudge?
Wednesday, 10/31/2007 14:41
The latest US stat's put growth at 3.9%, but inflation suddenly sank to a 43-year low...
THE U.S. Non-Government GDP deflator – a measure of price inflation for private business and consumers – suddenly sank between June and Sept. according to the latest data.
Dropping from 2.6% in the second quarter of this year to 0.7% in the third quarter, in fact, it dropped to a 43-and-half-year low.
Economic growth, on the other hand – which is tempered by the GDP deflator – rose from 3.8% to 3.9%, according to the Bureau of Economic Analysis.
Or is that merely a convenient statistical fudge?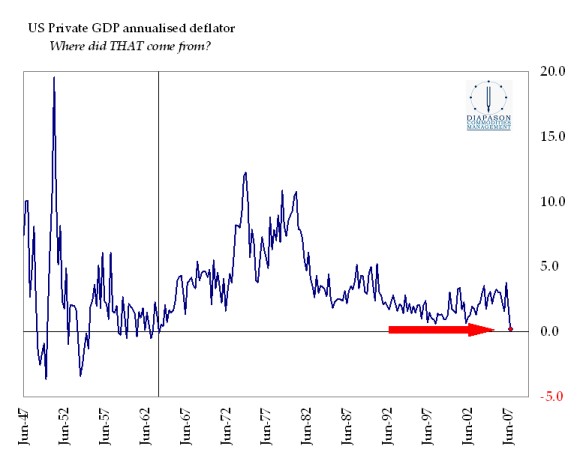 At a time of soaring commodity prices, solid wage gains, and a weakening Dollar, are we supposed to believe that the rate of price inflation in the US fell from a 16-year high in March to its lowest level since 1964 by the end of last month...recording the most rapid two-quarter slowdown since the winter of 1975/1976...?
Other than that post-oil-shock drop, this would mark a 50-year minimum.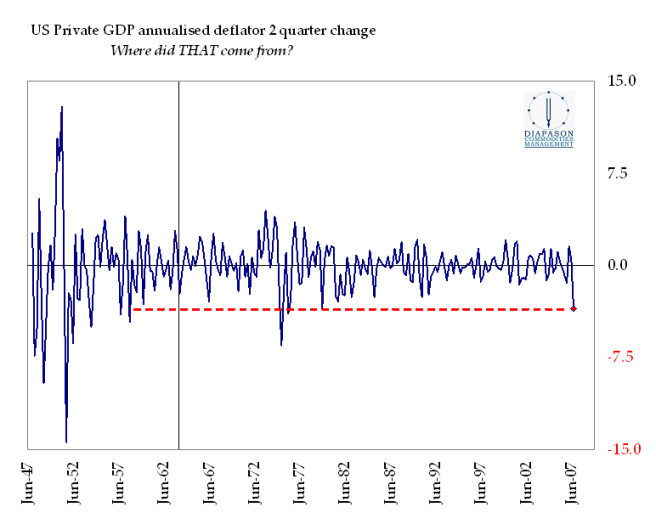 But then, if the Bureau of Economic Analysis had deflated US economic growth by the average GDP deflator of the previous four years – some 2.8% – third-quarter economic growth in the US would have been reduced to a sickly 1.3%...rather than the 3.9% suddenly being trumpeted across the financial newswires today.