Call In the Cavalry!
Wednesday, 4/08/2009 11:03
Inflation to the left, inflation to the right. Time to Buy Gold...?
EUROPEAN CENTRAL BANK executive-board member Jürgen Stark seems to feel the world's tilt against the current financial crisis offers prospects as dismal as those bestowed upon Lord Tennyson's benighted Light Brigade, writes Brad Zigler for Hard Assets Investor.
Interviewed by the German business daily Handelsblatt, Stark darkly opined on the inflationary consequences of a planned $250 billion injection of Special Drawing Rights (SDRs) into the International Monetary Fund.
Stark sees inflation all around us, much as cannon confronted the doomed cavalry detachment in the Crimean War. Not one to shy from either the obvious or hyperbole, Stark told Handelsblatt, "That is pure money creation. That is helicopter money for the globe."
The helicopter reference was a rather unsubtle dig at the US effort to ward off deflation, championed by Federal Reserve Board Chairman Ben Bernanke. As a Fed governor in 2002, Bernanke became famous for picking up Milton Friedman's analogy for central-bank money injections as dropping cash from helicopters.
Helicopters and cavalry aside, Stark's concerns can certainly be understood.
The correlation between SDRs and the greenback is strong and, in fact, strengthening as Gold is being talked down by global policy makers. A four-year coefficient of 98% makes the IMF basket – which is filled nearly two-thirds with dollars, alongside Euros, Yen and Sterling – a virtual clone of the US buck.
Herr Stark's Euro is no statistical slouch either. The SDR's 41% Euro weighting yields a 92% correlation to the Continental currency.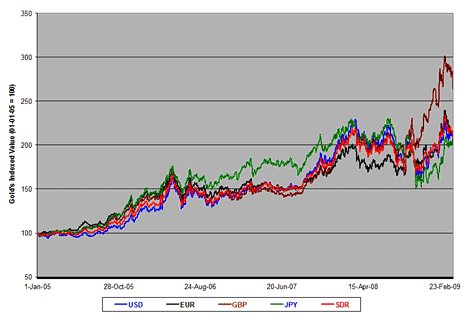 Measuring inflation as a currency's depreciation against gold, rather than some notional basket of consumer items, Eurozone inflation has been picking up since last July when the Dollar was cheapening 3.4% faster than the Euro.
Now the difference has been pared to 2.3%. Just since the conclusion of the G-20 talks, the relative inflation rate ratcheted down a third of a percentage point.
But overall, the world's apparent cavalry currency – the IMF's Special Drawing Right – has lost well over half its value to inflation (as measured by Gold) in the last four years.