QEII Sinking?
Thursday, 1/20/2011 10:57
Is the Federal Reserve's second dose of quantitative easing already failing...?


Is THE STOCK MARKET beginning to top out? We think so, writes Greg Canavan in The Daily Reckoning Australia.

Wednesday saw the S&P500 fall 1%, although the large-cap Dow Jones Industrials index only fell a few points. Nothing too dramatic, and certainly not enough to scare the permanently bullish, but it's probably a sign of things to come.

As Dan wrote in the Aussie Daily Reckoning yesterday, QEII is beginning to sink. How do we know? It's a matter of probabilities. We can't seem to recall anytime in history where printing money created lasting benefits or wealth. So why should this time be different?

Sure, there are a few major beneficiaries of QEII. Bankers, for instance. The world's central banks create money but private banks disburse it. As the newly created money washes through their computer screens, they take a portion for 'services rendered'.

By the time those funds spread to the broader economy, it turns into inflation. Those furthest away from the source of money are the ones who pay for it.

That's why you are seeing commodity prices, especially food prices, skyrocket. Inflation is becoming a problem across the emerging markets. Also, rising fuel prices are hitting consumers everywhere. Every extra Dollar spent on fuel is one less Dollar to save or spend. And check out the chart below. It shows the ishares MSCI emerging markets index. For all the bullishness about emerging markets, the index is no higher than it was in November.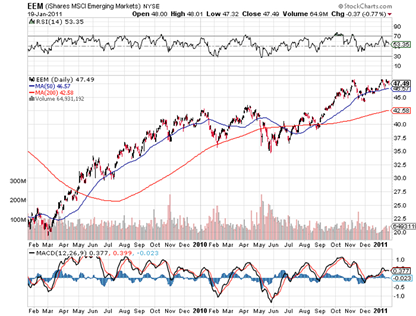 Following a correction, the index tried to move up through the old highs but has since fallen back again.

And with many emerging market economies attempting to fight inflation (if lamely, in some circumstances) it's hard to see how emerging markets can continue to move higher from here.

What QEII gives with one hand it takes from the other. It's just that it gives to one segment of society and takes from another, which is what makes markets and capitalism so 'unfair'.

QEII creates a false illusion of wealth and prosperity. But it's not sustainable. Most investors realise this, so they instead turn to speculation. They know there is a chance of making some short-term money. They think they will be able to get out before everyone else.

We think the smart speculators are now beginning to get out. A top is forming. Soon, the dumb ones will follow en masse. Then we should see some fireworks.

Buying Gold today? Make it simple, secure and cost-effective by using world No.1 online, BullionVault...