Zimbabwe: Pathology of Inflation
Wednesday, 2/11/2009 10:28
How deliberate inflation took hold in Zimbabwe, destroying its economy...
LAST WEEK, writes John Lee of GoldMau.com, Zimbabwe slashed 12 zeros from its currency's denominations as hyperinflation continued to erode value.
The Reserve Bank of Zimbabwe acted in late January as the government instituted price cuts to try and arrest inflation by diktat. But it's become apparent that the forced price cuts cause bare shelves in shops. Many businesses are closing.
"Even in the face of current economic and political challenges confronting the economy, the Zimbabwe Dollar ought to and must remain the nation's currency," said Gideon Gono, governor of the Reserve Bank of Zimbabwe, "so as to safeguard our national identity.
"Our national currency is a fundamental economic pillar of our sovereignty."
Gono has sent in the police to arrest businessmen for failing to reduce their prices. On one occasion, he personally visited shop owners in Harare to demand they lower prices. Despite these efforts, inflation in Zimbabwe remains the world's highest at 231 million per cent.
"Accordingly, therefore, this monetary policy statement unveils yet another necessary program of revaluing our local currency," said Gono of the new re-denomination, "through the removal of 12 zeros with immediate effect."
The move means that 1 trillion in Zimbabwe dollars now will be equivalent to one Zimbabwe dollar.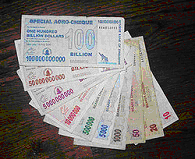 Gono has printed enormous quantities of money against the advice of economists, but with full support from Robert Mugabe. As predicted by the textbook quantity theory of money, this practice has devalued the Zimbabwean Dollar and caused hyperinflation.
Back on 16 February 2006, Gideon Gono announced that the government had printed ZW$20.5 trillion in order to buy foreign currency to pay off its arrears with the International Monetary Fund (IMF).
In early May of that year, Zimbabwe's government announced that they would produce another ZW$60 trillion. The additional currency was required to finance the recent 300% salary increase for soldiers and policemen, plus a 200% increase for other civil servants.
The money was not budgeted for the current fiscal year, and the government did not say where it would come from. But on 29 May 2006, Reserve Bank officials told a newswire that plans to print about ZW$60 trillion (then about US$593m at official rates) were briefly delayed after the government failed to secure foreign currency to buy ink and special paper for printing money.
In late August 2006, three zeros were chopped off the old currency to form the new Zimbabwean Dollar. It was reported that about ZW$10 trillion old dollars (22% of the money supply) had not been exchanged for revalued dollars.
On 27 June 2007, it was announced that central bank governor Gideon Gono had been ordered by President Robert Mugabe to print an additional ZWD$1 trillion to cater for civil servants' and soldiers' salaries, hiked by 600% and 900% respectively.
The next month, Mugabe said Zimbabwe would go on printing money if there is not enough for underfunded municipal projects. And by September 2007, it was reported that that the black market in Zimbabwe was once again booming despite price controls. People previously employed for a paltry US$11 a month (ZW$2 million) a month were able to turn as much as US$166 (ZW$30m) just through black market trading.
On 24 November 2007, it was reported that the Zimbabwean money supply had reached $58 trillion revalued ZW Dollars (some $41 million US at parallel rates). However, Zimbabwe's banks could only account for $1 to $2 trillion of those dollars, meaning that members of the public were holding $56 to $57 trillion in cash.
By January 2008, the money supply had been increased by ZW$33 trillion, reaching $100 trillion of the newly revalued Zimbabwean Dollars. And on 21 January 2008, it was reported by Gideon Gono of the Reserve Bank that the money supply had been increased to ZW$170 trillion since the middle of December.
Furthermore, Gono expected Zimbabwe's money supply to reach ZW$800 trillion by the following week.
Come March 2008, documents obtained by The Sunday Times showed that the Giesecke & Devrient (G&D) printing and paper company in Munich, Germany, was receiving more than €500,000 per week (then US$750,000) for delivering bank notes at the astonishing rate of ZW$170 trillion a week.
"The regime is surviving by printing money," said Martin Rupiya, professor of war and security studies at the University of Zimbabwe. "At this stage there is no other way."
On July 1 last year, and bowing to pressure from the German government, Giesecke & Devrient decided they would no longer print bank notes for Zimbabwe. By this point, said London's Guardian, one egg cost ZW$50 billion (17 pence, 32 US cents). It also showed a monthly war pension for Robert Mugabe's supporters stood at ZW$109 billion (37 pence, 74 US cents), and that shops could only cash cheques if the customer wrote double the amount, because the cost would go up by the time the cheque had cleared.
ATM cashpoint withdrawals were meanwhile limited to ZW$100 billion.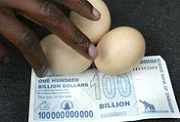 On 23 July 2008, an Austro-Hungarian company based in Vienna confirmed that it was providing the Reserve Bank of Zimbabwe with the licences and software required to design and print Zimbabwe currency. The next day, the Reserve Bank of Zimbabwe announced that "appropriate measures are being put in place to address the current setbacks being faced on the currency front, as well as on financial and accounting systems."
It promised that in "the next few days" it would institute changes to the minimum cash withdrawal limits and IT systems' constraints. Current limits were less than the cost of a loaf of bread, and the country's IT systems could not handle the huge numbers needed to process even the smallest transactions. The automated teller machines for one major bank give a "data overflow error" and froze customers attempting to withdraw money with so many zeros.
That same day, the Institute of Commercial Management reported that ZW$1.2 trillion was worth the same as just one British Pound Sterling. From January to December 2008, the money supply growth rose from 81,143% per year to 658 billion per cent.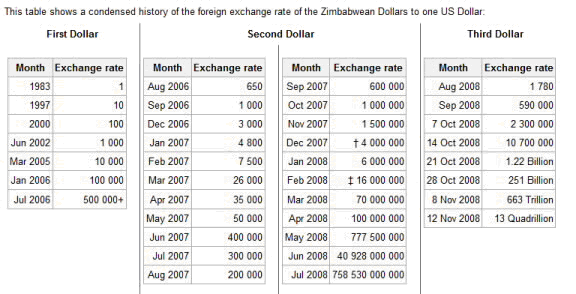 Critics have noted that most of Gideon Gono's monetary policy statements at the Reserve Bank of Zimbabwe have had biblical references. Notably, he usually ends in policy statements to the Parliament of Zimbabwe by saying:
"In the Lord's hands, I commit this Monetary Policy Framework for our economic turnaround."