Do You Know Why You're Buying Gold?
Monday, 4/29/2013 15:42
Do you see gold as insurance or as a trade...?
AS IS QUITE evident from the past couple months, investing in gold can be rather volatile, writes Sasha Cekerevac of Investment Contrarians.
Clearly, the recent huge sell-off in the price of gold bullion has shocked some people; an interesting result has been the reaction from the retail public, as many are now buying gold bullion in record amounts.
Last week, the United States Mint actually ran out of the smallest American Eagle gold coin, and sales to India were 20% higher than the previous record, according to Standard Chartered PLC. Clearly, physical demand remains strong for gold bullion. (Source: Roy, D., et al., "Gold Rout for Central Banks Buying Most Since 1964: Commodities," Bloomberg, April 25, 2013.)
Here is a key question for those who are considering investing in gold: what are your goals? Is a person investing in gold to diversify his or her assets or to trade and generate profits?
Having gold bullion as part of one's portfolio can make sense as long as it's understood that volatility will continue to be present. Since larger investors have added gold bullion as another asset to trade, determining the price of gold bullion has become increasingly difficult.
A chart for gold bullion is featured below: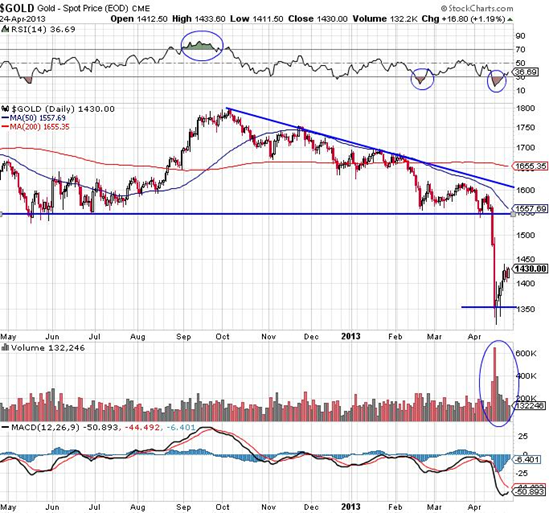 Chart courtesy of www.StockCharts.com
The recent drop in gold bullion erased an estimated $560 billion in the value of central banks' holdings, and it was one of the largest drops in 30 years. The huge spike in volume and the massive move indicate several large stops were triggered, causing the holders to liquidate their positions.
The question now: is the selling in gold bullion completed? Since no one can ever know the holdings and intentions of every investor, we can only discern from the large increase in volume that gold bullion might have possibly developed the floor at approximately $1,350 an ounce. However, there is no certainty that there will be enough buying demand to overcome the selling pressure. We would need to see gold bullion move back up to the previous support level, which will now be the resistance level, and how the market for gold bullion reacts.
The Relative Strength Index (RSI) spiked to extremely oversold levels, as noted by the circled areas in the above chart. These circles show several other points in the past where gold bullion became oversold or overbought. However, just because a market is showing an RSI in oversold or overbought territory, this does not mean that the market has to reverse. The market in gold bullion was oversold in February, but, as we all know, it continued lower.
Investing in gold over the past couple months has been difficult for many people. There are still large investors who are holding massive positions in gold bullion, such as hedge fund manager John Paulson with reported holdings at the end of 2012 equivalent to 65.7 tonnes. If investors in Paulson's fund decide to redeem their cash, this could drive gold bullion even lower, because he would be forced to sell on the open market.
If you were investing in gold as an insurance policy, then much like your car or life insurance, you would not be continually checking it every day. Gold bullion is excellent as a trading vehicle because it provides plenty of volatility, but one must be flexible in being able to go both long and short with gold at a moment's notice.
The key question: are you investing in gold as an insurance policy or as an active trader/investor looking to generate profits? Knowing the answer to this question will dramatically alter your trading strategy for gold bullion after the latest sell-off.