Twitter Twits
Monday, 10/28/2013 18:19
Ooh, ooh! Twitter stock for sale! Gotta buy it – no time to wait...
A SIMPLE
misplaced letter can make a world of difference,
writes Dan Steinhart, managing editor of The Casey Report from Doug Casey's research group.
Three weeks ago, on an otherwise quiet Friday, voracious investors piled into the most anticipated tech IPO since Facebook. Buyers bought over 14 million shares of social media giant Twitter, sending its price soaring over 1,000%.
Or so they thought. Twitter's shares aren't public. The company doesn't IPO until November.
Instead of buying shares in Twitter, these twits were unknowingly throwing money at penny-stock Tweeter, which trades under the symbol TWTRQ. Similar to Twitter's proposed ticker of TWTR, but not the same. That "Q" changes everything.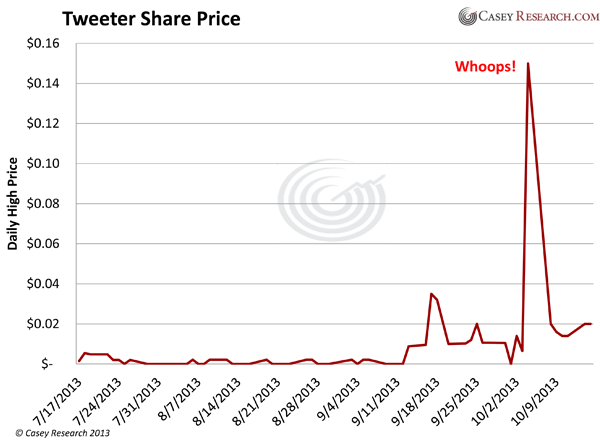 Tweeter, if you're wondering, is a bankrupt Boston-based electronics retail chain. There's a decent chance your house is worth more than the entire company, about $600,000.
Twitter, of course, is a social media powerhouse sporting 218 million users and a valuation of $15 billion. How investors could confuse the two is a mystery. To me, the only possible explanation is that a human brain was not part of the equation. I don't know about you, but I never buy a stock without triple-checking that I have the right one. This incident has "algorithm" written all over it.
It seems the culprit was a computer program designed to speed-read the news and then trade based on its findings. The day before the incident, Twitter filed its IPO paperwork, a prerequisite to executing its IPO. An algorithm must have read a news article, observed "Twitter" and "IPO" in the same sentence, and gone on a misdirected shopping spree.
This one episode is enough for a chuckle, but it happened again a few days later. This time, TW Telecom, which trades under the ticker TWTC, soared from $30 to $300 in a matter of seconds, apparently for the same reason. Nasdaq canceled the trades, saying the transactions were "clearly erroneous".
Investors sure are antsy to start trading Twitter stock. No wonder: social media is red hot. I just got a marketing email this morning touting the track record of "the only Social Media ETF," ticker: SOCL. Apparently, it has outperformed the S&P 500 threefold in 2013. That's quite an accomplishment given that the S&P 500 has risen a handsome 20% itself in 2013.
And take a look at a few of the individual social media companies. Facebook, having fully recovered from its disastrous IPO in the spring of 2012, has doubled in the past three months and is trading at its all-time high. LinkedIn is just a hair below its all-time high. Groupon, the comparative laggard, is "only" near its 16-month high.
What's the driver here? It sure as heck isn't fundamentals. Facebook sports a P/E ratio of 211x, and LinkedIn is selling for 646 times latest earnings. Groupon's is infinity, because it's losing money. Yet it's worth about $8 billion. Those nosebleed valuations would make the dot-com era darlings jealous.
Now, all three of these companies are in the earlier stages of learning how to monetize their massive user bases. I'm sure their potential is breathtaking if they can execute. But that's a big if. Remember what happened the last time investors ascribed triple-digit P/E ratios based on potential alone? Every company with "e" in front of its name (eToys) or ".com" behind (pets.com) soared, only to leave investors broke when the dot-com bubble popped.
Even the survivors of that era that eventually transformed into tech powerhouses struggled. Amazon, an amazing company that seems to offer the best price on every legal product known to man, lost 93% of its value during the dot-com bubble. It eventually recovered to surpass its old all-time highs, but it took a decade to get there. Recently, it's been delighting shareholders with strong performance (including BIG TECH subscribers, who cashed out of Amazon with a cool 49% gain earlier this year). But the road to success was neither easy nor short.
Amazon's success tells us that meeting sky-high expectations is possible. I don't doubt that one or two of the very best social media companies will realize their eye-popping potential. Eventually. But it's a long journey to that point, full of unpredictable obstacles. Just like Amazon's stock chart, the path to success won't be a straight line.
That being the case, if you want to jump on the social media bandwagon, do your bank account a favor and bide your time until sober reality sets in. Wait until the bandwagon has broken down on the side of the road, with two flat tires and dejected passengers lamenting, "Darn it, it happened again. I was sure this time was different." You'll know it's that time when P/E ratios are in the low teens.
That's when you want to invest in these companies. Not when they're riding high on dreams of the future. And if you want help in that endeavor, consider a subscription to
Big Tech.