Silver: Slowing Down?
Tuesday, 10/26/2010 10:59
Momentum in the Silver Price has suddenly slowed down after its 3-month surge...

SILVER IS slipping away, writes Brad Zigler at Hard Assets Investor. Or rather, the momentum in the Silver Price has slipped.
Prices for the white metal put in a near-term top along with gold two weeks ago, as the December Comex futures contract reached for the $25 level.
When failure set in, skid marks were left at $24.95 an ounce...and by the end of last week, the $23 level was probed by sellers.
Along with a fall-off from the overbought levels indicated by the Relative Strength Index, a bearish crossover in the MACD indicator also printed last week. So, get out your pencils and rulers. This week's price action will be critical in establishing objectives for bears and would-be bulls – looking to Buy Silver at knock-down prices – alike.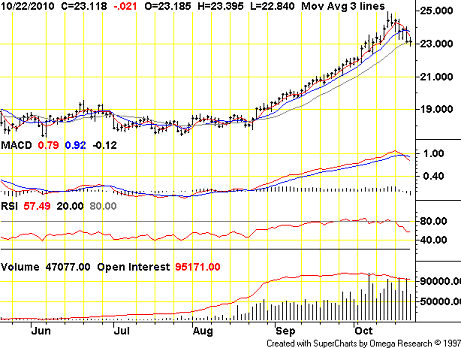 A close under the 21-day average would likely set up a test of the $21.24-21.37 area, if intermediate support at the Oct. 8 reaction low of $22.35 is taken out. The $21-level objective is defined by the price target of December silver's July 28 pivot point low and a 50 percent retracement of the contract's August-October rally. Yesterday's resistance has now become today's support.
For those looking at bearish possibilities underneath the $21 level, keep an eye on December's 50-day moving average, now at $20.88, and more significantly, the $21.50 level, representing a 62% retracement of silver's late summer-to-fall run-up.
Getting ready to Buy Silver...?