Have Silver Prices Moved Too Fast?
Tuesday, 7/19/2011 10:18
Is silver overbought? This indicator gives you an idea...
GOLD IS being remonetized. That's just a fancy way of saying that ordinary people and investors are treating gold as money, writes Dan Denning of the Daily Reckoning Australia.
This may stem from the fact that ordinary people and investors are discovering that government bonds are most definitely not money. They are someone else's liability. Gold is not.
Silver is money, too. It's also an industrial metal. And at the moment it looks relatively cheaper than gold. You can see from the chart below it's already had a big correction. Gold has traded higher 10 days in a row. But silver isn't doing too shabby – it's up 11% in four days: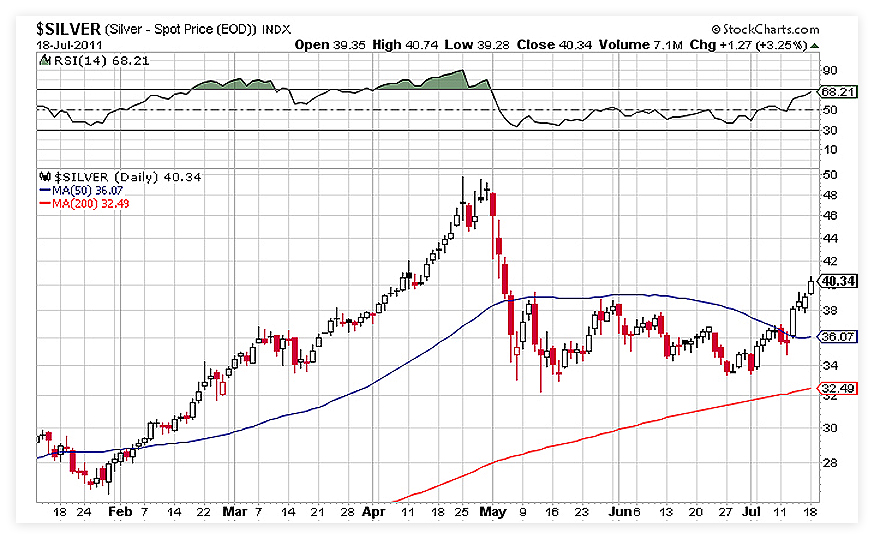 Silver got caned in May when futures exchanges hiked margin requirements. This clearly took a little of the speculative froth out of the market. But now the weak hands are out, the strong hands are starting to build their positions again. Spot silver is up over 11% in the last four days.
Is that move over-cooked? Keep your eye on the smaller chart at the top of the price chart. That's the relative strength index (RSI) for silver. The conventional wisdom is that any time the RSI is over 70, a stock or security is overbought. Any time it is under 30, it's oversold.
This is not an iron-clad rule. But you can see that silver's RSI exceeded 70 for several weeks in each of its last two big moves (from $26 to $36 and then from $36 to just under $50). Those moves corresponded with Dollar weakness, sovereign-debt worries, and the bull market in real money.
Bullion buyers can use charts like that to try and buy on weakness. You can also be aware of when public hype is peaking. That's the best time to be patient and do nothing.
Thinking of Buying Gold or Silver Bullion? Discover how buying through BullionVault can make it easier and more secure – while also cutting your costs...