So, What About Silver?
Wednesday, 1/27/2010 12:08
Might silver buyers get a sharp discount on prices soon...?

WE WRITE TOO MUCH about gold, according to some of our readers, says Brad Zigler at Hard Assets Investor.
"What about silver?" is a plaint we've heard more than once this week. So okay, what about it?
Like the Gold Price over the last week, the silver market was holed by news of Chinese bank tightening. Does that mean the silver ship is sinking? Well, no. Not yet.
Talk about a three-year US government spending freeze and the Dollar's buoyancy isn't helping the silver bulls' cause, either. This week's reports on consumer confidence and home prices were a mixed bag that apparently didn't contain enough bullish goodies. As the reports were digested, spot silver prices fell to their lowest level in almost 3 months.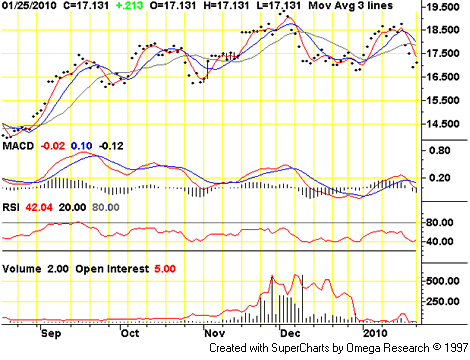 Cash silver is trying to maintain itself above the same support level held between May and August 2008, back before it broke down to the $8-$9 level. The silver market opened this week near oversold levels, at least as measured by volatility and stochastics.
Other key technical indicators, such as MACD and relative strength, turned bearish last week.
Momentum-wise, silver's on the skids, having fallen below its 10-, 20- and 50-day moving averages. There's a lot of downside room, however, before the market hits its 200-day average at $15.66 an ounce.
The last time silver tested its longer-term trend was the mid-July 2009 setup for a run that peaked in December, higher by 56%.
On that basis, spot metal needs to stay above $16.80 to offer much encouragement to bulls in the near term. But of course, there are many silver bulls hoping for just such a sell-off to give them a buying opportunity.

Want to Buy Gold and silver? Want to make it low cost, secure and simple...owning your metal outright but without the hassle of possession and insurance? Start with a free gram of Physical Gold at BullionVault now...