Silver's Solar Demand 'Key' in 2017, PV Thrifting 'Critical'
Wednesday, 1/11/2017 13:00
2017 silver PV energy demand to ease from record, threat of copper substitution...
SILVER'S USE in photovoltaic cells will hold strong in 2017 according to leading analysts, becoming an ever-more key source of demand and lagging only last year's new record offtake from the solar energy sector.
Whether 2017 silver prices rise or not however, PV panel manufacturers will continue to reduce the quantity of silver pasted on to the front and back of each cell, a trend starting with the precious metal's
spike towards $50 per ounce in 2008-2011
.
Research is also now pushing to substitute the precious metal with much cheaper copper.
Thanks to the slowdown in new PV installations planned for 2017, "This year we expect demand for silver from the PV segment to ease slightly," says specialist consultancy
Metals Focus
, "although the global total will remain comfortably the second highest on record" behind 2016.
Analysts GFMS – a division of news and data providers Thomson Reuters – say that the solar energy sector bought 11% more silver last year than 2015, the only major use to grow on their
latest estimates for the Washington-based Silver Institute
of miners, refiners, retailers and industrial users.
That bucked the silver market's overall 9% decline in total demand, led by the precious metal's daily price averaging a rise of that same percentage in 2016.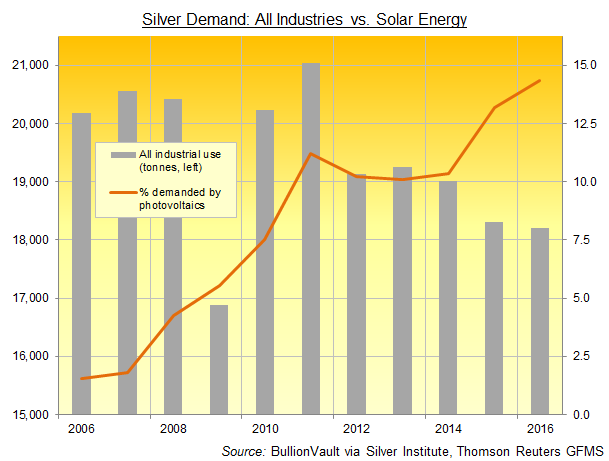 With jewelry, silverware and most notably
silver investment
demand falling last year, total industrial use grew 3% on Metals Focus's latest data, with that record-high demand for silver from the photovoltaic sector "a key driver".
So-called "thrifting" continued however, with the leading new PV cells needing only one-fifth as much silver last year as a decade before according to
October's update
from International Technology Roadmap for Photovoltaic (ITRPV).
The silver now used in new PV cells costs just less than 5 cents at current prices.
Spot prices to buy PV cells bottomed in December at 36 cents per watt, or around $1.45 per cell, according to data from Bloomberg, with the growth of installed capacity and new competition worldwide forcing some manufacturers to sell products at a loss.
"Therefore it has become a main focus in cost reduction."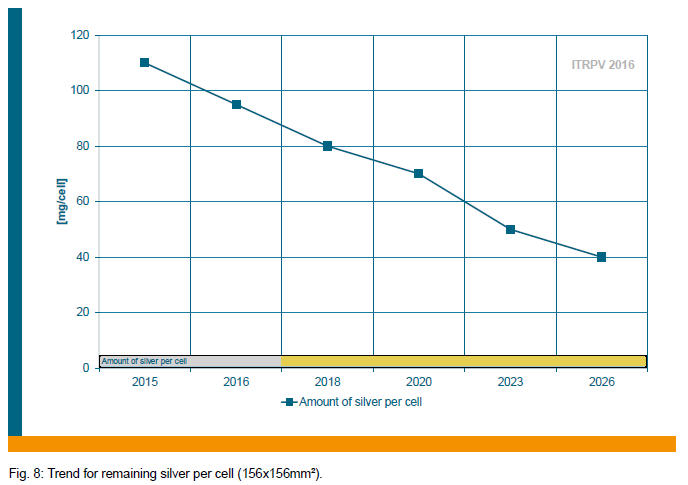 Average silver loadings per cell have sunk from more than half-a-gram 10 years ago to barely 0.1 grams for 'best in class' PV products according to industry data.
Continued thrifting in 2016 now means that "growth in silver [PV] offtake was lower than the 25% headline rise" in new solar energy capacity worldwide, but "the pace of thrifting has slowed down notably during the last couple of years."
"Given the current state of knowledge," said Dr.Arno Stassen, Staff Technologist of the Photovoltaics Business Unit in Singapore for Germany-based bullion and specialist refiners Heraeus in 2015, "it is inconceivable that the precious metal silver could be replaced, since no other material fulfills the requirement for 'cost in relation to performance' in a comparable manner.
"Silver is also excellent due to high process stability."
But research into substitution continues, and "you're [now] seeing some investment in replacing silver with copper," Reuters quoted John Smirnow, secretary-general of the Global Solar Council, in late 2016.
Despite the shift from so-called 'thickfilm' to 'thinfilm' cells after the 2011 price spike, "Metallization pastes/inks containing silver and aluminum are the most process-critical and most expensive non-silicon materials used in current technologies," says ITRPV of crystalline silicon photovoltaics, the most common type of solar panel.
"Paste consumption therefore needs to be reduced...It is extremely important, because the price of silver is expected to remain high."
So while silver "is expected to remain the most widely used front side metallization material for c-Si cells," it faces a genuine challenge from less expensive copper according to Dr.Jutta Trube at ITRPV, forecasting that mass production is likely to start in 2018, coming to account for 25% of the market by 2026.