Silver Price Spikes to $30 as WallStreetBets Pours a Record 1,000 Tonnes into SLV
Monday, 2/01/2021 16:14
SILVER PRICES surged Monday morning towards 8-year highs at $30 per ounce after "the call-to-arms" on Reddit brought record new interest to precious metals, writes Atsuko Whitehouse at BullionVault.
But
the "devil's metal"
then retreated hard, cutting its opening jump in half to trade back to $28.65 as London dealing closed to leave trading in New York Comex futures and options to make the running.
Gold also spiked in Asian and London trade before edging back, trading down to $1860 per ounce as retail and wholesale prices in No.2 consumer market India sank following
a shock decision to slash customs duties
on precious metals in the Modi Government's 2021 budget.
Spot silver prices climbed as much as 11% to $29.99, soaring for the 3rd session in a row to touch the metal's highest price since February 2013 and gaining nearly 20% since last Wednesday night before edging back to $29.20 per ounce.
That's when an anonymous post to followers of the WallStreetBets group on Reddit first called for other readers to buy the iShares' giant silver ETF trust (NYSEArca: SLV) as
a way of "squeezing" speculative traders
who were – according to the post – shorting silver, and betting that the price would go down.
Having shrunk marginally on Thursday, the SLV grew by 6% to Friday to need 18,722 tonnes of bullion backing, regaining the all-time record size of last August with its heaviest 1-day expansion since the ETF started trading in April 2006.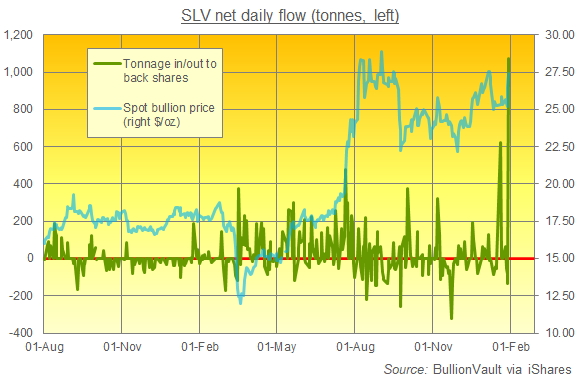 Last Thursday
another Reddit user said
"Buy SLV directly [to] force physical delivery of silver" into its vaults, thereby causing a "short squeeze" on the market, pushing up the silver price.
"The people naked shorting silver via the futures markets are a couple of large banks and making them pay dearly for their over leveraged naked shorts would be incredible."
In contrast however, hedge funds and other leveraged speculators in Comex silver futures and options have had a net-long position on the metal since mid-2019, according to
data published since 2006
by US regulator the Commodities Futures Trading Commission (CFTC).
That group grew their bullish betting on silver and cut their bearish betting in the week-ending 26th January, just prior to the WallStreetBets' ramp on Reddit.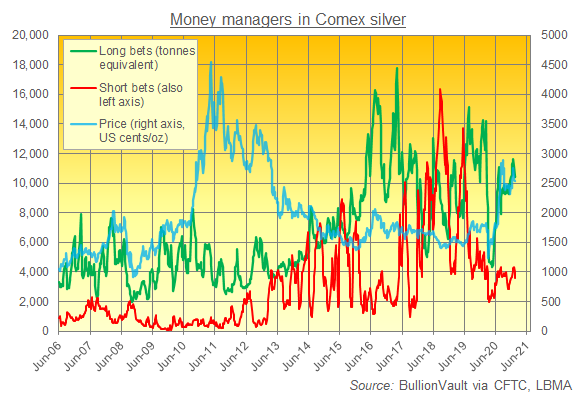 Silver stockpiles in London – often hedged on Comex against a drop in price by bullion banks, refiners and producers – have meantime grown to new all-time records.
"Last week's events have shown it to be unwise to doubt the purchasing power of retail investors, and this has been sufficiently demonstrated again on the silver market," says economist Howie Lee, at Oversea-Chinese Banking Corp. in Singapore.
"[But] they may find it a bit harder to squeeze the silver market than they did with GameStop."
Video-game outlet Gamestop (NYSE: GME) had a market capitalization of $1.4 billion in mid-January, before Reddit users following the WallStreetBets group sent its value soaring more than 16-fold as the spike forced bearish hedge funds to close out their shorts, accelerating the price rise.
Weekly trading turnover in London's silver bullion market in contrast is $40 billion according to
data compiled for trade association the LBMA
, with a further $10bn traded per day on average in January on Comex futures and options.
"We are confident that the influence of retail investors on silver will not last all that long, and that ultimately industrial and institutional demand will be the key factor in the longer term," said analyst at Commerzbank.
A raft of major US coin dealers suspended weekend orders as the Reddit Ramp also urged investors to buy retail products, driving premiums over spot bullion prices on American Eagle silver coins up to $5 from the more typical $2 per ounce.
The surge in silver investing also fed again into mining shares Monday, with China Silver Group (HKG: 0815) jumping 63% at the opening in Hong Kong, while Mexican silver miner Fresnillo (LON: FRES) surging as much as 21% in London trading before halving that gain.
Western stock markets more broadly also rose, with European equities gaining some 1% on average while New York opened 0.3% higher, also led by mining stocks.
Manufacturing activity in China – the No.1 gold consumer now approaching the peak demand season of Lunar New Year – grew at a slower pace in January according to official data released over the weekend.