Silver Price Up 20% in a Month, Outpaces Gold Again with $20 'Clearly in Sight'
Tuesday, 6/02/2020 13:50
SILVER PRICE gains of over 20% from this time last month held in Asian and London trade on Tuesday, outpacing gold bullion's gains 10-times over as world stock markets extended a surge in US equities despite the ongoing Coronavirus pandemic and shutdowns, worsening US-China tensions, and violent civil unrest across the United States following the police killing of unarmed African-American George Floyd.
Finding three-fifths of its end-use from industrial demand, silver jumped above $18 per Troy ounce on Monday, more than $3 higher from the start of May and towards the upper-end of its last 5 years' trading range between $13.65 and $21.10 per ounce.
With the S&P500 index of US equities now 11.0% higher from a year ago, the tech-heavy Nasdaq index closed last night 28.2% above its level of 1 June 2019 and less than 3% below mid-Feb 2020's all-time high.
Trading around $1740 per ounce today, gold has recorded only 5 monthly finishes higher than May 2020's close of $1728.70 per ounce, all of them between August 2011 and September 2012.
Silver in contrast has beaten last month's finish of $17.59 a total of 76 times, 7 of them in 1979-80, 4 in 2008-09, and the rest across the last decade, with the gray metal's month-end peak coming in April 2011 at $48.70 per ounce.
If silver were to reach 7.5-year US Dollar highs like gold has done during the Coronavirus Crisis, it would be trading at nearly twice today's level.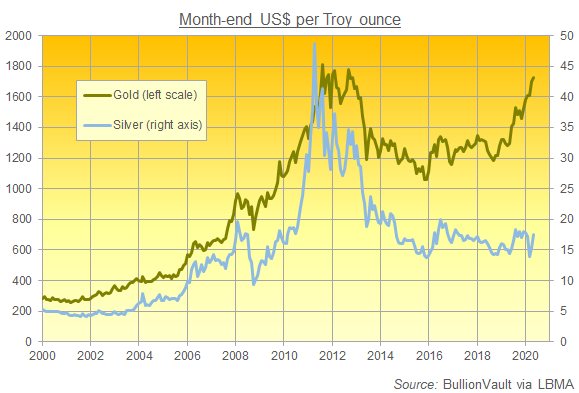 "Silver leading the pace relative to gold," says data agency Refinitiv's lead precious metals anlayst Johann Wiebe, "[and] being cheap
has some catching up to do
.
"Already broke out, has some obstacles to clear, but $20 per ounce target clearly in sight."
"Safe-haven buying underpinned price action across the precious sector yesterday," says Tuesday's trading note from Swiss refining and finance group MKS Pamp, pointing to "rising geopolitical tensions and social unrest in the US.
"Gold popped higher at the Asia open as news filtered through about the escalating riots in a number of major US cities. It was silver however that was most impressive, opening and punching through $18.00 with ease, before continuing to grind its way to fresh 3-month highs."
Tuesday's Asian trade in contrast saw silver fall "quite sharply as some Chinese banks swooped in to take profits on the open. Some good bids were seen below $18.15...and we have held that level so far."
Trading at $18.25 in London's bullion market this lunchtime,
silver prices
were again 50 cents per ounce higher for
Comex contracts
for July settlement in New York.
That gap of 2.7 percentage points contrasts with a
0.6% New York gold premium
on the Comex's most active contract – now the August future – as bullion continues to pile up in New York warehouses following the record 7% premium suddenly reached in late March.
Euro gold prices edged back to €1557 per ounce as the single currency rose against the Dollar on the FX market.
A stronger rally in the British Pound put
the UK gold price in Pounds per ounce
down more than 5% from last month's new record peak after
a briefing to journalists
from
The Times
claimed London's Brexit negotiators have told their European Union counterparts "We'll compromise if you do too" on issues from fishing rights to regulatory standards.
Crude oil meantime rallied to 3-month highs, taking US benchmark West Texas Intermediate up to $36.35 per barrel, as representatives from the Opec+ cartel of major exporter nations led by Saudi Arabia and Russia
prepared for a video conference
to discuss making further output cuts in a bid to boost prices in the face of the Covid shutdowns' demand collapse.