Silver Price Volatility Hits 17-Year Low
Tuesday, 6/05/2018 13:16
Silver trading slides but buyers outweigh sellers...
BORED YET? asks Adrian Ash at BullionVault.
Investors who have been buying gold and silver surely are.
On a 3-month basis, silver prices this spring have moved in their narrowest range since 2001, trading in a range of less than 6% low-to-high.
That's barely one-quarter the average 3-month move in
silver prices
over the last 50 years.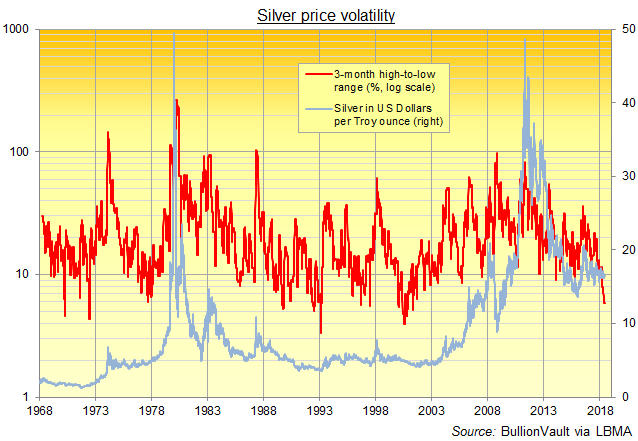 Gold prices have become more boring still, trading in a narrower range than any time since the doldrums of the mid-1990s, a mere 3.6% high-to-low.
Only the early 1990s and 1986 saw less action in gold since early 1971...
Little wonder then that, alongside a steep decline in new investor interest in gold, trading activity in silver has also fallen.
In fact, it has dropped off a cliff as silver's volatility has vanished.
Last month saw the most silver sellers on BullionVault since January (up 8.2% from April) but the fewest buyers since August 2010 (down 12.4% from the month before).
Together that pulled the Silver Investor Index down to 50.6 – like
the Gold Investor Index
, also its lowest reading since August 2017, but very much closer to the 50.0 reading which would signal an equal number of sellers with buyers across the month.
Besides flirting with negative interest in silver, May 2018's action also pulled the total number of private investors choosing to buy or sell silver across the month to the lowest proportion of all existing silver holders since BullionVault first added the metal to its
award-winning bullion platform
at the start of 2010.
May's silver traders numbered barely 9.1% of May's silver owners.
That compares with an average 14.4% across the prior 5 years.
Why the lack of activity? Silver outperformed gold in May, managing to rise across the month against each of the US Dollar, the Euro and Sterling. Isn't that enough to spur some trading?
Day-to-day, silver prices are typically twice as volatile as gold. For short-term traders, that adds to its appeal. Because if you're looking for quick moves up or down in precious metals, silver shines.
Unless it doesn't. Like in spring 2018.
In contrast to gold however, silver holdings among clients of BullionVault grew last month by weight. Customers raised their investment in silver by a little over 4 tonnes as a group, reaching new record holdings at 717.7 tonnes of professional-market bullion bars, stored securely in each user's choice of London, Singapore, Toronto or Zurich.
Although nearly outnumbered, in other words, larger silver buyers outweighed the net selling by smaller silver investors.
Among other leading silver investment products, the same picture. Sales of new US American Eagle silver coins – favored by smaller investors and
stackers placing a big bet
with their money on silver going to the moon – fell 58.5% last month from April
according to Reuters
, recording the US Mint's weakest May for silver coin sales since 2005.
The iShares' trust fund (NYSEArca:SLV) in contrast – used like BullionVault more by investors adding silver to a broader mix of investments – grew in size last month as investor demand grew the number of shares in issue. The biggest silver ETF swelled by 1.6% last month, contrasting with a small drop in the size of the giant GLD gold ETF, and taking the amount of bullion needed to back the SLV's shares above 10,000 tonnes for the first time since last summer.
More teasing still, regulatory filings in the US suggest this may have extended a treng among professional money managers whereby larger funds have been buying while smaller managers sold.
Institutional investors running $100 million in funds or more have to file 13F reports at the end of each calendar quarter.
Latest data say
that over the first 3 months of this year, 157 such money managers bought 17.6 million shares of the SLV. Barely half as many shares were meantime sold by 159 managers, some 9.7m.
To recap: Overall sentiment in silver is weaker than it is for gold according to our Investor Index series. But unlike gold, and both at BullionVault and in the ETFs, the money that is coming into silver is bigger than the money going out.
That contrasts with the collapse of demand for silver coin. And in the long run, it's the big money which tends to move bullion prices higher.
Maybe a little of the big money thinks it can spy an opportunity in silver.