Silver Investing Trebles in 2020, Now +90% in 2021
Friday, 1/08/2021 17:21
Investors buy 5% of silver mine output via BullionVault...
SILVER INVESTING has leapt into 2021, rising nearly 90% over the first week of January from the start of last year, writes Adrian Ash at BullionVault.
That comes after investor demand for the 'indispensable metal' – needed for a vast range of industrial, medical and technological uses – more than trebled in 2020, setting a new annual record.
Silver investing rose 204.8% in 2020, reaching a massive 1,178 tonnes and accounting for nearly 5% of last year's total global mining output
according to the latest estimate
from specialist analysts Metals Focus published by the Silver Institute.
Net of investor selling on the world's largest platform for physical bullion ownership and trading, that saw client holdings of silver – vaulted and insured in each user's choice of London, Singapore, Toronto or more popular Zurich – swell by 37.5% to a record 1,103 tonnes with an inflow of 308 tonnes, more than twice the previous full-year record (148 tonnes in 2011).
Yes, that means silver selling was also a record in 2020, rising 180.6% from 2019 to 869 tonnes. And why not?
Silver priced in the US Dollar rose 45.4% in the 12 months ending New Year's Eve. That was the best performance since 2010 and – on an annual average basis – it offered a higher price to anyone buying silver anytime in the prior 7 years at $20.51 per ounce.
Such heavy selling clipped the Silver Investor Index – a unique measure of how many people buy the precious metal versus those selling it – but couldn't stop it pushing up across 2020 to average 59.8, its strongest annual reading since 2011 and markedly higher from the prior year's 53.0 reading.
The Silver Investor Index would read 50.0 if the number of net buyers equalled the number of net sellers exactly.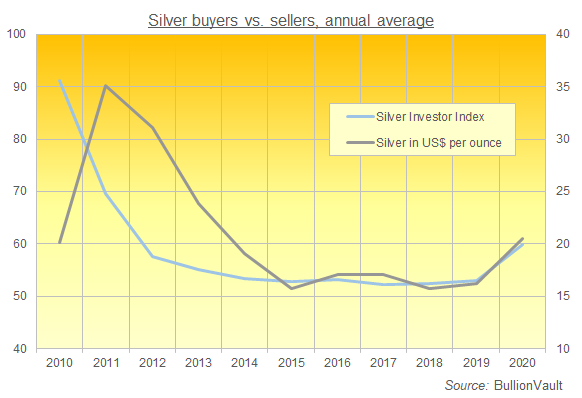 Will 2021 reward last year's record silver buying?
BullionVault users clearly think so if their demand is anything to go by. Our recent survey of
Weekly Update
readers also says silver prices will keep rising, with the 1,184 respondents – nearly two-thirds of whom currently hold the gray metal – predicting on average a gain of 19.3% across the year with a December finish at $26.25 per ounce.
"Despite positive vaccine news," agree analysts Metals Focus, "macroeconomic conditions will continue to favour precious metals investment in 2021.
"Silver is projected to trade well above $30 in 2021," says the consultancy's new
Precious Metals Investment Focus
, "with the annual average rising by 40% to $28.60."
The macro backdrop favoring silver is, like gold, led by interest rates lagging the pace of inflation by an ever-wider margin. That locks in a slow but steady devaluation of cash and bonds, making physical bullion an increasingly attractive alternative.
US bond traders, for instance, are now forecasting inflation of 2.0% per year over the next decade, the fastest such forecast since spring 2018. Back then the US Federal Reserve was slowly raising its key interest rate, taking it from zero at the end of 2015 to a peak of 2.5% by early 2019. But now – to try and juice the economy, and despite the price of inflation-protected TIPS bonds saying that inflation is on track to meet the Fed's 2.0% target – the US central bank keeps vowing to hold its interest rate at zero for the next 3 years or more.
Second, and also by general consensus among bullion analysts, silver looks likely to outperform gold in 2021, simply because last year the yellow metal reached pretty much its highest price in history versus its cheaper but more useful gray cousin.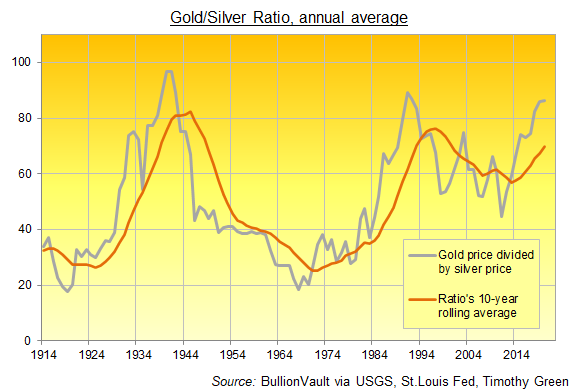 "The relationship is not predictable," as chief analyst at brokerage StoneX Rhona O'Connell noted over Christmas, but "the current [chart] structures suggest that the Gold/Silver ratio" – about which we recently
wrote at length for the LBMA's Alchemist magazine
– "is going lower."
A falling
Gold/Silver Ratio
would mean that silver's cash price is doing better than gold's – and as Rhona says, "the fundamentals suggest that gold is going higher."
No, silver doesn't always rise when gold goes up, but on a 365-day horizon over the last half century it has risen 71.6% of the time that gold has risen from 1 year before. And when both metals rose, silver outperformed gold by one third, gaining an average 40.5% in 365 days.
Third, that kind of potential suits New Year's 2021 big trend to a tee – betting on a fast buck even in the teeth of the world's first and continuing global pandemic shutdowns.
The magic internet beans known as Bitcoin are now challenging the over-hyped electric car brand Tesla
for a market cap of $1 trillion
. Silver's long history of boom-boom-and-bust fits right in with this bubble-may-care attitude. It is, after all, known as
the Devil's Metal
(first-time investors, consider yourselves forewarned). But it also, unlike gold, Bitcoin, Tesla or the global stock market, remains a long way below its all-time record high...way up at $50 per ounce and reached twice in history (January 1980, April 2011).
Fourth, and on top of silver's historic role as money – and therefore as a store of value, albeit an increasingly volatile store since being demonetized in the late-19th to mid-20th Centuries – the gray metal in the 21st Century finds three-fifths of its end-demand from industrial, medical and technological uses. That should prove a big boon in 2021, as the post-Covid recovery boosts the ongoing move worldwide to solar energy, plus the installation of 5G electronics.
Fifth, and not least, that flood of investment Dollars into silver-hungry technologies will only run faster thanks to the fresh record fiscal stimulus now expected from the US Democrats' "blue sweep" election victory and already discounted by the runaway US stock market.
Negative real rates, leverage to gold, the fast-buck mentality gripping hot-money traders, strong tech demand plus 'green energy' and other government stimulus spending – together it makes a strong case for investing in silver as 2021 begins. Just don't expect it to be a one-way street if things go right. Beware serious volatility and steep losses if they don't.