Never Short a Boring Market
Wednesday, 6/18/2014 19:55
The S&P 500 has gone 42 trading days in 2014 without a 1% gain or loss...
NEVER
short a boring market,
Greg Guenthner, CMT, managing editor of The Rude Awakening, in Addison Wiggins' Daily Reckoning.
That's an old Wall Street adage you should learn. Don't ignore it – especially in this market. If you do, you'll pay for your mistake.
More on this warning in just a minute...
First, let's take a look at the boring old S&P.
Sure, the S&P 500 has been relatively tame lately. Yesterday, for example, the big index wandered higher by just about 0.2%. Despite hanging around new highs for the better part of the past month, the S&P hasn't flaunted any big moves higher.
However, the folks over at Bespoke Investment Group remind us that going weeks without a major thrust higher or lower hasn't always been the norm...
"There was even a time during the Financial Crisis when the S&P 500′s average daily move over a 50-trading day period was above 4%!" Bespoke reports.

"These days, the S&P 500 doesn't even average a daily move up or down of half of one percent. In fact, it has been two months (42 trading days) now since the S&P 500 last had a move up or down of 1% or more. To put that in perspective, you have to go back nearly 20 years to 1995 to find a period where the S&P 500 went longer without a move of that magnitude."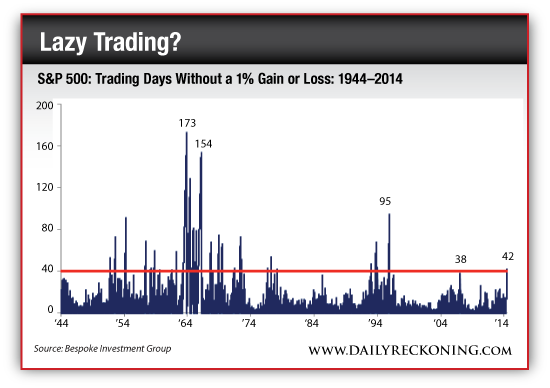 As you can see from the chart, we haven't had any big streaks of small S&P moves in decades...
Since 1928, there have been 30 other streaks like this one that lasted longer than 40 trading days, according to Bespoke.
Just look at the 1950s and 60s (these were bull markets, by the way). Neither of them were very volatile at all. After everything you've endured since the dot-com crash, it's almost impossible to imagine flat market conditions investors enjoyed 50 years ago...
"The years 1963, 1964, and 1965 each saw streaks of more than 100 trading days without a 1% move," Bespoke continues. "If you think the last two months have been calm, imagine going through a period of more than eight months without a 1% move."
But like I said earlier, "boring" isn't an excuse to bet against the market. That's the big mistake so many traders make. They assume the S&P is running out of gas, so they begin to bet on lower prices and the return of volatility.
Then you get days like Tuesday and Wednesday this week.