The Scrap Metal Boom
Thursday, 2/14/2008 10:38
The second largest US export to China? Old scrap including scrap metals like gold...
SLANG IN YORKSHIRE, England, has it that "Where there's muck there's brass."
And these days, with a booming scrap metal market worldwide, "Where there's brass, there's brass," too. Last week the estimated New York dealer buying price for scrap yellow brass solids, delivered to the scrap yard, ranged from $1.25 per lb to $1.35 per lb; the price for scrap red brass solids was 12% higher.

No wonder then that New York City's Department of Sanitation is now cracking down – aggressively – on urban entrepreneurs caught "recyclable rustling". The department makes a tidy sum selling its metal scrap.

The boom in scrap, along with the rustling, is similar for many other metals, including Gold Bullion, silver and the other precious metals. With Gold Prices trading at record highs, even Indian housewives – normally voracious consumers of gold jewelry – have been reportedly selling unwanted jewelry for scrap.

There is plenty of anecdotal evidence to suggest you would probably get a great price for your grandma's silver flatware if you sold if for scrap, too!

Whether it's chomped up Boeing 747s, crushed armored cars bought from the government, recycled gold jewelry or spent catalytic converters, there's money in scrap. Once the domain of the likes of the infamous Gotti family in New York and the Richardsons in London, scrap is now significantly more "mainstream", even to the extent of undergoing formal consolidation.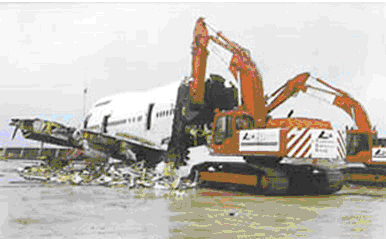 Source: Bureau of International Recycling

John Seabrook, in his truly wonderful introduction to the US scrap industry in the New Yorker, "American Scrap" (Jan. 14th), makes the observation that not only does the industry appear to be thriving, it is also globalizing.

With the current high metal and Gold Price on the main markets, plus the strong demand for metals, this is not surprising.

Scrap Metal: A Global Industry

Scrap metal is big business, whether it is ferrous (iron and steel), nonferrous (other base metals), stainless steel, a special alloy or a precious metal. According to the Bureau of International Recycling (BIR), the global recycling industry as a whole – including plastics, rubber and paper – has an annual turnover of more than $160 billion.

It processes more than 500 million tonnes of scrap (of which 400 tonnes is metal) and employs more than 1.5 million people worldwide. In 2006, the recycling industry in the US alone was worth $65 billion. According to the Institute of Scrap Recycling Industries (ISRI), the United States annually recycles more than 90 million tons of ferrous and nonferrous metals, including gold.

Scrap is also a big export earner for the United States (2006: $15.7bn). Ironically, in 2006, after electronic components, in dollar terms, scrap was the second largest US export to China. By the end of November 2007, the US had exported worldwide some 15.1 million tonnes of ferrous scrap and 2.8 million short tons of nonferrous scrap. (A short ton weighs 2,000 lbs, some 907 kg vs. the metric tonne's 1000 kg).

Again, China was a major recipient – and with the US Dollar at its current levels, ferrous scrap remains a bargain for steelmakers outside US borders.

Scrap Metal: Why the Current Boom

Two major factors are driving the current boom in scrap metals. First, a strong market for metals per se; and second, a growing concern for the global environment.

As regions such as China, India and the Far East continue to develop strongly – meaning, not least, extensive commercial, residential and industrial construction projects – so too does their demand for iron and steel, copper, aluminum, lead and tin. The need is there, also, for the special alloys (nickel, molybdenum and tungsten amongst others) used in steels and such things as industrial machinery, armaments and cars.

Scrap helps the primary metals industry feed these needs – but not only in the developing world. In the United States, two-thirds by weight of domestically produced steel is made from scrap, and nonferrous scrap is used to make 60% of the alloys and metals produced domestically. Even back in 2004, steelmakers worldwide used scrap for nearly half their furnace feedstock.

In the steel industry, because it is so massive – and quite apart from the matter of its cost – the use of scrap as opposed to virgin ore has a single major advantage: very significant energy savings, some 74% for both steel and iron in fact.

If one of the attractions of ferrous and nonferrous scrap is in energy savings, it is the current price levels that are particularly attractive. With silver and Gold Prices at or near record highs, the metals can be recovered from old electric scrap, electronic equipment including computers, military equipment and, of course, jewelry.

In addition, while both silver and platinum can be recovered from spent catalytic converters, platinum can also recovered from old hard disk drives, oxygen sensors, spark plugs and disposable medical devices.
In fact, according to the US Department of Defense, sales of military scrap under its Precious Metals Recovery Program between 1975 and 2005 saved the government some US$250 million.

At a current price level around $3,400 per lb, sales of rhenium alone recovered from spent bimetallic catalysts used in the oil refining industry makes them valuable scrap. And with the price of cobalt (a key component in lithium-ion batteries) having skyrocketed some 70% in the last year to a current price of around $45 per lb, the scrap value of old jet engines, magnets, spent rechargeable batteries and cutting tools have risen significantly.

Scrap Metal: The Environmental Angle

The greatest environmental benefit from using scrap, instead of virgin ore, is the reduction in greenhouse emissions. Recycling metals saves new energy use by the mining industry. If the savings in the steel industry is large, for other base metals it can be even more significant:
Aluminum: 95% energy saving
Copper: 85%
Zinc: 63%
Lead: 60%
It is no wonder, therefore, that around 40% of the world's need for copper is provided for by scrap. Using scrap not only reduces air pollution and water use, it also conserves natural resources.

For example, recycling one ton of steel conserves 120 lbs of limestone, 2,500 lbs of iron ore and 1,400 lbs of coal with an 86% reduction in air pollution, 40% in water use and 76% in water pollution.
Scrap Metal: Don't Try This at Home
While recyclable rustling, stealing beer kegs and stripping church roofs of lead may be increasingly popular and highly profitable, they are also all illegal. In addition, trying to steal copper wiring can also be lethal.
For the committed entrepreneur, there are books and websites out there devoted to the "home" recycler telling how to recycle everything from old alternators to electronics to government surplus. You can even download a scrap metal business plan from the web.
Unfortunately for those of us who do not want either to set up our own scrap yard or turn over the basement for dismantling old TVs, a large proportion of the scrap metal/recycling industry is privately owned, not least because many of the businesses are small operations, often family firms, employing just a handful of employees. There are, however, a number of US publicly quoted companies seriously involved in scrap metal, even if it may not be their only activity.
Each week the ISRI publishes its Friday Report, with a section at the back entitled "ISRI's Eye on Equities". While all of the companies listed have an interest in recycling of one sort or another, among those with a particular interest in scrap metal are Commercial Metals Company (CMC), Gerdau Ameristeel (GNA), Industrial Services of America (IDSA), Metalico (MEA), Metal Management (MM), Schnitzer Steel Industries (SCHN), Sims Group (SIMYY) and Steel Dynamics (STLD).
Whether or not base metal and Gold Prices remain at their current levels, there will always be a need for scrap metal. With energy looking to remain costly for a while yet and concern for our environment set only to increase, scrap yards will be with us for a while. And there will still be plenty of brass in old muck.