PMI Crossover Warning
Friday, 1/22/2016 10:45
China consumes huge amounts of stuff. But the slowdown is worsening...
IF YOU want to know about the past, a good place to start is by looking at GDP, writes Frank Holmes at US Global Investors.
It tells you the Dollar value of a country or region's goods and services over a specific time period. But GDP is like looking in the rearview mirror, in that it shows you where you've been and little more. It's "blind" to what's ahead of you.
For that you need another indicator, and unlike GDP, the PMI forecasts future manufacturing conditions and activity by assessing forward-looking factors such as production levels, new orders and supplier deliveries.
PMI, then, is like the high beams that help guide you at night through the twists and turns of a mountain road.
Several times in the past, we've shown that there's a high correlation between the global PMI reading and the performance of commodities and energy three months later. When a PMI "cross-above" occurs – that is, when the monthly reading crosses above the three-month moving average – it has historically signaled a possible uptrend in crude oil, copper and other commodities.
Our research shows that between January 1998 and June 2015, copper had an 81% probability of rising 7% after a PMI crossover, while crude jumped the same amount three-quarters of the time.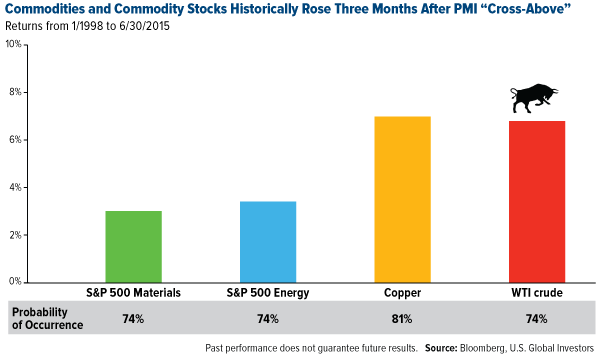 But the reverse is also true. When the monthly reading crosses below the three-month moving average, the same commodities and materials have in the past retreated three months later. And as I mentioned last week, the global PMI fell in December, from 51.2 in November to 50.9. The reading also crossed below the moving average.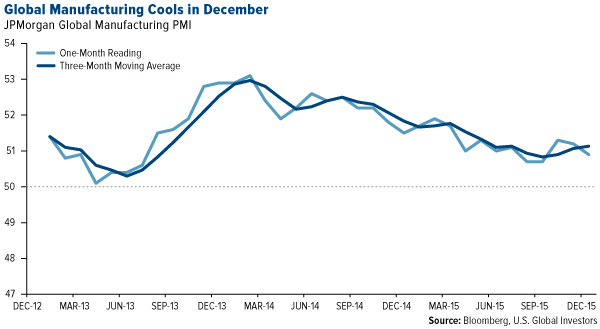 As you can see, the PMI has been in a relatively steady downtrend since midyear 2014, signaling the decline in commodities during the same period.
One of the main contributors to the lower global PMI reading in December was weak American manufacturing activity, according to a recent report from Cornerstone Macro. The research group had expected an improvement, but the one-month US PMI reading landed "with a thud" at 48.2, its lowest point since June 2009.
China also contracted in December, dropping to 48.2. The reading also crossed below the three-month average.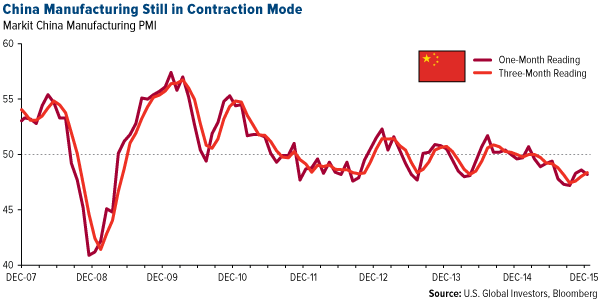 The Asian giant is responsible for consuming massive amounts of raw materials – 60% of the world's concrete, 54% of aluminum. So when the PMI falls in both China and the US, the two largest economies in the world, it's not a good sign.
Cornerstone cites the strong US Dollar, weaker exports, rising manufacturing inventory and the plunge in oil prices as factors that led to the downturn last month.
I agree that these factors played a huge role – oil slid below $30 per barrel this week – but I would also add more burdensome regulations to the list. Such rules have gunked up the gears of industry, and it's essential that they be cleaned out to ignite synchronized global growth.
It's hard to overemphasize just how important the American manufacturing sector is to the national (and world) economy. According to the National Association of Manufacturers (NAM), manufacturing has the highest multiplier effect and drives more innovation than any other sector. For every $1 spent on manufacturing, $1.40 is created and pumped back into the US economy. The sector employs more than 12 million Americans, or roughly 9% of the workforce, and supports more than 18 million additional jobs.
If it were its own country, American manufacturing would be the ninth largest in the world.
And yet the cost of federal regulations falls disproportionately on manufacturers, who pay an average $19,500 per worker in compliance costs – about $10,000 more than what other industries must pay on average.
George Mason University's Mercatus Center, a free market think tank, studied the effects of federal regulations on the productivity of various industries between 1997 and 2010. Unsurprisingly, the group found that the most regulated industries experience the least amount of growth. Whereas output per person for lightly regulated companies grew 63% during the period, output grew only 33% for those that carry heavier regulatory burdens.
More rules means less productivity and efficiency. As an analogy, imagine if professional basketball were played with more referees than players on the court, and with more rules than anyone can remember. No one would be able to score! This would have a huge multiplier effect: Viewers would drop off, ticket sales would plummet, advertising would dry up, and much more.
We must ensure that this doesn't happen in manufacturing. We must ensure that we don't put more reerees than basketball players on the court.
To achieve synchronized global growth, policymakers from the G20 countries must commit themselves to cutting red tape.
Look at how quickly energy and shipping companies shifted into gear after Congress lifted the 40-year-old oil export ban less than a month ago. Two tankers have already departed from Corpus Christi, Texas, to deliver crude to Europe. In anticipation of the policy change, infrastructure companies have poured billions into building new pipelines and oil storage facilities and expanding loading capacity at ports.
TPP Expected to Increase Member Countries' GDPs, Exports and Imports
That's why I'm excited for Congress to ratify the Trans-Pacific Partnership (TPP), which was finally settled upon in October by the 12 participating nations, the US and Canada included. Since then, I've been writing and speaking extensively about the TPP, yet I can't seem to emphasize enough how vital the passage of this landmark free-trade agreement is for global economic growth and job creation.
Once ratified, 18,000 tariffs are expected to be eliminated among the 12 TPP nations, which together account for 40% of global GDP and 20% of global trade. The World Bank estimates that individual GDPs will rise between 0.4 and 10% by 2030 as a direct result of the TPP.