LBMA Forecast 2023 Bullish on Platinum Prices, Bearish Palladium
Wednesday, 2/15/2023 18:57
Price split forecast for PGM metals platinum and palladium...
PLATINUM PRICES will rise sharply in 2023 according to the LBMA Forecast Survey but its sister metal palladium will fall, dropping for a 2nd year running according to the analysts entering this year's competition.
Currently trading at $920 per ounce after averaging $1053 last month,
platinum prices
will rise 12.5% in US Dollar terms from last year's level to average $1080 across 2023 according to the consensus forecast from 21 specialists surveyed by the London Bullion Market Association.
Thirteen of those 21 entrants come within 5% of that consensus on platinum prices. Most of them predict strong demand from automakers in China as Beijing tightens its diesel and gasoline-engine emissions standards – requiring heavier loadings of platinum on autocatalysts – plus a marked upturn in adoption of hydrogen fuel cells, also needing platinum as a catalyst.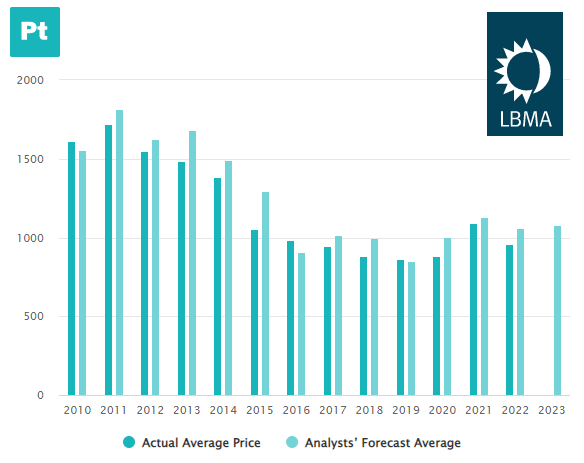 Following a retreat from 2022's solid performance in the early months of this year, "The platinum market will look significantly healthier," says Bart Melek at Canadian brokerage TD Securities, giving the LBMA Forecast Survey's consensus outlook with an annual average prediction of $1081, "as China normalises post-Covid and as the Western world readies for growth to bounce off the bottom.
"A much better supplied microchip market, and regulations requiring heavy-duty vehicles to have Euro VI or China VIa compliant after-treatment systems, should see demand recover smartly later in the year, as macroeconomic headwinds stop."
In contrast to platinum, "Palladium has no role to play in the approaching hydrogen economy," says René Hochreiter of NOAH Capital Markets and Sieberana Research, forecasting the tightest palladium range in
this year's LBMA Survey
with the metal moving just $50 either side of his annual average prediction of $1700. He believes the palladium price will "soften" this year because stockpiles have continued to build thanks to Russian supply remaining at "normal levels" despite Western sanctions, "effectively causing an oversupply...despite cutbacks from South African suppliers [as] substitution by platinum" replaces palladium demand for gasoline autocatalysts.
Palladium on Wednesday fell near $1450 per ounce, its cheapest since September 2019 and the low-point for 2023 prices forecast by PGM specialist Wilma Swarts at Metals Focus thanks to "growing awareness that 2024 onwards will see surplus conditions" in the market's balance of supply and demand.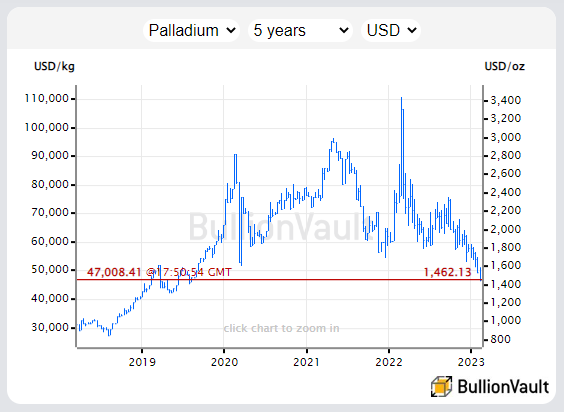 "After a decade of tailwinds, palladium will be buffeted by strengthening headwinds this year," says Swarts at Metals Focus, predicting an annual price of $1810 across 2023 as a whole and so matching the consensus palladium prediction from the 21 analysts in the LBMA's Survey almost exactly.
Auto demand for palladium will flatten or fall, she believes, thanks to "pro-electrification policies" boosting batter-electric vehicles (BEVs) over internal combustion engines (ICEs), while a slower-than-anticipated recovery in electronics demand will be compounded by further "thrifting" of palladium by manufacturers looking to reduce the quantity of palladium needed in each application.
Added to "modest supply growth," says Swarts, "[this] static demand [means] the deficit will contract sharply" – a view contradicted by James Steel at HSBC Securities, the most bullish palladium forecaster in 2023. Agreeing with Swarts that recycling flows from the auto-sector are likely to boost supply in 2023, he forecasts a 3.2% rise in palladium's annual average price to $2180 per ounce thanks to a mere "narrowing" of the supply-demand deficit from last year's strong levels. That will prove "price supportive" Steel says, because the "realisation that Russian material [has] continued to reach consumer markets may be running its course, [leaving] some level of supply risk in the market."
Most bearish, Thorsten Polleit of German retail coin-and-bar outlet Degussa says that "palladium is trading at an inflated price, even after a substantial mark-down since mid-2021", forecasting the same $1550 annual average as Alexander Zumpfe of German-based refining and technology firm Heraeus, who points to "slightly lower" auto-sector demand due to weak economic growth, rising interest rates, and BEVs taking market share from ICEs – a trend worsened for palladium by "more widespread"
platinum substitution in gasoline engines
.
With
2023 gold and silver prices forecast to rise
but lag platinum in the new
Survey
, palladium is predicted to see the greatest volatility across the year, with 4 analysts forecasting a range of $1000 per ounce or more, with Keisuke Okui of Sumitomo Corp predicting a swing from $1400 to $2800 and an annual average towards the middle at $2055.
One of the more bullish
palladium price
forecasts, that price would still mark a small drop from last year's annual average of $2112 and is "thoroughly dependent on the recovery of the auto sector towards the end of 2023," says Okui.
Most bullish platinum, James Steel of bullion clearing bank HSBC sees the metal averaging $1241 per ounce across 2023, the highest since 2014 – eve of
the 'diesel scandal'
which hit demand and investor sentiment for the precious metal – thanks to "increased substitution with more expensive palladium" in gasoline autocats, limited scrap recycling, rising jewelry and industrial demand, and positive retail investment.
Predicting a deficit of platinum supply to meet demand this year, "New, mostly scientific and environmental sources of demand, including hydrogen applications are [also] growing and may increase sharply," Steel adds, "but from low levels."