Investing in 'Crisis' Platinum
Tuesday, 5/31/2016 09:05
And one other idea for beaten-down, hated assets right now...
EDITOR of Doug Casey's Crisis Investing newsletter Nick Giambruno here discusses two key markets he's keeping an eye on today...
Question: What are some of your most successful crisis investments?
Nick Giambruno: In 2013, the tiny European island of Cyprus had a banking crisis. Its stock market plunged 98%. It was one of the most significant financial crises in recent memory.
So Doug Casey and I packed our suitcases and boarded a plane for Cyprus. We put our "boots to the ground" and looked through the rubble for incredible bargains.
At the time, there were sound, productive, and well-run businesses in Cyprus making money and paying dividends. Some of these companies were trading for less than 50% of their book value...literally pennies on the Dollar.
We recommended eight Cypriot stocks to our readers. One was a resort company that operates luxurious beachfront hotels in Cyprus. We made a 210% gain on that one.
We booked a 170% gain on a technology company. We also recommended two consumer goods companies. One of those doubled. The other nearly doubled.
We've also had success recently. This month, we locked in a 103% gain on a beaten-up gold stock. I expect other stocks in the Crisis Investing portfolio to deliver even bigger gains.
Q: Is there a specific crisis market you're currently invested in or watching?
Nick Giambruno: Right now, there's a genuine crisis in the platinum market.
Like most commodities, platinum has plunged in recent years. The price of platinum is 44% below its five-year high.
The platinum market is a bloodbath. Still, it wasn't until recently that I became interested in it...
You see, many people call platinum "the richer man's gold." That's because it's almost always more expensive than gold. There have only been a few times in the last hundred years that the price of platinum has dipped below the price of gold.
Today is one of those times...
Right now, an ounce of gold will nearly buy an ounce and a quarter of platinum. That's a historic anomaly.
Priced in gold, platinum is at an all-time low: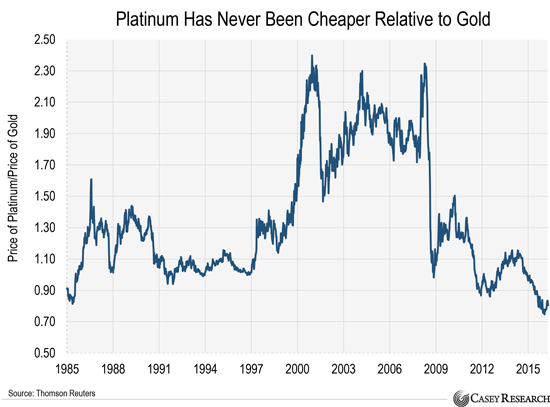 At the very least, I expect platinum prices to revert to the mean.
Platinum miners could go many times higher. That's because they're leveraged to the price of platinum. A small jump in the price of platinum could mean big gains for these stocks.
Certain platinum miners could return 500% or more in the coming years.
In the latest issue of Crisis Investing, I told readers the best platinum company to invest in right now. It could easily double as the market "corrects" its historical anomaly.
Q: Very interesting. Any others?
Nick Giambruno: I'm also invested in the oil industry.
Oil prices have gotten crushed over the past couple years. They're down more than 70% since 2014. And these low prices have put the industry in "survival mode."
Last year, at least 67 US oil companies filed bankruptcy. Analysts estimate as many as 150 could follow.
I think the downturn in the oil market is largely a function of the Saudis, who have declared war on the American shale industry.
In the 1990s, the US imported close to 25% of its oil from Saudi Arabia. Today, it only imports 5%. New methods like "fracking" are a major reason why. These innovations unlocked billions of barrels of shale oil and helped America become more energy independent.
The Saudis have kept pumping oil despite low prices. This has kept prices low.
In short, the Saudis have successfully damaged the US shale oil industry, their biggest competitor. And they'll continue to do damage as long as they're flooding the market.
The shale industry has more staying power than Saudi Arabia, which is already bleeding cash because of this "oil war."
The collapse of oil prices has given us a second chance to invest in the American shale revolution.
A couple months ago, I told my readers to take advantage of this incredible opportunity. We bought the best shale oil company at a bargain price.
This world-class company is an innovator that was at the forefront of the shale oil boom. It has "trophy assets" in America's richest oil regions...a rock-solid balance sheet...and some of the industry's best profit margins. Most importantly, the company is making money. Some of its projects are profitable at as low as $35 oil.
Thanks to the oil crisis, we were able to pick up the world-class company at an incredible price. The stock is up 7% in less than two months and is likely to head much higher...And it's still on sale today.
Q: Thanks for sharing, Nick.
Nick Giambruno: My pleasure.