US Payrolls: A Game Changer?
Monday, 11/09/2015 17:05
Nope. The economic trend still points lower. Credit still needs cheap rates...
GIVEN the October Payrolls data, its effect on interest rates and the US Dollar, we seem to be back to a point similar to where we were one year ago, writes Gary Tanashian in his Notes from the Rabbit Hole.
Back then we used a strong USD (and corresponding weak Yen and Euro) to plot bullish trade possibilities in Japan and Europe, and a bearish environment for US exporters.
But now, with the help of the highly recommended Floatingpath.com, let's continue to break down the particulars of the Payrolls report.
Here is another view 'by industry', which shows the trends that have been in place post-2009. It is a 'services' economy, and a strong currency buys a lot of services.

Here is the general view of Payrolls. While the +271k number was notable, the trend is sideways and biased down for 2015.
Markets and economies are all about trends. All the October Payrolls did was to revert to the trend (and put a hell of a lot of hype into the markets). The bump however, has knee jerked a lot of analysts to begin projecting accelerating growth. Let's pump the breaks on that.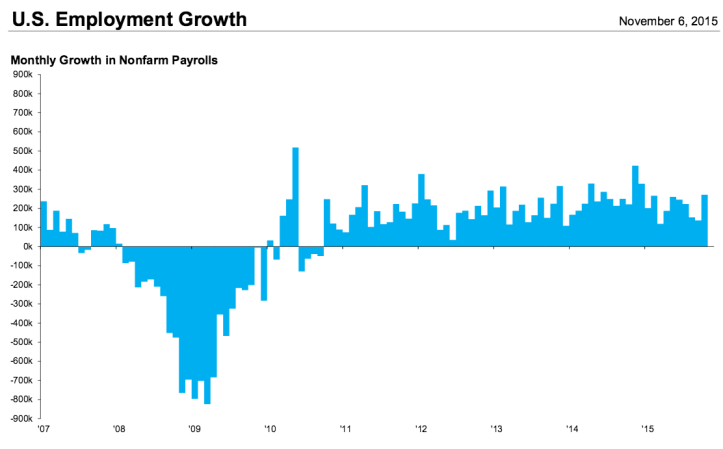 Here is a view of said analysts' surprise vs. expectations. Again, when breaking it down to a graphical view, it does not seem so important does it?
The media need to write things and analysts are paid to project things. But the upshot is that October Payrolls sprung back from a couple bad months. Period.

So to answer the segment's title, no the game is not changing. With a bounce in Payrolls the economy-bearish view has been pushed back a bit and the economy-bullish view got a bump. But the existing trends are:
Sideways employment growth...
Deceleration in manufacturing (ISM) and manufacturing employment...
Continued strong Education and Health services, Professional services and Leisure and Hospitality services...
Now that we have played it straight with a conventional look at the October payrolls, let's add in a little context, again with the aid of FloatingPath, and while doing so let's also consider that with the Fed expected to raise interest rates, yields are rising across the spectrum.
A credit-fueled economy needs what...Beuller? Cheaply accessible and expanding credit. Rising interest rates do what? Anyone? They restrict access to cheap and expanding credit. Is this sustainable?
A Consumer-Driven Services Economy Hopped Up on Credit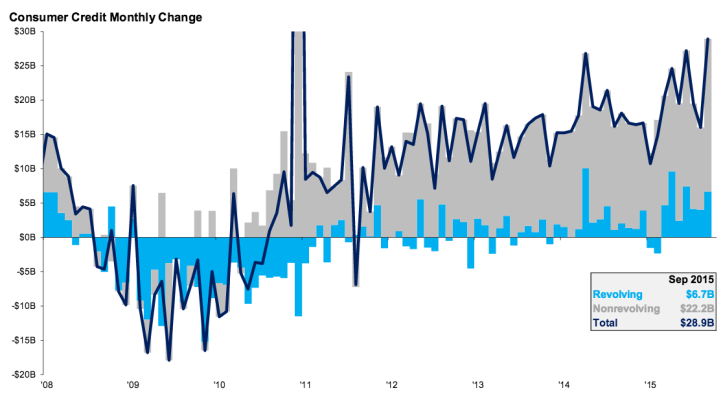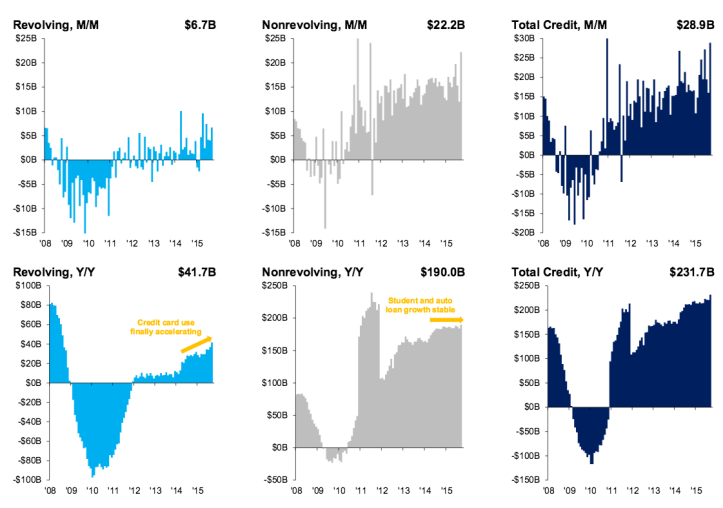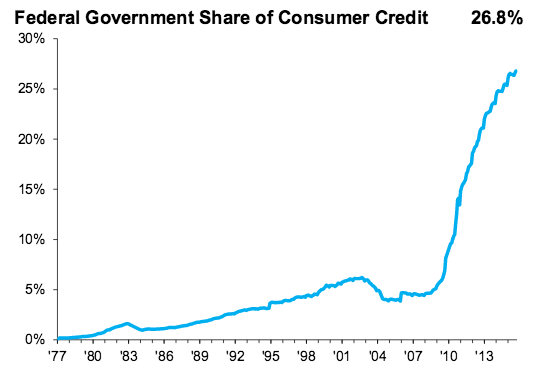 This last item is something we have discussed repeatedly on this inflationary cycle. Whereas the 2003 to 2007 cycle was a commercial credit bubble, the current cycle is a bubble in government credit.
Now the Fed is backed into a stance of having to raise interest rates to keep its credibility. Think about that.