Opec vs. Shale: Not So Relaxed Now
Thursday, 6/08/2017 09:01
Why oil traders expect prices below $50 'til 2019...
THREE years ago, on 12 June 2014, after four days of fighting, Iraq's security forces abandoned their posts in Mosul as ISIS militiamen took over army bases, banks and government offices, writes Gary Dorsch at Global Money Trends.
The jihadists seized huge stores of American-supplied arms, ammunition and vehicles, apparently including six Black Hawk helicopters and 500 billion Dinars ($430 million) in freshly printed cash. Some 500,000 people fled in terror to areas beyond ISIS's sway.
The scale of the attack on Mosul was particularly audacious. But it did not come out of the blue. In the previous six months, ISIS had captured and held Falluja, less than an hour's drive west of Baghdad; taken over parts of Ramadi, capital of Anbar province; and had battled for Samarra, a city north of Baghdad that boasts one of Shia Islam's holiest shrines. Virtually every day its fighters set off bombs in Baghdad, keeping people in a state of terror. ISIS was reported to have taken Tikrit, Saddam Hussein's home town, only 87 miles, north-west of Baghdad.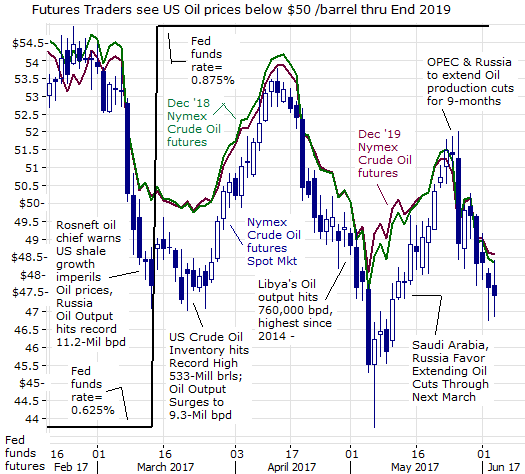 The speed of ISIS's advance suggested that it was also co-operating with a network of Sunni remnants from Saddam's underground resistance who opposed the Americans after 2003 and have continued to fight against the Shia-dominated regime of Nuri al-Maliki since the Americans left at the end of 2011.
By changing its name to the Islamic State of Iraq and "Greater Syria", it signified its quest to conquer a wider area than present-day Syria. Run by Abu Bakr al-Baghdadi, an Iraqi jihadist, ISIS was creating a proto-state on the ungoverned territory straddling the borderlands between Syria and Iraq. ISIS was controlling an area the size of Jordan with roughly the same population (6 million), stretching from the countryside east of Aleppo in Syria into western Iraq.
Word of the latest militant advance came as a United Nations agency reported that 500,000 people had fled Mosul – Iraq's second-largest city, with a population of about 2 million – after the militants, spilling over the border from Syria, captured military bases, police stations, banks and provincial headquarters.
It only took ISIS a little over a month to take over Syria's oil and gas fields and cripple the Assad regime. Mosul, lies in an area that is a major gateway for Iraqi oil. While the loss of the city, it added to concerns over the possible loss of Iraq's proven oil reserves of 114 billion barrels, the world's second largest, behind Saudi Arabia.
And ISIS posed a threat to that oil supply when they showed up on the outskirts of Erbil, a city of 1.5 million that is hosting many of the oil and gas firms in the Kurdish region. On August 8th, 2014, some 5,000 barrels per day had gone offline in Kurdistan as a result of the fighting. Various oil firms, including Chevron, said they would withdraw some non-essential personnel from the region. ISIS, for its part, clearly had an interest in seizing oil fields. ISIS controlled seven oil fields and two refineries in northern Iraq, as well as a portion of a pipeline running from Kirkuk to the port city of Ceyhan in Turkey. Kurdistan exports about one-third of its oil via pipeline to Turkey.
When the al-Qaida-inspired group vowed to march on to Baghdad, the price of Texas Sweet crude oil at the Nymex, jumped $1.88 to $106.28 per barrel in electronic trading. North Sea Brent crude, a benchmark for international oils, was up $2.25 to $112.20 per barrel on the ICE Futures exchange in London. Wholesale gasoline rose 5.6 cents to $3.056 per gallon in New York. Natural gas gained 3.5-cents to $4.543 per 1,000 cubic feet.
The insurgency in Iraq raised the risk of disruptions to supplies of 400,000 barrels per day because of production cuts at oil fields in Kirkuk and nearby towns, Kurdistan was producing 10% of Iraq's production and 0.5% of the world's supply.
However, by Sept 2014, the US has become the undisputed world leader in the production of natural gas, by reaching a new all-time high of 328 billion cubic feet per day. World usage of natural gas was about 24% of all primary energy consumed, behind oil's 33% and coal's 30%.
Over the past five years, the US's production of natural gas had grown over 20%. This achievement was due to the capturing of natural gas as a by-product to the massive shale expansion, as the shale "fracking" revolution seems to continue its unprecedented growth. No other global energy-producing nation has come close to matching US production gains, while leap-frogging Russia in 2009, along with Qatar and Iran, previous global natural gas leadership aspirants.
The US's domestic oil production was also booming, rising to 8.9 million barrels a day, the most since March 1986. A combination of horizontal drilling and hydraulic fracturing, or fracking, had unlocked supplies from shale formations. The US's output gains were pushing out imports.
On 30 Sept 2014 Texas Sweet crude oil and North Sea Brent fell to a two-year low. OPEC oil production increased in September, led by a rebound in Libyan output to the highest level in more than a year. Texas Sweet fell $3.41 to end at $91.16 per barrel on the Nymex, the lowest since May, 2013. It was the biggest one-day loss since November 2012. Oil prices had lost -13% in the third quarter. The volume of all futures was 70% above the 100-day average. Brent slid to $94.67 per barrel on the London-based ICE Futures Europe exchange, the lowest close since June, 2012. Brent fell 16% in Q3 2014. Speculators on the Nymex reduced their net long positions on Texas Sweet by -5% in the week to 193,965 futures and options combined.
Saudi Arabia's oil minister Ali al-Naimi appeared to downplay the price drop, while OPEC's Gulf Arab producers stayed unruffled and stopped short of calling for output cutbacks.
"I am still relaxed," al-Naimi said.
A key factor behind the sharp drop in oil prices was a recovery in Libyan output to around 925,000 barrels per day (bpd) from just 200,000 bpd in June '14. But Iran's oil minister, Bijan Zanganeh, urged OPEC members to make joint efforts to keep oil prices from falling further, highlighting a split with Saudi Arabia. "Considering the downward trend in prices, OPEC members should try to temper production to avoid further price instability," Zanganeh warned.
However, for the previous few years, the global oil markets were becoming saturated by a flood of crude oil coming out of the US. Shale-drilling in North Dakota, Texas and Colorado had increased by roughly 4 million bpd since 2008, accounting for all of the global increase. Imports from OPEC were cut in half and for the first time in 30 years, the US had stopped importing crude from Nigeria. The US's oil output more than made up for losses from war or weather disruptions.
While fracking costs ran the gamut, shale oil producers were breaking even at around $80 to $85. Some US oil fields, however, including the Eagle Ford Shale and Permian Basin in Texas, would remain profitable at $53 a barrel. It would take a sustained decline in prices to make companies cut back, experts said.
By October '14, prices for Texas Sweet had fallen towards $80 per barrel. About $200 billion that would have flowed into the coffers of the OPEC had instead remained in the hands of consumers in oil-importing nations, including the US, China and the EU. On Nov 26 2014, Saudi Oil chief Ali Naimi told reporters there was no need for the cartel to cut its output ceiling despite a plunge in Nymex oil prices to $78 per barrel, saying he expected the oil market to eventually "stabilize itself."
On Nov 28th 2014, Nymex crude tumbled -10% in its biggest one-day drop in more than five years , and North Sea Brent broke below $70 per barrel, as Saudi Arabia's decision not to cut output sent oil traders and analysts scurrying to find a new trading floor. Brent finished -18% lower in November '14, for a fifth straight month of declines, or the longest losing streak since the 2008-2009 financial crisis. Since June, Brent had given up 40% of its value, falling from above $115, as increasing US shale oil output helped create a glut amid sluggish global growth. Russia's most powerful oil official Igor Sechin said oil prices could hit $60 or below by the end of the first half of next year.
Two months later, on 28 January 2015, Barclays and Goldman Sachs analysts issued even more bearish forecasts for oil prices, predicting no significant recovery in the first half of 2015. Barclays slashed its 2015 Brent crude oil price forecast to $44 per barrel from $72, while Goldman said it expected prices for Nymex crude to trade close to $40 per barrel for most of the first half of 2015.
"We expect to see further downside to prices in the next few months, with both WTI and Brent likely to trade into the high $30s before the oil price decline is arrested," Barclays analysts warned.
Six weeks later, officials from Russia and some other non-OPEC nations held talks with OPEC ministers on the sidelines of the meeting. But no agreement on cutting supply was reached, OPEC left its output steady and prices fell further. Brent's expiring front-month contract closed at $53.44 per barrel, after hitting a six-week low of $52.50 earlier. Nymex crude futures settled at $43.88. On 7 April 2015, crude prices dropped further after Saudi Arabia reported it had increased its oil production by +500,000-bpd to a record 10.3 million bpd in March, a figure that would eclipse its recent peak of 10.2 million bpd in August 2013.
The oil and gas industry spent $200 billion on drilling, refining, and new equipment in 2013, when oil prices hovered above $100 per barrel for 2.5 years, Wood Mackenzie estimated that $380 billion worth of oil and gas projects were scrapped by the industry, with oil prices below $40 per barrel.
Ultimately, cost cuts and greater efficiency enabled the US shale oil industry to survive the worst downturn in history, (in Dollar terms). Advancements in technology have enabled shale drillers to reduce the time needed for drilling a well, and lowered the break-even points. While OPEC and Russia have agreed to extend their collective output cuts of 18 million bpd into March next year, – the US-shale oil industry continues to increase production by the week, having found ways to get more bang for the buck and be profitable at a US$50 oil price. Some shale oil wells in Texas are profitable at $35 per barrel.
OPEC now finds itself unable to 'fix' the price of oil as the number of active oil and gas rigs in the United States rose for a 20th straight week. Combined, the total oil and gas rig count in the US stands at 908 rigs, or 504 above the count a year ago. US-drillers can now launch a new well in under ten days, or a week less than the average shale patch drilling time back in 2010. Already, US-oil drillers have increased their output by nearly +1 million bpd compared with a year ago. Some oil drillers expect US oil production to grow to an all-time high of 10 million barrels per day by year's end. The US's output is rising at a rate of 95,000 bpd per month this year, driven by shale drilling.
As such, in the Nymex futures markets, the prices for crude oil deliverable in Dec '18 and Dec '19 are nearly identical at roughly $48.50 per barrel, and only +$1 higher than the spot market prices. That means, futures traders expect crude oil prices to stay slightly below $50 per barrel for the next 2.5 years.