Mining: 10 Times Better than Nuclear Winter
Tuesday, 6/25/2013 20:28
Times are tough for mining companies and investors. But they could be much worse...
The LATE 1990s
were so challenging for the mining sector they are now often referred to as the "nuclear winter" of the industry, writes analyst Andey Dashkov at
Casey Research
.
Some analysts are comparing our current circumstances to that period, while others purport we haven't hit bottom yet.
In its
Business Risks in Mining and Metals 2013-2014
report, Ernst and Young states that
capital allocation and access is now the number-one challenge
the resource sector is facing. While production-stage companies are rationing capital expenditures to meet long-term goals, the juniors don't have this luxury; they need to raise money just to keep the lights on.
The report says the current situation is the worst market in ten years. Since International Speculator deals mostly with the early-stage companies, we set out to see exactly how bad it is.
To do that, we pulled data on 10,521 private placements closed by TSX-V-listed metals and mining companies trading on the Canadian stock market since 1 January 1999, and compared the financing market now to the infamous "nuclear winter".
Here's what we found...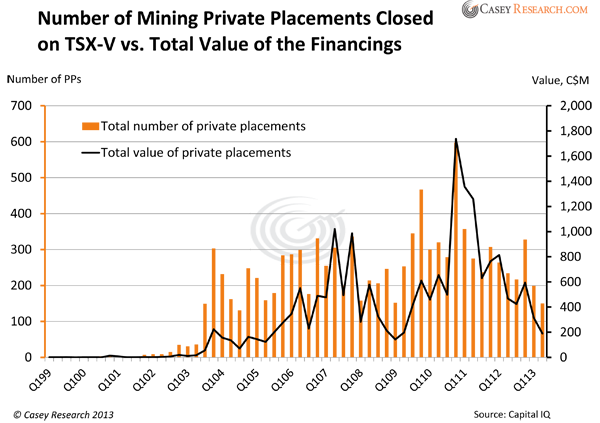 The data show that metals and mining companies closed only 36 private placements in Q2 2003, raising C$17.6 million. By comparison, so far in the second quarter of 2013, metals and mining companies closed 150 financings for a total of C$192.6 million.
This clearly shows that the current market, while definitely under pressure, is not as bad as it was ten years ago.
The market is also stronger now than in 1999-2001, when little financing activity took place. That period indeed was a desert for a metals and mining company. For a clearer picture, let's zoom in on that period.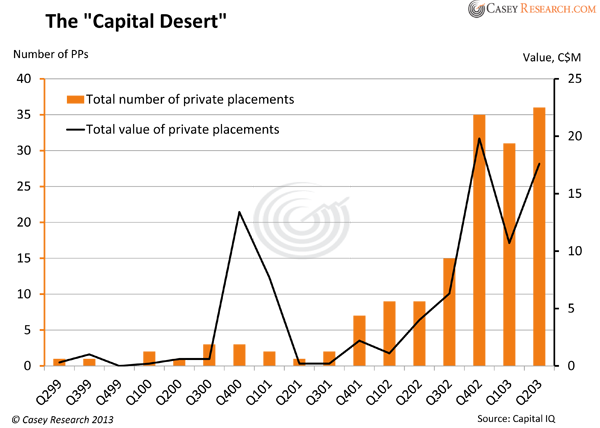 Before things picked up at the end of 2002, the junior metals and mining sector was in a miserable state for at least two years, as the chart shows. Further, a few large deals skewed the data; for example, Mazarin Inc. and Regency Gold Corp. raised about C$10 million each in Q4 2000. These financings were huge compared to their peers, but wouldn't be considered that big today.
While the current state of the junior mining market couldn't be described as strong, these data show we haven't reached a nuclear-winter phase, at least not yet. Juniors still can finance, though clearly investors are much less generous now.
Keep that 1999-2001 period in mind the next time someone tries to convince you the bull market is over. That is what a nuclear winter looks like. Our situation is much better than ten years ago. The best companies are still able to raise funds to explore and develop. This is where investment Dollars should be focused, because when the market does turn around, it is the better-managed and better-capitalized companies that will be the first to deliver the tremendous returns this volatile sector is known for.