Gold's 3-stage bull market
Wednesday, 9/05/2007 19:55
The easy money has been made, but the big money is still on the table...

THE "EASY" MONEY has already been and gone in this three-stage bull market in gold.
That was Stage One, where smart money sought out investments that could be bought for their intrinsic value or less. Those investors were the first to recognize the undervalued opportunity, and were willing to blaze the early trial.
We are now in the latter stages of Stage Two of the bull market in gold, which is the longest phase, characterized by some institutional buying and increased investment demand.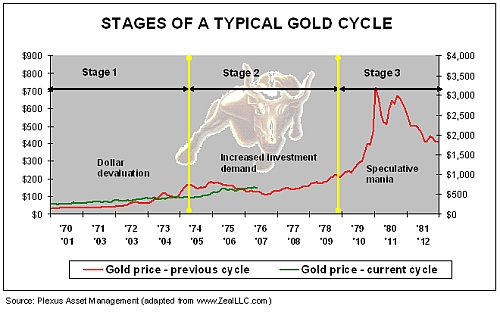 Stage Two will see increased volatility in the Spot Gold Market and also gold mining shares, with consolidation at a higher Gold Price.
Stage Three is the "blow off" stage, where the speculative mania propels gold and mining shares up to dizzying heights. This is the shortest phase, and it's where the "BIG" money is still to be made.
This final, third stage will begin when gold ceases to be a commodity and is thought of as money or currency. With the current rate of currency debasement, political uncertainty, and international terrorism, we are closing in on Stage Three.
Physical Gold Bullion and gold mining shares are the investment opportunity of a lifetime, in short. If you do not have gold and gold mining shares as a hedge or as an investment, do take a look at www.Goldinstitute.net, where you can also contact me direct.
Remember, the "easy" money in the gold has been made, but the "BIG" money is still on the table.