Gold Ratios Falling
Friday, 5/08/2009 10:19
The ratio of Gold Prices to both silver and oil has turned lower from 2009's sharp highs...

JUST RECENTLY here at Hard Assets Investor, well-known investment adviser Louis Stanasolovich was giving away free trade recommendations, writes Brad Zigler.
In "Stanasolovich: Short Oil, Long Gold" – as the title suggests – he said he's bearish on crude oil (at least near-term) and bullish on Gold Bullion.
Put another way, he's long the gold/oil ratio...a comparison of their relative prices which measures the number of barrels you can buy with one ounce. The ratio, however, is not doing any favors for Stanasolovich and his clients so far in May. Since May 1, the day the interview was published, the gold/oil ratio's actually fallen 3.2%.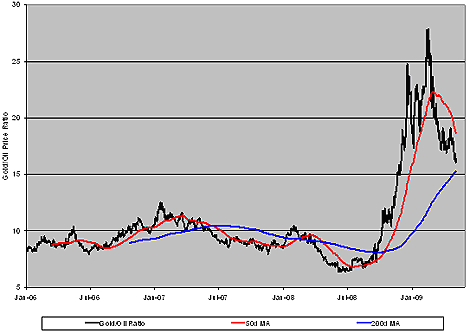 Granted, a short week of trading doesn't make a trend. Three months, however, just might. And the gold/ oil ratio peaked in mid-February at nearly 28-to-1 (when, in other words, one ounce of gold could purchase 28 barrels of crude oil). This Wednesday, gold's purchasing power slipped to 16 barrels as oil prices surged.
The gold/oil ratio isn't the only quotient shifting in a big way for gold. The old gold/silver ratio also slipped a couple of gear teeth, falling through a triple-tested support level at 69-ounces of silver to each single ounce of gold.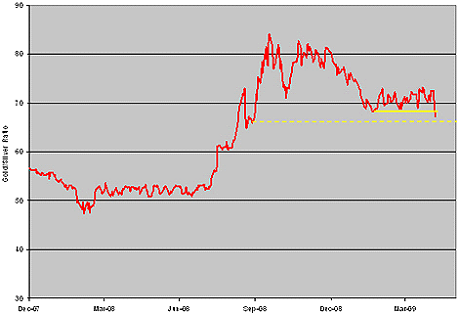 Resurgent oil and silver prices are indicative of renewed investor optimism in an industrial turnaround. Oil and silver are industrial commodities, though silver also doubles as jewelry. Gold's role as an industrial metal is quite limited by comparison. Of late, gold's primary role has been that of a safe haven for panicky investors.
Economic apprehensions, rightly or wrongly, are easing. And that's reflected in the declining gold ratios. But the question now being considered by traders is how much lower these ratios might fall if this nascent trend continues.