Gold, Gold Mining Stocks and the S&P 500
Wednesday, 1/25/2012 14:26
Telling the difference between corrections and bear markets...
THE EUROZONE crisis benefited Gold Prices initially but as the panic has abated, stocks are rallying back to their highs while gold has sold off and Gold Mining stocks are trying to hold their lows. What is going on? asks Jordan Roy-Byrne at The Daily Gold.
Are we in the twilight zone? Bull and bear markets are long lasting, providing ample time for trends and counter trends to continually reappear and redevelop. The long-term activity of precious metals and common stocks is not a mystery. Gold has continued to hit all-time highs while the gold stocks eclipsed and maintain 2008 highs as support.
Yes, common stocks are also rallying but are nowhere close to seriously testing 2008 highs. Recently, we noted a potential major bottom in both the metals and the mining stocks. With common stocks nearing major resistance, it is no surprise that we are nearing a point where the secular bull trend is ripe for reemergence.
The chart below shows gold against the S&P 500. Note the similarity between 2003-2006 action and 2009-2012 action. After surging higher, the ratio retreats quickly but then forms a bottom and builds a base. The ratio has found strong support and won't be going lower anytime soon. Stocks have had a nice relief rally against gold but it looks to be all but over.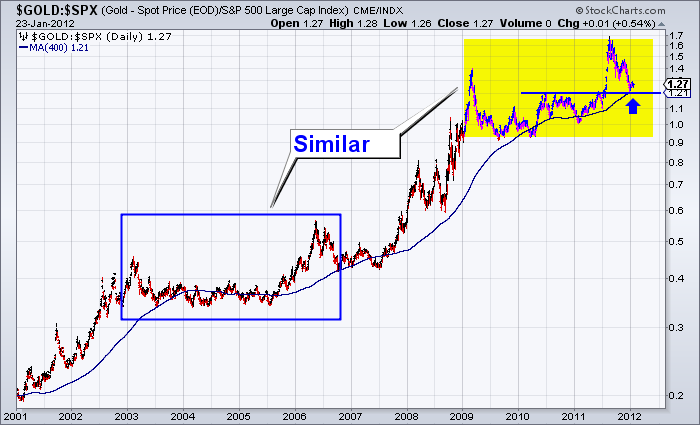 Turning to gold stocks against stocks, we find this ratio at a confluence of support. Yes, the mining equities had a difficult 2011 but it was nowhere close to their severe under-performance in 2008. Technically, the ratio looks likely to bottom soon and reverse course.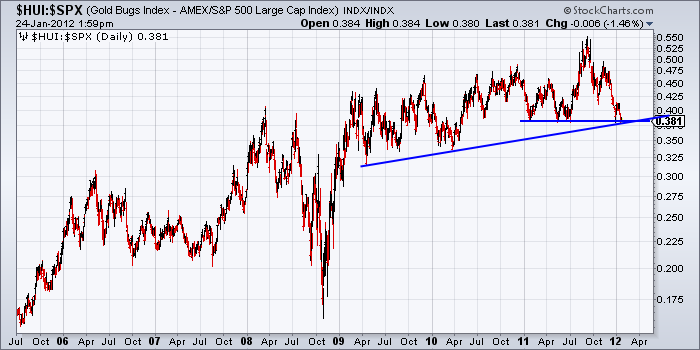 Moving along, we see the S&P 500 closing in on an area of strong resistance.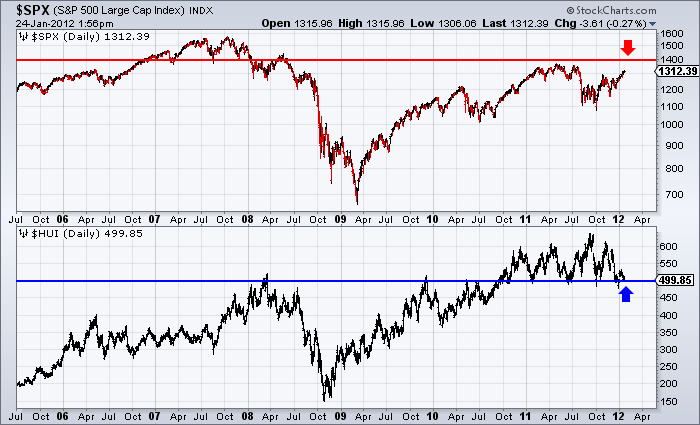 Common stocks remain in a secular bear market and as a result, the market is nearing another sell signal. Conversely, the Gold Mining stocks which are in a secular bull market, look to be digging out a bottom.
Invest in safe, secure, physical Gold Bullion at the lowest possible price with BullionVault...