Danger, Will Robinson!
Friday, 9/18/2009 10:11
Rapid rallies in gold-miner stocks tend to warn of a sharp rise in Gold Prices...
"DANGER, WILL ROBINSON!" warned the ridiculous B-9 robot on the 1960s TV show, Lost in Space, writes Eric Fry from Laguna Beach, California in his Rude Awakening.
Although the B-9 only uttered these words one time during the three-year series, the phrase landed immediately in pop culture as a lighthearted warning against any unanticipated threat.
But the B-9 is now long gone. This endearing robot, formally known as the B-9, Class M-3 General Utility Non-Theorizing Environmental Control Robot, hasn't made a public appearance since Lost in Space went off the air 41 years ago. Thus, for more than four decades, no being – biologic or electronic – has been around to wave its arms up and down and yell, "Warning! Warning!" whenever some sort of threat drew near.
Americans have had to go it alone.
Sure, we've got our car alarms, and our home security systems...and Robert Prechter. And we've also got a pretty sizeable army. But when it comes to our personal security and the security of our financial assets, we haven't really had a reliable sentry to alert us to potential harm.
Or maybe we have and we just didn't realize it. For the better part of 40 years, the Gold Price has been standing guard over monetary policy. The Gold Price has been alerting investors to the potential threat of inflation. And if the recent price action in the gold market is to be trusted, this sentry has not fallen asleep on his watch. During the last few weeks, gold has jumped about 10% to over $1,000 an ounce.
But our story really begins in the late 1960s, just as Lost in Space was going off the air and the US Dollar was going off the Gold Standard. Back when B-9 was waving its arms and yelling "Warning! Warning!" once per week, the Gold Price was fixed at $32 an ounce and foreign central banks could freely convert their accumulated Dollar bills for gold.
The French thought this was pretty sweet deal and swapped as many Dollars as they could find for gold. However, President Nixon soon realized that this trade was a very sour deal for the US. And so, in August of 1971, he ended gold convertibility for good. Without this inconvenient and inhibiting link to gold, the US discovered the pleasures of reckless monetary policy: printing Dollars to pay debts.
Inflation kicked up almost immediately, as did the Gold Price. Within a few short years of ending gold convertibility, inflation jumped to double digit rates and the Gold Price jumped to $800 an ounce. But then the "yellow dog" took a good long nap. It slept through most of the 1980s and 1990s, as monetary inflation remained RELATIVELY tame.
By the late 1990s, the Gold Price had slumped to nearly $250 an ounce. It has been climbing steadily ever since. The initial move from $250 to $450 between 2000 and 2004 did not exactly scream "Warning! Warning!" But the gold rallies of recent years have taken on a more ominous tone, from a monetary standpoint. In other words, gold is in a bull market because inflation is in a bull market.
The most recent rally in gold seems particularly intriguing – and ominous – in light of the crazy quantities of cash that the Treasury and Federal Reserve have been tossing at the financial crisis. In various ways through various channels, the nation's monetary bodies have conjured trillions of Dollars into existence that did not exist before Lehman Brothers went bankrupt.
In all earlier epochs, such activities would have produced a large and inevitable inflationary trend. We predict this epoch will be no different. The Gold Price is telling us as much. So are the Chinese.
"Gold is definitely an alternative" to paper Dollars, said Cheng Siwei, former vice chairman of the Standing Committee of the Chinese Communist Party, recently. "But when we buy, the price goes up. We have to do it carefully so as not to stimulate the markets...."
And the significance, according to Byron King of the Outstanding Investments advisory, is that "The Chinese seem to be prepared to establish a floor under any correction in Gold Prices. This limits the downside for well-positioned gold miners."
As for the upside? "Mr. Cheng's greatest concern with the US is that the country 'spends tomorrow's money today'," writes Byron. "Meanwhile, he added, 'We Chinese spend today's money tomorrow'."
Byron's analysis highlights the compelling long-term reasons to allocate some capital to the gold market. On a related note, most Gold Mining companies are swearing off the practice of "selling forward" – i.e hedging – their production. In effect, therefore, the insiders are buying...and that's usually a bullish sign.
"The size of the [gold] industry's hedge book is set to drop to a residual of less than 200 tonnes by the end of 2010, the lowest in almost 25 years," the Financial Times reported recently. "The reduction is a 95% drop from 3,000 tonnes a decade ago."
The mining industry's bullish stance is just one more vote of confidence in gold's long-term investment appeal. Meanwhile, the shares of Gold Mining companies are flashing a compelling short-term buy signal. Since late July, the Gold Mining stocks, as represented by the HUI "Gold Bugs" Index have jumped more than 30%, while the Gold Price has advanced only about one third as much.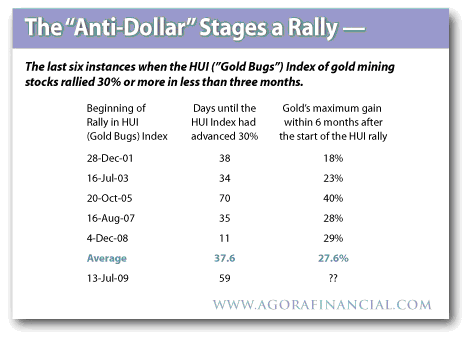 As the nearby table illustrates, rapid 30% rallies in the HUI gold-miners index tend to bode very well for the Gold Price.
The five prior instances in which the HUI rallied more than 30% in a very short timeframe, the Gold Price subsequently jumped an average of 27%. A similar advance this time around would land gold at $1,160 an ounce by Christmas – or about $140 higher than today's price.
No such rally is certain, of course. But the monetary stars seem to be aligning for both a short-term and a long-term advance in the gold market.
Looking to buy physical Gold Bullion today? Make it simple, secure and cost-efficient at BullionVault...