Gold, Oil & Hedging Your Stocks
Monday, 4/06/2009 10:53
Want more zig for your zag? Look to Gold Bullion, not oil, as your post-inflation equities hedge...
WE'VE NOTED BEFORE how gold has failed to achieve its much-vaunted role as an inflation hedge, writes Brad Zigler of Hard Assets Investor.
When we looked at gold's long-term performance last year, indeed, we wondered if the yellow metal would match its 1980 highs on an inflation-adjusted basis. As it turned out, gold didn't. But crude oil did.
We figured gold would have to average $1,563 an ounce in 2008 to equal its 1980 record when rises in the US Consumer Price Index (CPI) are included. Gold managed to run up to $1,032 in March 2008, but only averaged $872 for the year. West Texas Intermediate (WTI) crude, by contrast, needed a CPI-adjusted mean price of $95 a barrel to equal its 1980 performance.
Spot oil delivered to Cushing, Okla., averaged $100 last year.
Traditionally, gold's risen in tandem with oil. That's still the case, more or less – though it's been "less" than "more" recently. The relative strength of the two commodities is readily observed in the Gold/Oil Ratio.
Gold's purchasing power in terms of oil is now waning thanks to a resurgence in oil prices. An ounce of gold currently buys 17 barrels of oil. Back in February, when oil prices cratered, the Gold/Oil Ratio approached 28-to-1. And back at oil's zenith in 2008, the ratio neared its record low of 6-to-1.
Over the long run, gold's multiple averages a shade under 16 times the price of oil, though the metal's leverage has been slipping recently. Over the past five years, an ounce of gold has been worth about nine barrels of oil.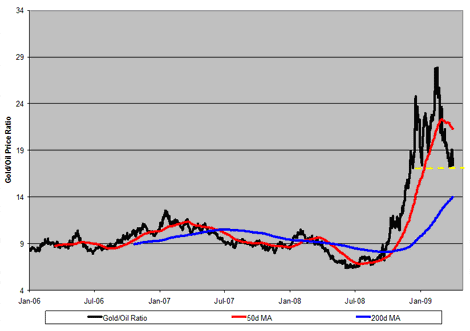 De-leveraging had a lot to do with the run-up in the Gold/Oil ratio. Otherwise, you'd have a hard time making a fundamental case for the eight-month swoon in oil prices from $145 a barrel to $34.
Slackening demand certainly contributed to oil's downtrend, but the fire sale of assets in the wake of the Lehman Brothers collapse, led by hedge fund selling, really pitched oil prices into the abyss, making gold look relatively strong.
Oil, in large part, fell upon its own sword. After all, it was oil's rising rise that created much of the inflation measured by CPI last year. Since 1986, the year the US Energy Information Administration began collecting spot price data, the WTI price compounded at an average annual rate of 8.6%. CPI's contemporaneous growth rate was 3.0%.
And gold? Gold ended up appreciating at a 3.8% annual rate over the 23-year period.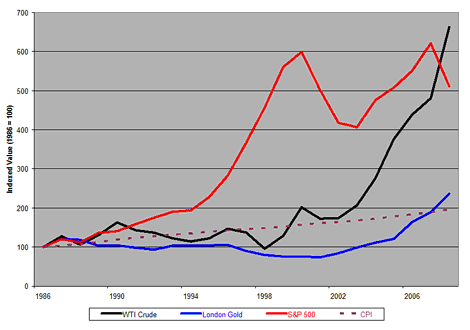 Keep in mind, though, that we're looking at raw asset values here. The picture looks a bit different when the effects of inflation are considered.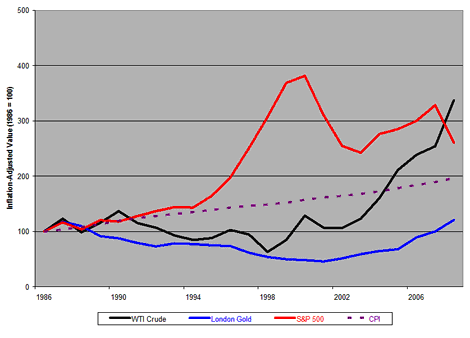 Net of CPI inflation each year, gold's appreciation rate falls to 0.8% per annum on average. Crude oil's rate declines too, but remains at 5.4% above the Consumer Price Index.
Take note, however, of the price trajectory of large-cap US stocks, as represented by the S&P 500 index. On both a raw basis (at 7.4% per annum) and adjusted for inflation (at 4.2% per annum), stocks pretty much stayed ahead of inflation each and every year. Commodity appreciation, meanwhile, was until recently sub-par.
Oil's price velocity, in fact, languished below the inflation rate from 1991 until 2005. Gold's rate of rise is still playing catch-up to the CPI across our 22-year horizon.
Therein lies the rub. For while oil appreciated at a rate better than gold and CPI over the long run, it may not be the better hedge. At least, not a better hedge for a stock portfolio. Sure, one can hedge against inflation, but there are other adversities for investors to consider.
In the strictest definition of the word, a hedge is an instrument that moves in opposition to a target asset. The object of hedging is to smooth out portfolio volatility until such time as assets can be liquidated. So consider this:
The 23-year correlation between the S&P 500 and WTI crude is 4.2%. Not a high correlation certainly, but a positive one nonetheless.
Gold, however, is negatively correlated to stocks, coming in at -38.6%.
In a hedge, you want the hedge to zag when your primary asset zigs. Simply put, there just may be more zag in gold than there is in oil for long-term stock investors.