Risk On for Gold Mining Stocks
Thursday, 12/02/2010 18:08
Gold Mining juniors are outpacing the bigger producer stocks again...

TRADING and investing are primarily driven by two emotions, writes Brad Zigler at Hard Assets Investor – fear and greed.
No better marketplace reflects the interplay of these sentiments than that for Gold Mining shares.
The Market Vectors Gold Miners ETF (NYSE Arca: GDX), launched in 2006, is a portfolio of 30 gold producers that has become a bellwether for investors' mining stock appetite. GDX, though, doesn't measure every investor's hankering for gold stocks. Some look for more leveraged returns in the shares of so-called "junior" miners – those companies engaged in the exploration and development of gold properties.
The mindset of these Gold Mining investors is reflected in the price of the Market Vectors Junior Gold Miners ETF (NYSE Arca: GDXJ). Debuting in 2009, the GDXJ portfolio now comprises 59 issues.
Though you'd hardly characterize the purchase of Gold Mining shares as a staid investment, purchasers of the GDX fund tend to be more risk averse than those who put money into the junior ETF. You can, in fact, get a sense of investors' willingness to undertake greater gold market risk (let's call this "greed") by tracking the relative prices of the two exchange-traded funds.
The GDXJ fund was launched last year at about half the then-current price of the GDX product. The junior fund's price didn't linger at 50 percent of its older sibling's for very long. Over the course of the past 12 months, GDXJ has gained ground on GDX, though both funds have risen along with – and ahead of – Gold Prices.
This week, GDXJ hit a new relative price high against GDX. The junior fund's share price is almost 70% that of the larger-cap portfolio. Not that it got there without a little volatility.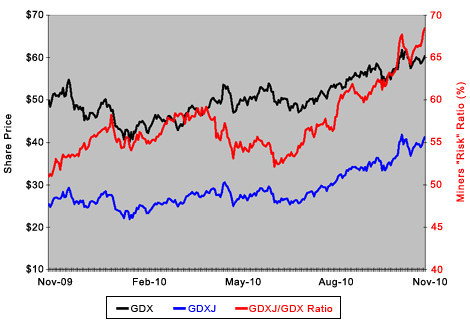 There have been times when investors pulled in their horns (let's call that a manifestation of "fear") causing GDXJ's price to fall in relation to GDX.
Notably, that was in the late spring/early summer just ahead of gold's pre-election rally. It was then that stock market worries trumped gold's allure, making the revenue-producing and better-capitalized issues in the GDX portfolio the better bet. For the juniors, the switch was flipped to "Risk Off".
Now, however, the current's flowing into the risk trade. Since bottoming at 52, the miners' risk ratio has climbed to 68 (the numbers represent a percentage derived by dividing GDXJ's price by that of GDX).
Clearly, Gold Mining investors put their concerns about the equities market behind them. That, together with bullishness about metals prices, has got traders wondering just how high the juniors can trade relative to producers.
How high, indeed. We'll be following this indicator with particular interest going forward.

Want physical Gold Bullion rather than equity, management, credit and political risk? Get the purest gold at the tightest prices using the award-winning world No.1, BullionVault, now...