Gold Miners & the Fed
Wednesday, 7/09/2008 08:16
Bernanke's indecision on US interest rates may open the door for Gold Miners...
ON JUNE 25th, Ben Bernanke left key short-term US interest rates unchanged at 2.0%, citing "considerable stress" in financial markets and tight credit conditions, notes John Lee of GoldMau.
The Fed also cautioned about the upward pressures on consumer prices caused by rising oil and other commodity prices. And on the same day, legendary investor Warren Buffett fingered "exploding" inflation as the biggest risk to the economy.

Buffett said on CNBC, "It's huge right now, whether it's steel or oil. We see it everywhere."

The markets spoke convincingly on Buffett's side as oil zoomed up and set new highs while the Dow went into freefall. Clearly the Fed has not done enough to calm inflationary fears. Nor has it reassured the markets.

As more data emerges on the plight of the financial sector, we see that there may be more bank bailouts coming in the near future. Witness the case of Bear Stearns. The banks own so much equity in one another that the collapse of one bank could lead to a chain-reaction collapse.
Because of this, there's every reason to expect that bailouts will be extended to the troubled financials stocks that can't cover their losses. Meanwhile, the costs would be paid by anyone holding dollar-denominated assets.
Gold has been buoyed by oil's rise and is now sitting around $920 per after last week's step back. More interestingly, gold stocks measured by the XAU index have defied the general equity downtrend and held fairly steady.

On the junior gold stocks, one company that caught my eye on the volume gainer board is Axmin Inc. (AXM), a gold explorer in West Africa.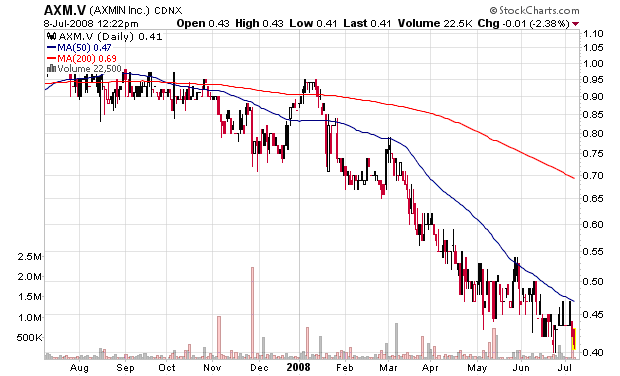 Axmin was a favourite of several fund managers in 2003. The stock went from 30 cents to $1.70 by the end of 2003. Since then, it's been treading water and reached a 3-year low of 40 cents on heavy volume in late June, even as the Gold Price remained near all-time monthly highs.

This shows the risks you take when trying to pick the right junior Gold Miner. First, the rising price of Gold doesn't necessarily show up as a gain in mining stock prices. So while at roughly a $100 million market cap for four million ounces of gold of decent grade, AXM failed to prove a good speculation over the last . But the company was 40% owned and locked up by a private group, which makes it a tight shareholder structure.

Note that they recently closed a private placement at 40 cents. So for now, those heady days of $1.70 per share remain out of reach. A good entry point might be the low 40 cents range, but with that recent three-year low hitting, we'd expect to see profit-taking likely at the current 200-day moving average of 70 cents.