Gold & India's Missing Bank Accounts
Friday, 8/29/2008 15:04
Never mind inflation or the sinking Rupee; just why is India the world's No.1 market for Gold...?
GOLD IS NOW considered a hedge against inflation in many countries, writes Sreekumar Raghavan for Commodity Online.
Along with crude oil prices and the US Dollar, gold must also be the most closely followed commodity in the world – and India consumes more gold than any other nation.
But how did this happen? The present Indian trend of Buying Gold as a hedge against inflation, reflected by the long-term trend in Rupee prices, did not have the evolution you might expect. The absence of a strong banking system is a major reason Indian people continue investing in gold today.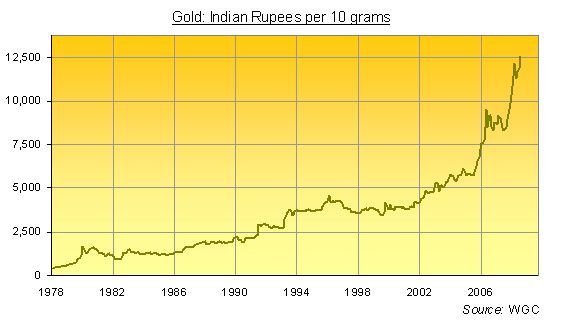 According to Jagdish Bhagawati in his 1980s' book The Economics of Underdeveloped Countries, people retain a tendency to buy land or invest in gold – as a form of saving for the future – when banks fail to reach rural and inaccessible areas of the developing world.

"Gold happens to be favored in many underdeveloped countries," Bhagawati wrote, explaining that villagers had to invest in land, gold or other such tangible assets because financial assets – such as bank deposits, shares and mutual funds – were not available.

Historically, the stock market, mutual funds, other commodities and bank deposits might have provided better returns or even greater security than investing in assets like land or Gold. But this evolutionary instinct to hold wealth in gold is a legacy that Indians still cling to, even though it may be said to outlive its purpose when banking services become more widely available.

It is also a fact that when agricultural incomes decline – due to bad crops or a fall in price – then consumption of precious metals including Gold can also come down in India.

Over 50% of India's rural areas still do not have access to banking, however, and this is one of the reasons why the Reserve Bank of India has directed private banks to focus on financial inclusion in the face of rising suicide rates amongst farmers, driven by indebtedness to high-charging local money lenders.

Moreover, "it is interesting to note that the tendency to use savings to purchase tangible assets such as land is sometimes socially unproductive," claimed Jagdish Bhagwati, back before the desire to Buy Gold as a hedge against inflation really took hold. "The preference for land as an asset, for prestige and other social reasons, may thus act as an instrument of dis-saving and hence a brake on the national capacity to save."

He also felt that gold holdings, in particular, can lead to social waste. "India has recently lost valuable and scarce foreign exchange through illegal payments for smuggled gold imports," Bhagwati said of the late 1980s. "Among other corrective measures a restriction on the purchase of 24-carat gold has been imposed so as to force household away from their socially deleterious attachment to gold-holding."

Following the liberalization of India's political and financial systems in the 1990s, the restrictions on gold holdings and gold imports were also eased. That curbed smuggling, but it didn't alter the propensity of the average India to Buy Gold.

Of course, there are other reasons why gold could be seen as a good investment. Demand in India rises during festivals and marriage seasons in different parts of the country. And however large your bank-account balance, it cannot be displayed – which is not the case with gold or a house. That could help explain why, despite being dubbed a "social waste" by economists like Bhagwati, the investment motive in housing and precious metals is so strong in India. The rising cost of living – price inflation – only adds to this case.

Rising disposable incomes have recently led to a growing market for diamond and platinum jewelry, but they are still far short of the volumes generated in Gold. Many Indians would disagree with Jagdish Bhagwati when he said called investment in gold a "social waste". However, from a historical or evolutionary point of view, his argument that an inaccessible banking system caused our love for gold cannot be dismissed. Nor can the instinct for possessing gold to display.

Gold's role as a hedge against inflation, in contrast, was an incidental cause for India's strong gold demand – even if it's now driving much of today's new investment.