Gold/Dow ratio
Friday, 9/28/2007 14:42
Gold and oil point to a serious inflation that might as well take the Dow higher, too...
INFLATION IS AFOOT, scorching everything it touches from financial assets to house prices to bananas, gold, coffee and cotton.
And if the US Federal Reserve gets its way, even more money will be released into the global wild. But where will it go?
US blue chip stocks are one obvious recipient. But the Dow could go to 20,000 and not produce one single Dollar more in real wealth for American or international investors. The Dow – like gold and oil – is rising because the Fed is trying to reflate the bubble.
But the chart below from my friend Ron Griess at TheChartStore.com shows the Dow/Gold ratio is currently near 20: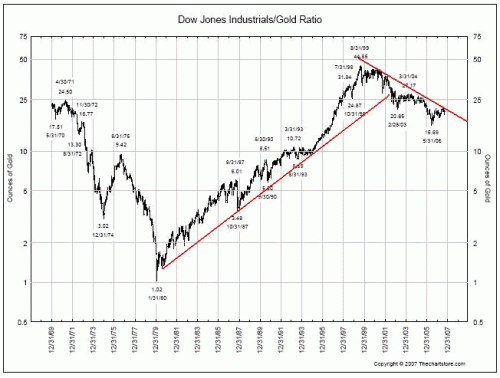 What does it mean?
Well, it means you need about 20 ounces of gold at the current spot price to buy one "share" of the Dow. If the ratio stays around 20 and the Dow goes to 20,000 (let's say Bernanke keeps cutting rates), then the gold price would have to be $1,000.
Dow 20,000...gold $1,000...Dow/Gold ratio 20:1.
The chart, however, shows that the Dow/Gold ratio is in decline. If the trend keeps declining, it should take fewer ounces of gold to buy a share of the Dow. That means if the Dow is going up – which the Fed and the American political establishment clearly want to happen – gold will go up faster.
In other words, what we're saying is that the nominal rise in financial assets is a big shiny, shallow sham. Trash US dollars may be floating US stock prices. But global capital flows are migrating toward tangible assets. That's the trend to keep your eye on.
And that trend is your real friend.
To Buy Gold Online Today, accessing live market prices for minimal fees – and buying physical gold bullion outright in your name alone – be sure to visit BullionVault now...