The New Gold
Monday, 11/19/2007 15:47
Gold is pretty, shiny and ever-more expensive. But why...?
THERE'S A LOT of mystery surrounding the value of gold, but like anything else, it all comes down to supply and demand.
Understanding where those two trends are going right now is critical to understanding where the Gold Price is headed next.
Gold Demand
Even today, new gold-mining supplies are predominately used in making jewelry. Other uses include various industrial applications, dentistry, central bank hoards and, of course, Gold Bullion Investment.
So why is the Gold Price going up? Well, for starters, gold demand is rising.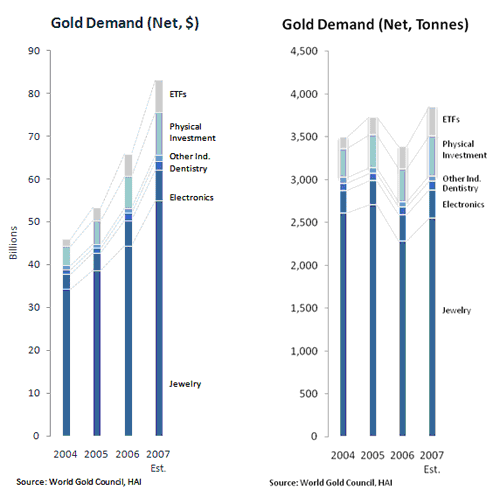 Drawn on data from the World Gold Council, these charts lay out the picture. We've got solid 2007 numbers through to the third quarter, and it's easy enough to project year-end demand for gold.
Gold demand in the fourth quarter is generally 25% greater than during Q3, with minimal shift in sources of demand.
Obviously, the Dollar demand for gold is soaring. Net gold demand has nearly doubled since 2004, with steady growth in each of the past four years. This chart, of course, incorporates the rising Gold Price into the picture. So as prices rise, "Dollar demand" rises, too.
The tonnage chart flips that on its head and just looks at gross gold demand. On a tonnage basis, the numbers are less exciting, although demand is still up since 2004.
But which is more significant? The truth is, they're both interesting indicators. If tonnage demand were to rise significantly – say, if gold gained a new industrial usage – it would undoubtedly drive prices higher. And the fact that volume demand is trending up can't help but support prices in the meantime.
Meanwhile, Dollar demand is important too, as it offers a realistic tell on the value the world places in gold as a resource.
Just as interesting as the net numbers, however, is a chart examining where gold demand is coming from. Here, we're seeing a significant shift.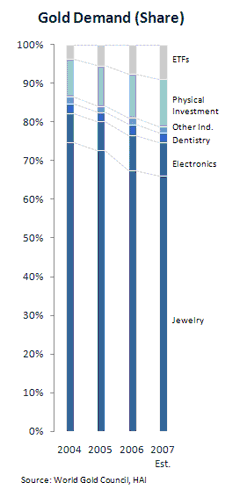 Jewelry demand is declining steadily on a percentage basis while Gold ETF use is rising, suggesting more and more investors are using exchange-traded gold funds – rather than jewelry – as a store of value.
Understanding gold demand is key to understanding the Gold Market. So let's look below the surface and see what's really happening.
Gold Jewelry Demand
When you talk gold jewelry, you're talking India. It leads the charge toward all things yellow and shiny as the top importer of gold (715 metric tons last year). What happens in India sends ripples through the entire market.
The driving force behind India's love affair with gold is the festival season, which happens in the latter part of each year. The largest of these festivals is Diwali, or the Festival of Lights, which recently ended (Nov. 9th). Gold is a traditional purchase during this festival, when Lakshmi, the Hindu goddess of wealth, is worshipped.
Unsurprisingly (since everyone's already partying), Diwali marks prime time for Indian weddings, too. In India, Oct. to Feb. is the equivalent of June in the Hamptons. The tradition of dowries is very much alive and well in Indian culture, and parents often give their daughters gold jewelry as a form of savings, as well as for wearing on special occasions.
As you'd expect, Indian Gold Consumers are extremely well-informed and discriminating consumers. They know the price of gold (which is posted everywhere) and are reluctant to spend money on gold when prices are high. Luckily, while the Gold Price has been high in New York, the Dollar has been weak, so consumers in India have been less affected. Volatility, however, has caused chaos.
Beyond India come Turkey, Italy and China, rounding out the top four largest consumers of gold. With China's strong economic growth and an increase in disposable income, demand for gold is likely rising, although research and hard data on Chinese spending on luxury goods is spotty at best.)
Gold in Dentistry, Electronics & Other Industrial Uses
From dental uses to electronics, gold is used in all sorts of places as an industrial input. But demand outside electronics has been essentially flat, and gold use in microchips has risen only by a couple of percentage points in the past three years.
Still, technological advances could change all of that. Back in May, there was discussion of using gold in diesel catalytic converters as an alternative to the more expensive platinum/palladium staples. Despite being cheaper, gold converters might reduce exhaust emissions by up to 40%. It seems like a win-win situation, and if the car manufacturers go for it, industrial demand for gold should rise while the platinum group metals fall.
Gold: Physical Investment
During the last nine months, increasing in Gold Prices have been almost universally attributed to investors, speculators and safe-haven goldbugs. But demand for physical gold has actually remained fairly stable, increasing only slightly.
There are many ways to physically own the metal, and just as many – if not more –websites out there explaining the whys and hows of gold ownership. But demand for vaulted, mattressed and coined gold essentially hasn't changed much over the years.
Gold ETFs – Exchange Traded Gold Funds
Exchange-traded funds are where the bulk of the action now comes. The fastest-growing gold demand segment (outside of BullionVault's Ongoing Growth), Gold ETFs have jumped from virtually nonexistent in 2003 to 9% of gold demand by the end of 2007. That is quite a bit of gold being taken out of circulation!
Forbes Magazine reports that "inflows into physically backed ETFs have risen by 32.5% this year," according to a daily research report by Barclays Capital. That added 205 metric tonnes to gold demand.
But there's no big story here. Gold ETFs have created a substitute for physical Gold Bullion Investment. The challenge for the market is that it's just as easy to sell an ETF as it is to buy one. If investors bail out, the ETF fund managers must sell their gold (almost) immediately, and for all intents and purposes, they must sell on the open market.
The implication is greater flows from institutional funds is higher volatility – volatility driven by something even more fickle than the predilections of Indian brides.
Gold Supply Shrinking as Gold Demand Rises
Of course, you can't understand any commodity by only looking at demand, and gold supply constraints are an issue today, even with gold demand at all-time highs.
Here at Hard Assets Investor, we've talked about Peak Gold before – and it is going to happen sometime, as gold is a finite material. Some say that it has already happened.
South Africa's Gold Mines are producing their lowest levels since 1932. Just like oil, extraction costs are rising as gold becomes harder to find and extract. The only bright spot is China, which has been ramping up mining and may soon pass the United States as the second-largest supplier of gold. China may even take over the No.1 slot from South Africa, due to that country's declining production.
In fact, tight supply and $800-an-ounce gold may even lead to some Long-Closed Gold Mines in California Re-Opening, though mining companies have a tough road ahead of them to convince small-town governments and environmental protection groups that it is in their best interests.
Hell hath no fury like a town meeting. Of course, if Gold Prices now seek to recover heights like those of the 1980s, it will be a much easier sell.