How Much Gold Do You Need?
Tuesday, 6/02/2009 10:37
Just how much gold is best in your portfolio mix – a 2% or 20% asset allocation?

THESE DAYS you'd be hard-pressed to miss the ads on television or in newspapers and magazines either touting gold for sale or pitching to buy your scrap jewelry from you, says Brad Zigler at Hard Assets Investors.
Gold Bullion, to put it plainly, is in demand.
There's nothing new about that except perhaps the ever-rising price targets and fever pitch taken by the infomercial gold sellers.
Sensible advisers have long counseled investors to hold at least some part of their portfolios in metal, either as an inflation hedge or as a stabilizer in times of crisis. One such adviser, Roger Nusbaum, declared in a Hard Assets Investor interview recently that he'd put up a 2% portfolio position in gold, saying "It's not a big bet. But I don't think you need big bets to capture the effect."
Well, just how big must your gold bet be to feel an effect? After all, many gold advocates have pitched positions as large as 20%...ten times larger than Nusbaum's...in their recommendations.
We'll keep things simple for comparison's sake, starting with the classic portfolio allocation of 60% equities to 40% fixed income as a control. The S&P Composite 1500 Index can serve as a proxy for the domestic stock market, while the Barclays Capital 10-20 Year US Treasury Index stands in for the fixed-income universe.
60-40
stocks-bonds

Annualized
return (%)
Standard
Deviation (%)
Reward/Risk
3 months
0.81
20.88
0.04
3 years
-1.34
11.46
-0.12
5 years
1.8
9.60
0.19
10 years
2.85
8.69
0.33
14.33 years
7.29
10.62
0.68
Weighted ave.
4.22
10.11
0.42
Over a series of discrete time frames ranging from three months to 14-and-a-quarter years (the length of the data string for the shortest-lived asset class in this study), this simple portfolio generated a time-weighted annualized return of 4.22%. Its risk – otherwise known as standard deviation – gives a reading of 10.11%.
So we can also assign a "grade" to this investment mix, derived from its reward-to-risk ratio – in this case, 0.42. The higher the ratio, the more return is produced for a given level of risk.
Now, to add gold to this portfolio but allow for a fair performance evaluation, we've got to pare down the size of our original asset classes, but maintain their relative weights.
Thus, for any given allocation of gold, the ratio of stocks to bonds ought to be 3-to-2, as in the original 60/40 mix. So a 2% commitment to gold, as advocated by Nusbaum, would mean allocations of 58.8% and 39.2% respectively to stocks and bonds. And having tweaked our portfolio, as shown below, we would have produced historically better performance over everything but the longest time interval, reflecting gold's bullish bent for most of this decade.
2/58.8/39.2
gold/stocks/bonds

Annualized
return (%)

Standard
deviation (%)
Reward/Risk
3 months
1.51
20.29
0.07
3 years
-0.97
11.27
-0.09
5 years
2.29
9.38
0.24
10 years
3.19
8.51
0.37
14.33 years
7.29
10.71
0.68
Weighted ave.
4.43
10.03
0.44
Nusbaum's correct when he says you only need a small allocation to feel gold's effect. You can see how the risk-reward ratio improves.
But of course, a larger dollop of metal is bound to produce a more dramatic outcome. Giving over 20% of one's portfolio to gold, for example, would have cranked up average returns – again, for all but the longest interval – while significantly dampening volatility.
20/48/32
gold/stocks/bonds

Annualized
return (%)

Standard
deviation (%)
Reward/Risk
3 months
7.92
16.72
0.51
3 years
2.20
10.65
0.21
5 years
6.83
8.99
0.74
10 years
5.88
8.69
0.70
14.33 years
7.19
8.24
0.73
Weighted ave.
6.29
9.51
0.67
It should be noted that the performance amelioration seen here is unique to gold and is not attributable to commodities in general.
If we replaced the gold allocation with a serving of the 24-commodity S&P GSCI, overall portfolio performance would, in fact, have worsened over every time period. Most notably, returns in the near-term intervals would have suffered significantly as a consequence of recent sell-offs in futures. Volatility, as a consequence, increased, hitting the portfolio with a double whammy.
The performance differential shouldn't be surprising. Because while gold is positively correlated to commodities in general, the relationship's not particularly strong, even in the long term. And gold's distinguishing characteristic is as a portfolio diversifier.
Over the long run, gold exhibits a rather weak direct relationship with bonds and a neutral-to-inverse connection to stocks. That's not to say that gold can't or doesn't move sympathetically with other asset classes at times. Correlations over the most recent three-year interval, in fact, are significantly higher, symptomatic of a wholesale shedding of assets in recent months.
By and large, no matter what time frame is selected, a hefty gold allocation improved portfolio performance by augmenting returns and/or trimming overall risk. Gold's salutary effect is felt more in the near term as demonstrated in the chart below, largely as the result of the metal's relative buoyancy during recent declines in the commodity markets.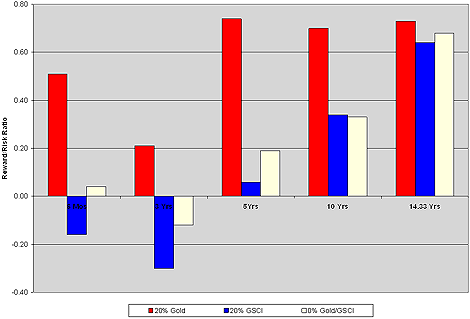 Compared to commodities in general, gold's best performance was turned in over the last five years; in the longest time frame, however, gold's outperformance wanes. That's not surprising when you consider that the longest time interval dates back to 1995, a period when precious metals were still languishing.
This artifact shouldn't be ignored by investors. Given enough time, the effect of mean reversion – the mathematical premise that assumes prices will eventually move toward their average – is bound to be felt in any asset class. The cyclicality in gold's price is manifested in the proximity of the reward-to-risk ratios of the longest-term portfolios.
The impact of mean reversion can be better visualized by regarding the portfolios' returns in the chart below. Note how increasing allocations of gold improve portfolio returns for every time period except the longest term. After a decade, portfolio returns actually decrease marginally as more gold is added.
Still, overall portfolio performance is better with gold, at least as measured by risk-adjusted returns, i.e. reward-to-risk ratios. All this points to gold's inherent value to stock and bond investors as a portfolio diversifier.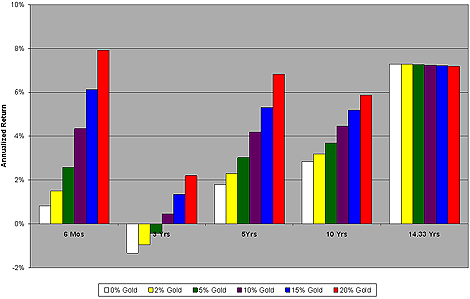 So, how much gold do you need? Is it 2% or 20%?
Well, everyone's different, of course. Let's just say you need enough to get the job done, but not so much that your gold ingots drag your portfolio under water.