Private Gold Trading Hits 8-Month High
Tuesday, 12/02/2014 13:32
Buyers outnumber sellers on Gold Investor Index. But they don't outweigh them as prices fall...
GOLD TRADING by users of BullionVault last month hit the highest level since March, writes Adrian Ash, head of research.
Those people represent the largest single pool of physical gold investors online. So what they choose to do – buy, hold or sell, all at the lowest costs – gives a clear signal of how the wider investing public sees gold right now.
And in November 2014, our data show, the number of people starting or adding to their gold holdings was greater than those cutting or quitting. That's been true for the last 57 months running. But the quantity bought, however, was outweighed by sellers for the first time since April.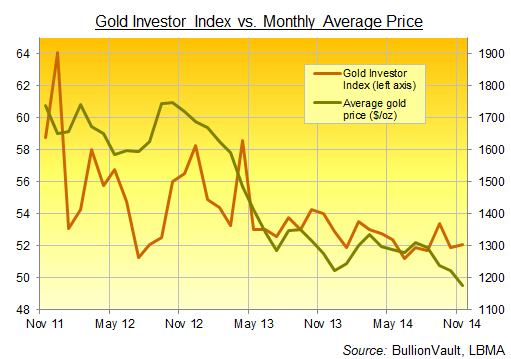 November's fresh price weakness saw the heaviest gold trading since March on BullionVault's peer-to-peer exchange, with a growing number of people buying gold to build financial insurance at lower cost.
That rise saw our Gold Investor Index – which measures the balance of net buyers over net sellers across the month – rise to 52.1 last month from the 51.9 level seen in October.
A reading of 50.0 would signal the number of net buyers matched net sellers exactly. Recording a series peak of 71.1 in September 2011, the Gold Investor Index hit a 4.5-year low at 51.2 this June.
Total client holdings however fell slightly by weight, down one-fifth of a tonne from the record 33.2 tonnes held in September and October for the first drop in 7 months. Because gold selling by a handful of larger, long-standing clients outweighed the quantity bought by newer users.
That net selling by weight was, perhaps, less surprising than the rise in broader sentiment given November's new lows in the gold price. Those lows in turn were driven by the collapse in oil prices and the new record highs in US stock markets.
But while the exit of hot-money funds and traders from the derivatives gold market means lower prices for physical traders, that in fact creates an opportunity for private investors to build a position in gold at lower cost.
Savers in the Eurozone in particular don't share the broader financial markets' complacency. Impending QE from the European Central Bank saw more Eurozone clients buy gold on BullionVault in November than any month since April 2013 – the gold price crash which unleashed a wave of gold trading by investors new to the market.
If you have been thinking about buying gold as financial insurance – a long-term counterweight to the credit, equity and liquidity risks in your other investments – then recent prices offer a compelling discount from the crisis peaks of 2011-2012.