Gold Trading Slumps as 'Buy Bitcoin' Beats 'Buy Gold'
Tuesday, 11/07/2017 09:00
Private investor gold trading fell 1/3rd in October...
GOLD TRADING among private investors slumped last month as internet searches to 'buy Bitcoin' overtook searches for the phrase 'buy gold' worldwide, writes Adrian Ash at BullionVault.
The quantity of gold changing hands on BullionVault – the world's largest online marketplace for physical precious metals, now used by over 69,000 individuals – shrank by almost one third in October from the prior 12-month average, down 31.5%.
Falling prices have typically seen the number of gold buyers rise so far in 2017, but that figure fell 9.7% in October from the month before even as gold prices dropped against all major currencies, while the number of sellers fell harder, down 26.6%.
Together that edged the Gold Investor Index one tick higher from 54.5 in September to 54.6 last month, exactly matching the sentiment index's 1-year average.
This unique measure of sentiment towards physical gold would read 50.0 if the number of buyers and sellers were perfectly equal. It peaked at 71.7 when gold prices set all-time record highs in September 2011.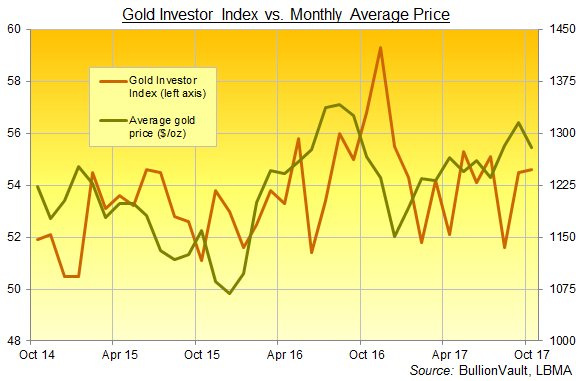 With the US stock market setting fresh all-time highs day after day, it's no surprise gold prices have retreated. Investment insurance is being discounted because equities seem invincible. Brexit isn't worrying the FTSE, and Catalonia's independence crisis has so far failed to dent Europe's bull market.
Some investors are also being distracted by the noise around Bitcoin and other crypto currencies. Altogether that's made interest from new gold investors the weakest since the metal's half-decade price lows of end-2015, just the UK referendum and Trump's election shock helped gold enjoy its strongest annual rise in six years.
Gold priced in Euros
fell 1.4% in October on a daily-average basis, with a drop of 1.8% in Sterling terms and a drop of 2.7% against the US Dollar.
Internet traffic to BullionVault from Spain meantime fell 16% from its prior 12-month average, with the number of first-time Spanish users finishing 39% below the country's previous 12-month average for new precious metals investors.
Worldwide data from Google Trends show the number of internet searches for the phrase "buy Bitcoin" now overtaking "buy gold" after overtaking "buy silver" at New Year.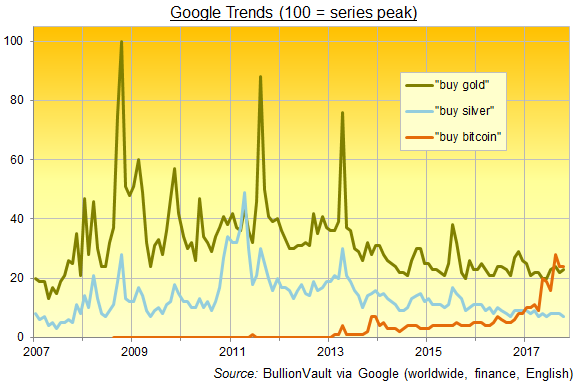 What's signal is that those fewer investors choosing to buy gold have bought larger quantities. That has grown the total amount of gold owned by BullionVault users overall back towards this summer's record high.
While Bitcoin steals financial headlines and clickbait, rising gold demand among larger investors matches the trend reported among some wealth managers and, in Germany, a solid upturn for institutional gold investing.
BullionVault client holdings grew by 208 kilograms in October. The first net addition in three months, that took the total amount of gold now vaulted for clients in specialist London, New York, Singapore, Toronto and Zurich facilities up to 37.9 tonnes, just below the record of 38.1 tonnes reached in July.
Silver holdings, in contrast, stayed unchanged for a second month running in October at a record 689 tonnes. But the number of buyers fell harder than sellers, down 22.1% from September against 16.5% as prices followed gold and dropped against all major currencies.
Together that pushed the Silver Investor Index down from 52.3 to 51.6 in October. Measured since January 2012, it set a series peak of 63.3 in March that year. It has given a reading below 50.0 in each of the last 4 years.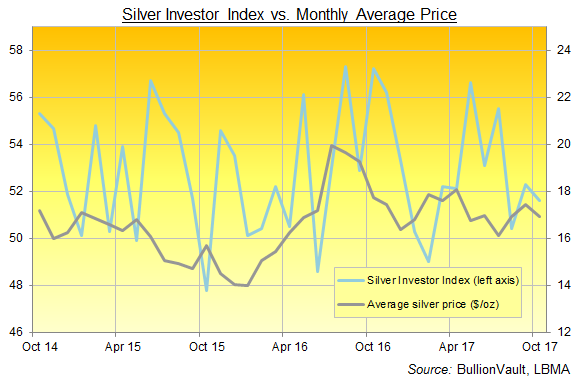 Now holding 56 more tonnes of silver than at this point last year, BullionVault users as a group now show the slowest 12-month pace of silver acquisition since the start of 2016 saw silver prices bottom and turn higher from 6-year lows.
October saw the fewest-ever silver traders as a proportion of existing owners, just below 10%. The proportion of gold investors who bought or sold across the month also fell below 10%, the lowest level since gold prices bottomed at 6-year lows and turned higher in January 2016.
German-listed trust fund products backed by gold have in contrast expanded by 37.4% so far this year,
according to data
from the mining-backed World Gold Council, with analysts pointing to large and "lumpy" inflows as evidence of institutional rather than private investor interest.
Trading volumes in US derivatives contracts referencing the gold price have meantime grown 25.7% year-to-date compared to the first 10 months of 2016
say figures
from the CME Group.