Gold & Silver Investing Strong, Sellers Vanish
Tuesday, 3/03/2015 09:17
Gold Investor Index leaps near 2-year high, positive demand for silver too...
GOLD INVESTING sentiment jumped in February, writes Adrian Ash at BullionVault, surging from a half-decade low to the strongest level since Spring 2013.
That's according to our new Gold Investor Index today. It tracks the number of buyers vs. sellers on BullionVault, the low-cost gold and silver market online. Used by 55,000 people worldwide, it saw
$1.2 billion of metal
(£740m, €920m) exchanged in 2014.
And last month, BullionVault's Gold Investor Index jumped from 50.5 to read 54.5 as the number of people starting or adding to their gold holdings rose, but the number of sellers sank by two-thirds.
A reading of 50.0 would signal a perfect balance of net buyers and net sellers across the month. The Gold Investor Index peaked at 71.7 in September 2011.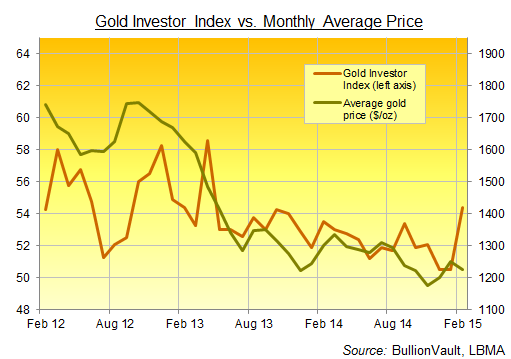 Might this turnaround in sentiment prove long-term? Silver and gold investing continue to be driven by financial risk. Most notably, the risks coming from central-banking's ongoing experiments in money creation and sub-zero rates.
With the European Central Bank now embarking on QE bond purchases, cash inflows from Eurozone users of BullionVault have risen 34% in 2015 to date from the same period last year. Now that Denmark and Sweden have also moved to negative interest rates, the first two months of 2015 saw more new BullionVault users from those two countries than all of 2013 and 2014 combined.
UK savers are also buying gold more heavily ahead of May's General Election and the increasingly likely tumble in Sterling assets. Amongst UK residents – who account for half of BullionVault's client base across 175 countries – the ratio of buyers to sellers leapt from below 1.0 in January to 3.10 last month.
Private investing sentiment towards silver also jumped in February, and also at the fastest pace in 22 months. Rising from a near-record low of 50.1, BullionVault's
Silver Investor Index
hit 54.8 – a greater jump than our Gold series, but only a 4-month high.
Because like silver's price, the balance of people buying over those who sell is much more volatile.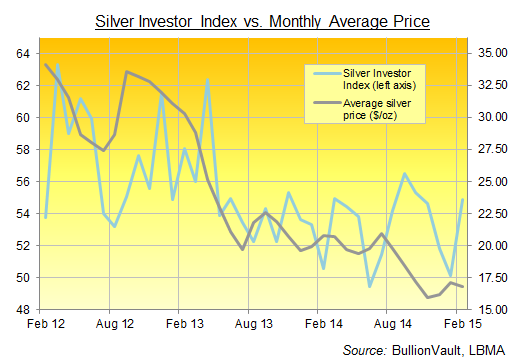 The Silver Investor Index had hit a near-record low in January, and the Gold Investor Index hit a 5-year low either side of New Year.
First that was because buyers turned away. Then sellers used January's sharp spike in prices to take profits, or cut their losses from the previous three years' drop.
February's pullback, in contrast, attracted new investors and deterred fresh selling. By weight in fact, BullionVault users added the most gold in a year last month, buying 0.3 tonnes net to take aggregate client gold property above 33.0 tonnes.
Net investing in silver was also positive by weight, adding 10 tonnes to client holdings – now at a new record of 502 tonnes, all held as professional-grade Good Delivery bars inside specialist vaults.
This jump in precious metals investing sentiment could of course prove temporary. Like the January turnaround in exchange-traded gold trust funds – growing at the
fastest pace since mid-2010
as money managers poured back into the GLD and other such vehicles – this pop in sentiment does come off a very low base. Indeed, February's sudden high in the Gold Investor Index comes just below the series' monthly average of the last six years.
Big turns in the market need sentiment to reach extreme levels first, however. And for now, the lack of interest in gold and silver investing seen over New Year 2015 has switched as quickly as the selling in January evaporated last month.