Investors Backing Industrial Silver, Not Currency Gold
Tuesday, 12/02/2014 15:00
Politics is hitting crude oil and gold prices. Investors are choosing silver instead...
LAST Thursday
,
writes Frank Holmes at US Global Investors
, the Organization of the Petroleum Exporting Countries (Opec) unveiled its decision to keep oil production levels where they've been for the last three years.
This was done "in the interest of restoring market equilibrium," the Opec statement said. Soon after this announcement, Brent and West Texas Intermediate (WTI) crude prices dropped to $72 and $68 per barrel, their lowest levels since May 2010. WTI plunged to a five-year intraday low of $63.
Another significant consequence of Opec's inaction is that the Russian Ruble immediately fell to an all-time low of 49.90 versus the Dollar. Since half of Russia's budget revenue comes from oil and gas exports, Opec's decision to maintain current production levels is likely to hobble the country's already fragile economy even further.
As investors, we've been out of Russia since August, and this economic activity justifies our decision.
Political decisions are impacting precious metals prices too. As expected, Switzerland voted Sunday against having its central bank hold more bullion, resulting in a swift decline. But lending support to falling prices is the Reserve Bank of India's announcement last Thursday that it was lifting gold import curbs ahead of the country's wedding season.
At the same time that spot prices are falling however, more money is being pulled out of gold exchange-traded products (ETPs), suggesting that the market believes this decline to be long-term.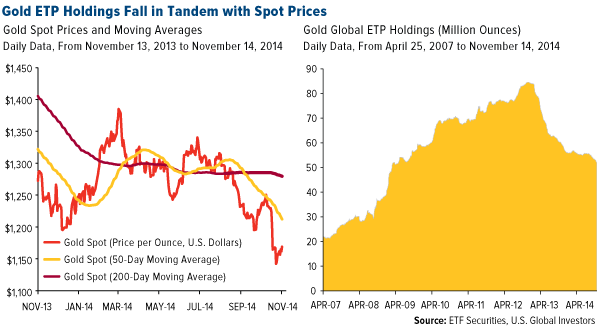 We're seeing the opposite behavior when it comes to platinum, palladium and silver. Even as prices dip, more money is being placed into ETPs.
Although gold has many industrial applications, it's seen more as currency. With the Dollar still very strong, investors might be choosing to keep their wealth in cash instead.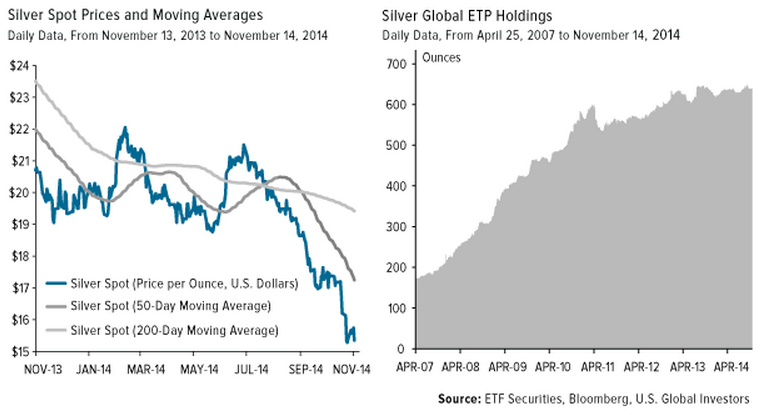 The other metals, on the other hand, have well-known industrial uses – platinum and palladium in automobile production and silver in film, surgical instruments and solar panels.
Some investors might be willing to risk short-term losses for long-term gain.