Gold & Silver Buying Jumps to 3-Year High
Tuesday, 6/07/2016 09:01
Sellers drop 15% as gold and silver investors seize price volatility...
LAST MONTH's volatility in gold and silver prices saw the largest number of private investors buy physical metal in almost 3 years, writes Adrian Ash at BullionVault.
Starting May at 15-month highs in US Dollar terms, both gold and silver prices then fell hard (down 7.0% and 10.1% respectively by month's end) but still recorded the highest monthly averages in well over a year (since August 2014 for gold, and since January 2015 for silver).
Seizing end-May's steep discounts from its earlier highs, the number of investors starting or growing their personal holdings via BullionVault – the
low-cost, award-winning metals exchange
online – hit the highest levels in both gold and silver since the price crash of Spring 2013 ended that June, rising more than 35% compared to the previous 12-month average.
In contrast, the number of private investors selling or reducing their precious metals holdings in May fell 15% against the previous 12-month average, down to the fewest since December 2015 – when gold and silver prices both dropped to new 6-year lows against the US Dollar.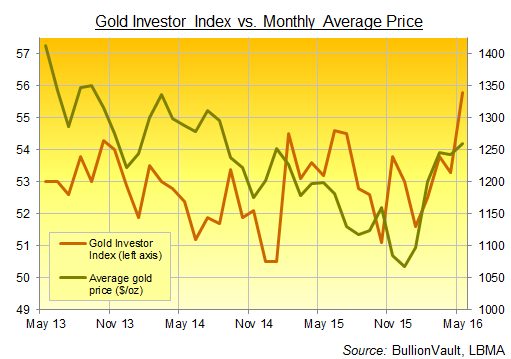 BullionVault's Gold Investor Index measures the balance of investors starting or adding to their holdings over those reducing them. A reading of 50.0 would signal a perfect balance between the number of net buyers and net sellers across the month.
And thanks to that surge in buying and drop in selling, the Gold Investor Index jumped from 53.5 in April to 55.8 in May, the highest level since April 2013.
The Silver Investor Index also rose sharply, reaching an 11-month high of 56.1 from the 50.8 reading given in April.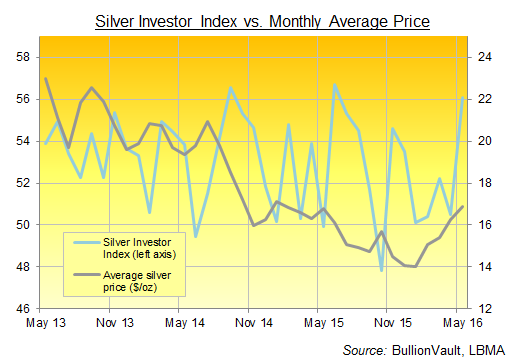 By weight, customers of BullionVault added more than a quarter-tonne of gold. That took
total client holdings to a new record
of more than 35 tonnes, larger than the central bank gold reserves of Peru and all stored in the user's choice of London, New York, Singapore, Toronto or Zurich.
BullionVault users also added 20 tonnes of silver, the heaviest 1-month addition since the 21-tonne record of January 2011, taking total holdings to a new peak of 583 tonnes.
Now demand remains firm amongst BullionVault users as June begins, despite gold and silver prices rallying hard from last week's 3-month lows.
Weak US employment data mean there's
no chance of a June rate rise
from the Federal Reserve, and little chance of a rise in July. Growing fears around what a Brexit vote will do to asset prices in a fortnight's time is also buoying demand for physical gold.
So far in 2016, the number of UK investors starting to use BullionVault for the first time has jumped 59% ahead of January-to-May last year, compared with a 34% rise across our next 9 largest markets overseas.