Gold Up, Stocks Down
Wednesday, 2/24/2016 09:05
Gold's 'fear trade' has come into its own so far in 2016...
In TIMES of economic uncertainty and market turmoil, investors have tended to reposition into so-called "safe haven" assets, including gold and municipal bonds, writes Frank Holmes at US Global Investors.
Today is no exception. With talk of a global recession rattling markets around the world, gold had its best start to the year since 1980, putting to rest last year's speculation that the yellow metal has lost its haven appeal.
Gold is currently up 20% year-to-date, compared to a loss of 10% for the S&P 500 Index, which adds weight to the belief that the metal works well as a diversification instrument.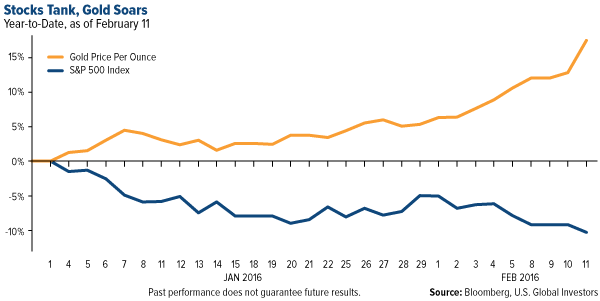 Fears of negative interest rates have also spurred record gold investing and retail buying, as the metal acts as a better store of value in an environment where it costs interest to have the government hold your money.
Negative rates seem to be the new favorite trick of central banks, from Sweden to Switzerland to Japan, and during her Congressional testimony recently, Federal Reserve chair Janet Yellen commented that negative rates in the US "aren't off the table."
Gold shot up $50 by the end of that day.
Demand was robust in 2015, with investment up 8% from the previous year, according to theWorld Gold Council (WGC). Central banks continued to add to their reserves, resulting in the second highest annual demand in the WGC's records. In the fourth quarter, central bank purchases, led by China and Russia, were up an impressive 25% over the same quarter in 2014.
The smart money seems to think this gold rally isn't over. Money managers' net long positions have surged to a three-month high while short bets declined dramatically, according to data from the Commodity Futures Trading Commission (CFTC). And mid-month, billionaire Mark Cuban, owner of the Dallas Mavericks and "Shark Tank" investor, told CNBC that he had just bought "a lot" of call options in gold, saying:
"When traders don't know what to do, they go where everybody is. And I thought that would be gold."
Many investors, sensing additional risk in stocks, are seeking shelter.