Gold vs. S&P 500 Comes Full Circle
Tuesday, 2/09/2016 10:05
Über confidence reset the picture, nullified the lessons of 2008...
A PICTURE is worth 4-plus years and thousands of words, and the picture below has a lot to say, writes Gary Tanashian in his Notes from the Rabbit Hole.
I'll say some words as well, since I have kept them bottled up for years in an effort to make sure we operate with discipline as opposed to "gold bug" style emotion.
The bear market in stocks and subsequent inflation-fueled credit bubble early last decade was when I first started paying close attention to macro markets (as opposed to stock trading, which I had done for a few years prior) and how they operate. Having seen well paid professionals lose half of my IRA in 2002, I took over all of our finances and never looked back.
But I needed to understand how markets worked and that has been a challenging and rewarding endeavor, not to mention an ongoing learning experience.
I use talky charts like the one below because I need to be talked to, or coached. But I need this coaching to be 100% honest and accurate, not the ranting of some biased lunatic who would have me buy in to his world view. The chart below honestly shows exactly what gold did vs. the S&P 500 during the 2007-2009 US crisis, the Euro crisis and subsequently, the aftermath of unprecedented policy interference in financial markets.
Why care about what gold did when measured against the S&P 500 index? Because it is perhaps the best macro signpost I know of when trying to determine what sort of macro phase we are in. Conventional economists and analysts advise riding out the correction, imploring people to remain calm and hold stocks for the long-term, while this chart is opening the prospect of a cyclical change, as in a counter cyclical change.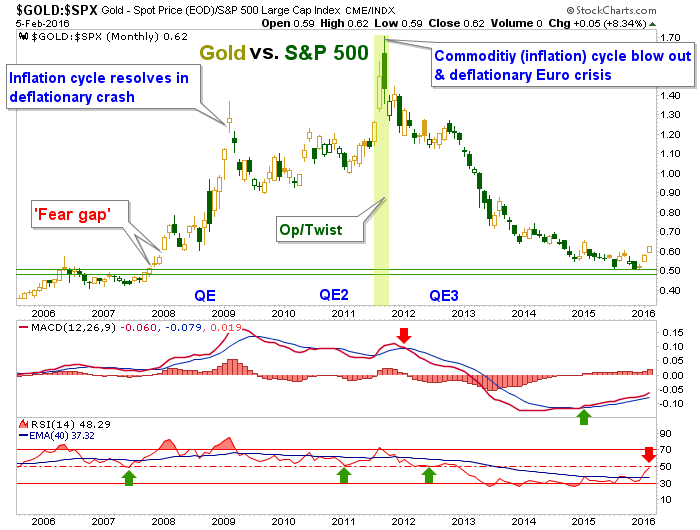 Gold was preeminent as a "risk off" asset during the resolution of the excess. That is the counter-cycle. But the 2007-2009 risk 'off' phase went too far and even a person as negative on the methods used by policy makers as your letter writer had to become bullish in the face of Time Magazine's The New Hard Times headline, complete with a soup line of displaced workers.
The point is not to brag about being a successful contrarian. Honestly, that is how I am wired anyway and it has not always worked to my benefit. For instance, I was unable to get contrary to my own belief system and take significant advantage of the massive stock bull market that I believe was created out of unsound policy.
But I do have the patience of an elephant and I have kept charts like the above, and especially its message, in mind every step of the way. The chart goes on to say that Operation Twist successfully "sanitized" (the Fed's word) inflation signals, just happened to coincide with a global deflationary phase, a 'best of all worlds' Goldilocks phase in the US and best of all, for those revived conventionalists now operating with the public's confidence once again, put risk 'off' gold on the outs.
The chart says gold may be coming back relative to the S&P 500 after an unprecedented phase of über confidence reset the picture and nullified the lessons of 2008 for a vast majority of market participants. We've come full circle.