Franco-Nevada Explained
Tuesday, 1/12/2016 16:29
How gold-mining royalty companies dodge many gold-miner risks...
IN 1983, my friends and early mentors Seymour Schulich and Pierre Lassonde founded Franco-Nevada Mining, the world's first gold royalty company, writes Frank Holmes at US Global Investors.
The two uniquely gifted money managers were on to something big. It was originally Seymour – then an oil analyst at the Canadian investment firm Beutel, Goodman & Company, where he and Pierre met – who recognized that the royalty model used in the oil and gas industry had some of the highest returns on capital.
At the time, no one had applied this business strategy to the precious metals industry. Venture capital was challenging to secure. But with Seymour's fastidious money management and Pierre's vast mining expertise, the two raised $2 million. (That's according to Get Smarter, Seymour's 2011 memoir aimed at mentoring young Canadian professionals, which I highly recommend.)
Fast forward more than 30 years, and Franco-Nevada (TSE:FNV) now has a market cap of over $8.2 billion, making it the world's largest and most successful gold royalty company.
Franco-Nevada was my first initial public offering (IPO) to work on as a young analyst at Toronto-based, boutique investment firm Merit Investment Corp. Even then, I recognized the superiority of the business model. For the next 20 years, until it merged with Normandy Mining and Newmont Mining (NYSE:NEM) in 2002, I watched the company return an average 38% to shareholders annually.
Ever since its second IPO – Newmont spun it off in 2007 – Franco-Nevada's stock has outperformed both gold bullion and global gold miners.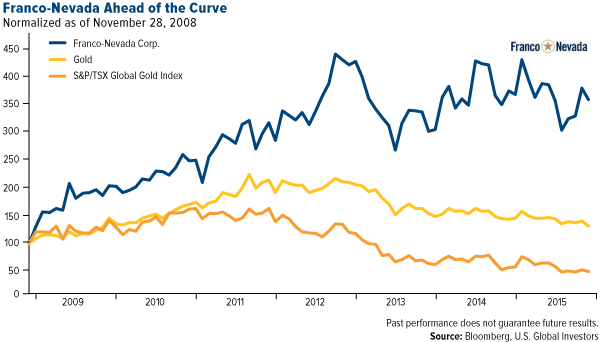 As a refresher, royalty companies basically serve as specialized financiers that help fund cash-strapped producers' exploration and production projects. In return, they receive either royalties on whatever the project produces or rights to a "stream", a commitment to an agreed-upon amount of the commodity per year.
Royalty companies have a history of rewarding their investors handsomely, even during economic downturns. Between 2007 and 2014, Franco-Nevada, Silver Wheaton (TSE:SLW) and Royal Gold (TSE:RGL) – the "Three Amigos" – had a combined dividend growth rate of 14%. Compare that to 5% growth for S&P 500 Index companies and between -3 and 3% for precious metals miners.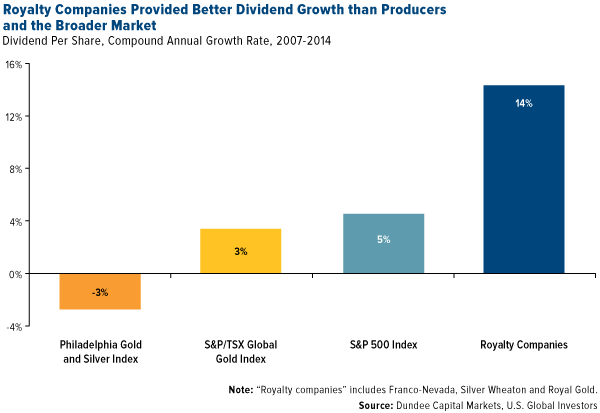 Since 2011, Franco-Nevada has raised its dividend incrementally from $0.04 per share to $0.21 per share – a phenomenal increase of 424%. What's even more amazing is that it's managed to do this even as spot gold has declined 38%.
Like other royalty companies – including the new kid on the block, Osisko Gold Royalties (TSE:OSK) – Franco-Nevada has a much lower total cash cost than miners do. Dundee Capital Markets estimates that whereas gold miners produce at a breakeven cost of $1087 per ounce, royalty companies get by with a materially lower cost of just $441 per ounce.
They're just better allocators of capital and very aware of the risks of dilution and value factors on a per share basis. The mining companies, on the other hand, have diluted the value of their reserves and cash flow on a per share basis with poor acquisitions.
Take a look at how Franco-Nevada, Silver Wheaton and Royal Gold stack up against Newmont, the only gold company in the S&P 500 Index, and Goldman Sachs (NYSE:GS). When it comes to sales per employee, the royalty companies largely win out. Their balance sheets are also much less leveraged. Franco-Nevada, in fact, carries no outstanding debt. This helps eliminate many of the investment risks faced by operators such as Newmont, which typically have huge capital and operating costs.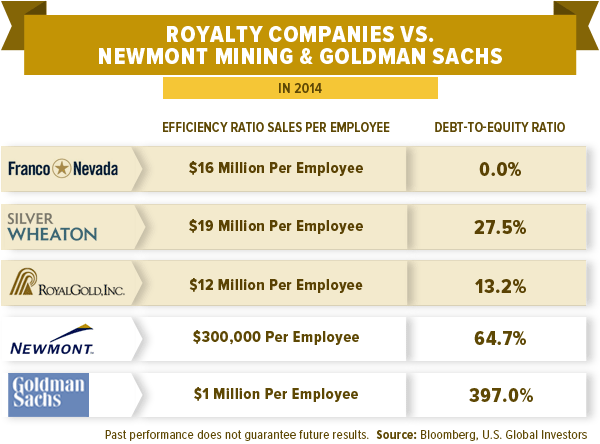 Another big value is the power of optionality. Royalty companies get an option on all future exploration and potential growth at no additional cost. In other words, mineral deposits are very often larger than what a royalty company pays for.
Explains USGI portfolio manager and precious metals expert Ralph Aldis:
"The transaction price is largely determined by known reserves on the resource statement, as the royalty company is not going to pay a premium for undiscovered ounces. However, the mining company is always incentivized to find more ounces, thus deferring the closing costs of the mine, which is beneficial to both parties."
This is what's known as "blue sky". At the time of the deal, only the documented reserves and some portion of the defined resources are generally part of the valuation proposition. However, as time passes, the company will explore for new resources on the property. If anything is found, the royalty company will generally get paid for any future ounces, with some limitations.
Royalty companies avoid many of the industry's most common challenges, including huge operating expenses, unions, liabilities and legal hurdles. They don't build the mine's infrastructure, experience capital cost inflation or have teams of miners and other personnel on their payrolls. (Franco-Nevada currently has fewer than 30 employees. Newmont, by comparison, has around 28,000.) They're not responsible for cost overruns or maintenance.
Nor must they worry about mining in a country that operates under a completely different legal system.
The US, Canada and Australia, home to some of the world's largest mining companies, all follow common law. Yet many American, Canadian and Australian companies produce in civil law countries found mostly in Latin America and parts of Africa.
In civil law countries, the government has eminent domain over all mineral wealth of the country. Securing rights and permits is therefore much more bureacratic and arduous, and at any time, the government can attempt to revoke them. Surface rights and subsoil rights are often governed by entirely different sets of laws. And although they've improved since the 1980s, mining duties, income taxes and tax royalties still tend to be steep and unstable.
When gold soared to $1900 per ounce in 2011, many producers, expecting the good times to last, spent like crazy. The royalty companies, meanwhile, prudently kept their powder dry and built up their cash. Now that gold is hovering in the $1085 range, down 38% since the all-time high, they've started deploying their massive reserves to buy streams from desperate sellers.
Franco-Nevada, for instance, recently agreed to pay $610 million for a portion of silver production from Teck Resources' Antamina copper and zinc mine in Peru.
Many analysts call Franco-Nevada and the other two major royalty companies the "smart money" of the gold industry. I have to agree. They have huge intellectual capital and employ mining engineers, metallurgists, geologists and financial consultants. They've acted as bellwethers in the past, giving investors a good reading of where prices and sentiment could be headed.
Such is the case right now.
Investment dealer Paradigm Capital reports that the top three royalty companies have spent a collective $3.8 billion over the past half year of 2015.
"We doubt there has ever been such a spending period," the investment group writes, noting that when you see this level of investing, it's often a good sign of a bottom in prices.