Gold's Record Q1 Demand
Monday, 5/16/2016 09:05
Gold demand just had its strongest-ever first quarter on one analysis...
THIS YEAR's first quarter was one for the history books, writes Frank Holmes, CEO and Chief Investment Officer at US Global Investors.
Not only did gold appreciate at its fastest pace in 30 years, but demand for the yellow metal was almost the strongest it's ever been on record.
Let me repeat that: almost the strongest ever.
Demand surged 21% from the same period a year ago, according to the latest World Gold Council (WGC) report. Most of this demand was driven by investment, with net inflows into gold ETFs reaching 363.7 tonnes, a seven-year high.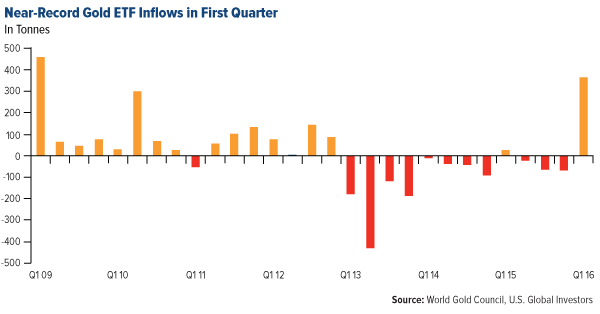 Meanwhile, demand for bars and coins shot up 55% year-over-year, from 11.8 tonnes to 18.3 tonnes. Appetite for American Eagle coins jumped 68%.
Uncertainty over the world economy, not to mention central bank policy, continues to act as a major catalyst for demand, heating up the Fear Trade. With many countries currently locked in a global race to see who can devalue their currencies the fastest, investors are seeking better, more reliable stores of value, and gold is happy to oblige.
This was the message shared by Wayne Allyn Root, the "Capitalist Evangelist", whose presentation I had the pleasure to see at the MoneyShow last week in Las Vegas.
The week before last I said I would be speaking at the event, which was founded in 1981 by my dear friend Kim Githler, and I had no idea how popular Root really was. A businessman, politician and author, Root was the vice presidential candidate for the Libertarian party in 2008 and this year endorsed Donald Trump for president. At the MoneyShow, he packed the room with 1,400 people.
Whole crowds turned out to hear him sermonize on entrepreneurship, individual rights and the importance of owning tangible assets such as precious metals and rare coins as a hedge against inflation and today's uncertain financial markets. Owning gold, he said, is no longer a luxury but a necessity.
One of Root's most interesting data points is just how much purchasing power the Dollar has lost since 1913, the year the Federal Reserve was created: A million Dollars then is worth about $25,000 today. Gold, on the other hand, has not only held its value but appreciated. One million Dollars in gold in 1913 would now be worth more than $60 million.
Other huge names that presented at the MoneyShow included Gary Shilling, Art Laffer and Craig Johnson, a Piper Jaffray CFA and President of the Market Technicians Association. I had an enjoyable dinner with Craig, who called the current rally a "FOMO" rally. (I only recently learned, from my niece, that FOMO stands for "fear of missing out" and is widely used on social media.)
Another illuminating presentation I'd like to mention was conducted by IBD's Amy Smith, who convincingly spoke on how the 2016 elections might change the stock market. The most actionable takeaway was that most blue chip stocks have typically done well no matter who occupies the White House, confirming my own attitude that, at the end of the day, it's the policies that matter, not the party. The most compelling example she used was Netflix, whose stock has been a steady climber throughout both Bush 43 and Obama's presidencies.
A reasonable, well-positioned portfolio, then, consists of strong, entrepreneurial names; gold (I always recommend a 10% weighting: 5% in gold stocks, 5% in physical bullion); and short-term, tax-free municipal bonds, which have historically done well even in times of economic turmoil, such as the tech bubble and the financial crisis.
The smart money is indeed flowing into gold right now. Earlier this month I shared with you the fact that hedge fund manager Stanley Drukenmiller, notable for having one of the best money management track records in history, cited gold as being his family office fund's number one allocation.
Druckenmiller is joined by billionaire Paul Singer, whose hedge fund oversees $28 billion. In his letter to clients last month, Singer wrote: "It makes a great deal of sense to own gold...Investors have increasingly started processing the fact that the world's central bankers are completely focused on debasing their currencies."
About a third of global debt right now comes with a negative yield.
Elsewhere in the letter, Singer suggested that gold's phenomenal first quarter, in which the metal rose 16.5%, is "just the beginning." Further loss of confidence in central bankers' ability to jumpstart growth could take the metal even higher.
This is the assessment of Paradigm Capital, who wrote in a recent report that "a standard gold price rally, a percentage exceeded or achieved in four of five major upcycles since 1976, would take us to around $1800 ounces over the next three to four years."