Gold Prices 'Struggle' Despite Inflation as Rate-Hike Bets Rise Post-Trump, India 'in Jeopardy'
Tuesday, 11/22/2016 13:35
GOLD PRICES touched a 3-session high of $1221 per ounce early in Asian trade Tuesday, recovering three-quarters of last week's 1.6% drop before easing back as world stock markets extended their gains and bond prices slipped again, nudging interest rates higher.
Ten-year US Treasury bond yields held around 2016's new highs at 2.30%, but commodity prices also rose with gold.
Silver extended its recovery from Friday's 23-week closing low to 1.9% with a pop to $16.88 per ounce.
Gold prices have now dropped $50 per ounce – some 4% – from this time last month, while the
S&P500 index
of US-listed shares has gained 2.7% to reach fresh all-time record highs.
Ten-year US Treasury bond yields have meantime jumped 0.56 percentage points, the fastest rise since the 'Taper Tantrum' of mid-2013, when gold prices ended what proved their hardest drop in three decades.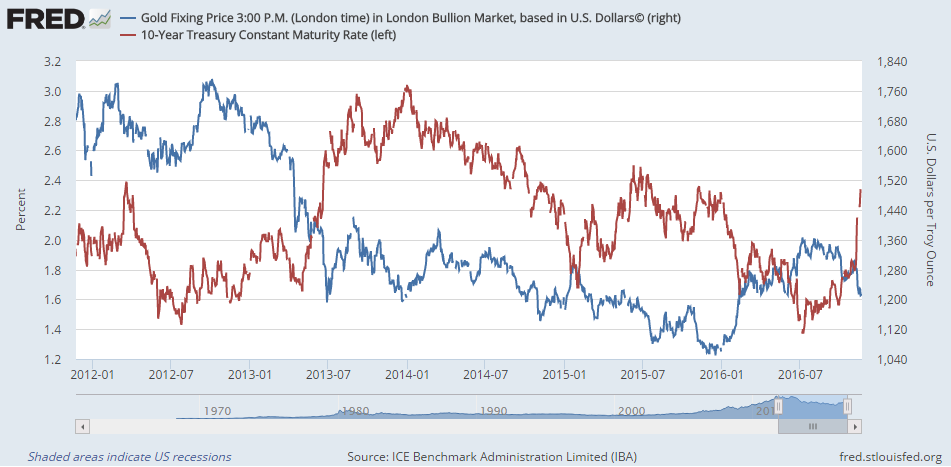 "We still expect gold to struggle against a host of bearish elements that remain arrayed against it, including a stronger Dollar, soaring equity markets and the prospect of further rate hikes that could follow the widely-expected increase slated for next month," says brokerage INTL FC Stone's analyst Edward Meir.
From there, betting on those CME contracts now puts the likelihood of a further hike to a ceiling of 1.00% – the third rise since the Fed finally ended years of its zero interest-rate policy in December 2015 – at stronger than 1-in-2 as soon as June 2017.
With fund manager Steve Russell at the £18 billion private wealth manager Ruffer now forecasting 10% annual inflation in the UK within 5 years, UK finance professionals' site
CityWire today asks 8 wealth managers
for their 'inflation protection' strategy.
Only 1 mentions gold.
"Donald Trump's victory could be a game changer [to] please investors holding index-linked bonds," says a new note from French investment and bullion bank Natixis' analyst René Defossez.
"Merely implementing some or all of his tax reforms or his infrastructure plan would be sufficient to boost inflation in a significant way...[and] as a rule, isolationist measures (closing borders, introducing customs tariffs, etc.) are very inflationist."
The quantity of gold needed to back the SPDR Gold Trust (NYSEArca:GLD) – the world's largest gold ETF – dropped to 908 tonnes on Monday, the lowest level since the week of the UK's Brexit referendum on quitting the European Union in June.
Shrinking for the 8th consecutive session, that marked
the GLD's longest stretch
of shareholder liquidation since mid-November 2015, when gold prices were heading to new 6-year lows beneath $1090 per ounce.
"The demonetisation drive has [bank] cashiers 'weeping' [with] 'high level of stress'," says union the All India Bank Employee Association amid the dash to convert the useless high-value notes into other denominations before next month's final deadline.
"Cash is like blood throughout the economy and if you suck out 85%...that person will collapse," News18 quotes retired economics professor Arun Kumar – a specialist in the black economy, trans-national organized crime, and illegal currency flows.
"The rationale behind demonetisation was to strike at the roots of black money. But cash is a tiny fraction of India's domestic black economy, not more than 2-3%" compared with real estate, gold, tradable assets such as stocks and shares, and off-shore accounts.