Gold Prices 'Crazy' at 5-Year High as Fed Turns 'Impatient' on Cutting Rates
Thursday, 6/20/2019 14:13
GOLD PRICES held near this week's sudden multi-year highs in all major currencies on Thursday after the Dollar-gold price broke to its highest since March 2014 following yesterday's dovish comments from the US Federal Reserve.
Gold priced in the Dollar held above $1380 per ounce after jumping through last week's top at $1358 to reach a 5-year high of $1386 on the Fed's announcement.
Betting also leapt that the Fed will
cut US rates by half-a-point
at its next meeting in 6 weeks' time, rather than by 0.25, putting a 1-in-3 shot on July ending with US rates below 2.00% – up from 1-in-100 this time last month.
Dropping the word "patient" from
the policy statement
, "Many participants now see the case for somewhat more accommodative policy has strengthened," said Fed chair Jerome Powell at Wednesday's press conference.
"[But] the market and the Fed are still out of sync," notes columnist John Authers at Bloomberg, pointing to how the US central bank's updated forecasts "suggest zero chance of a US recession.
"Investors are looking very greedy."
"Macro [fund] demand was responsible for the final push above $1360," says a gold price trading note from Swiss refiners and finance group MKS Pamp, "with some moderate retail offers on the way up."
"Crazy market thus far this morning for gold – capitalising on the Fed dovishness and continuing higher in explosive fashion."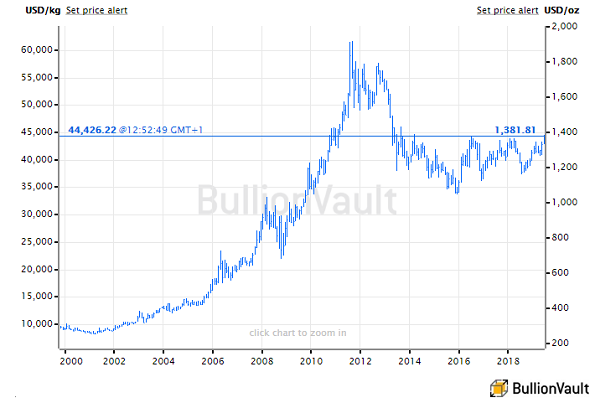 S&P500 futures pointed over 1.0% higher ahead of Thursday's open, while Treasury prices rose again, pushing 10-year yields below 2.0% per annum.
December gold futures jumped to touch $1410 overnight before retreating to $1395, still showing a 5.5% gain for this month so far.
The price of December 2019 call options betting on $1400 meantime jumped by 69%
Gold-backed ETFs in contrast have seen barely any new investor interest, with only 1 of the 7 largest North America-listed gold-backed ETFs expanding so far this week.
While the iShares product (NYSEArca: IAU) swelled by 1.1%, the giant SPDR trust (NYSEArca: GLD) remains unchanged along with the Sprott, Aberdeen Standard, mini-GLD and GraniteShares funds.
European government bonds also rose again on Thursday, pushing long-term interest rates lower after the Bank of England capped this week's raft of major central-bank announcements with its own dovish outlook for UK borrowing costs.
After the European Central Bank signalled new stimulus ahead on Tuesday, the Bank of Japan today
maintained its "ultraloose" stance
of negative rates and unlimited QE at today's meeting, with 2 of the Board's 9 members voted for more monetary stimulus in the world's No.3 economy.
The Bank of England then defied forecasts that it would signal UK rate hikes ahead, slashing its growth forecast and voting unanimously to hold rates unchanged at 0.75%.
"After growing by 0.5% in 2019 Q1, GDP is now expected to be flat in Q2,"
said the BoE
, blaming volatility in UK data on "Brexit-related effects on financial markets and businesses."