'Fatigue' Hits Gold Price as Crude Oil 'Loses Risk Premium'
Monday, 11/06/2023 14:35
GOLD PRICES slipped on Monday as better risk sentiment following 'the end' of US Fed interest-rate rises buoyed global stock markets despite the worsening conflict between Israel and Hamas in Gaza, while crude oil rallied after erasing all its gains since the 7th October attack, writes Atsuko Whitehouse at BullionVault.
European equity bourses steadied after posting their biggest weekly jump since March last week and US equity futures were slightly higher, looking to extend New York's best week of 2023 to date after Friday's soft US jobs report was seen to have
confirmed expectations that the Fed may be done
with its rate hiking campaign.
"The gold price had a muted reaction to the FOMC meeting following the recent $200 rally which peaked above $2000 per ounce," says German bullion refining group Heraeus in a market note produced by analysts SFA Oxford.
"[That is] suggesting there is some fatigue in the gold market after being supported by safe-haven demand on the conflict in the Middle East."
Gold prices in the US Dollar edged 0.4% lower to $1985 per Troy ounce Monday after registering the first weekly decline since the Middle East Conflict began, but the yellow metal still holds over 8% gains since then.
Oil prices meanwhile rose on Monday, with Brent and West Texas Intermediate crude futures reversing half of Friday's 2% drop – which took oil back to its pre-Hamas attack level – after major suppliers Saudi Arabia and Russia said they will maintain their ongoing output reductions until the end of the year.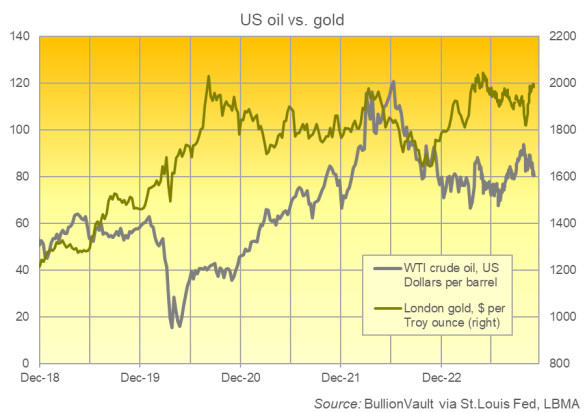 "The risk premium [on crude oil] associated with the geopolitical backdrop has completely vanished after two weeks of volatile prices," said Daniel Hynes, Senior Commodity Strategist at Australasian bank ANZ over the weekend, pointing to Friday's price drop after Hassan Nasrallah, Secretary General of the Iran-backed militant group Hezbollah,
denied that Iran is leading
or co-ordinating any attacks on Israel.
Looking at the daily correlation between gold and key macro assets, "Gold's correlation with oil (its geopolitical sister) is strengthening while it's decorrelating with US real rates & US Dollar," says Nicky Shiels, head of metals strategy at Swiss bullion refining and finance group MKS Pamp.
The real interest rate implied by inflation-protected 10-year US TIPS bonds today edged up from the 6-week lows of 2.2% recorded last session.
The Dollar index – a measure of the US currency's value versus its major peers – meanwhile fell further on Monday to its lowest since mid-September.
The briefly positive correlation between gold and the US Dollar Index has also weakened since the current Middle East conflict began, turning negative in November so far on a rolling 22-day basis.
Interest-rate traders are now pricing in a 90% change that the US central bank will leave its key policy rate unchanged at the Fed's December meeting, little changed from Friday's positioning, with the market putting an 80% chance on the first policy-rate cut now coming as soon as June according to derivative exchange
the CME's FedWatch tool
.
Gold priced in both Euros and the UK Pound meantime fell 0.5% to 2-week lows Monday, trading at €1848 and dipping below £1600 per Troy ounce after recording the first weekly declines in a month.
Prices for silver
, primarily an industrial metal, edged 0.3% lower to $23.15 per ounce.
With US Secretary of State Antony Blinken visiting Israel on Friday, Jordan on Saturday and Iraq and Turkey on Sunday to discuss the Hamas-Israel conflict in Gaza, US Central Command – which covers the Middle East – says a US Navy
nuclear missile submarine has arrived
in the region, adding to the 2 aircraft carrier strike groups already there.