Gold Price Correction
Friday, 8/21/2020 09:01
Had to come after 9 weeks' gain...
I BELIEVE
gold and silver are just getting started,
writes Frank Holmes at US Global Investors.
The price of gold had its first down week since early June last week, ending a spectacular nine-week rally, the likes of which we haven't seen since 2006.
The yellow metal briefly fell below $1900 an ounce as stocks neared their all-time closing high and the 10-year Treasury yield jumped on record supply of new debt from Washington.
Wednesday's $38 billion auction of 10-year government bonds was the largest in US history.
Before the resulting drop in gold prices, the metal was looking overbought at more than two standard deviations, so a short-term correction was to be expected.
It's important to keep in mind though that the metal's long-term drivers remain intact. We have unprecedented monetary and fiscal stimulus, with more potentially on the way. There's still trillions of Dollars' worth of global government debt trading with a negative yield.
Despite the correction, gold continues to trade in a golden cross. That's when the average price for the past 50 trading days is above the average price for the past 200 trading days, and it's typically seen as a bullish signal. The current golden cross has been in place for more than 18 months now.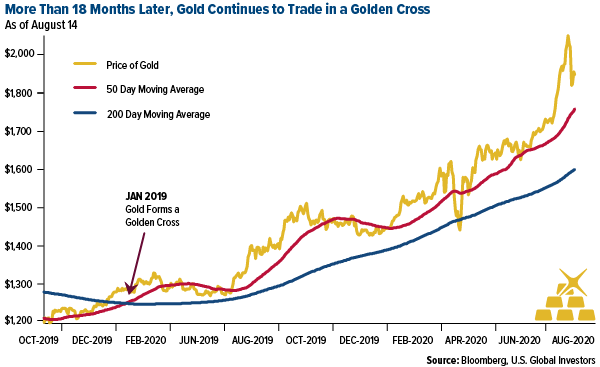 I believe the one factor that's missing from this bull run is inflation. Since the financial crisis, we really haven't seen a significant change in consumer prices, if we're using the Bureau of Labor Statistics' (BLS) gauge.
We may be on the verge of a new inflationary period, however, based on the latest report by the BLS. On a month-over-month basis, core inflation – that's inflation on all items excluding volatile food and energy prices – rose 0.6 percent in July. That may not sound like much, but it's the biggest such increase since 1991.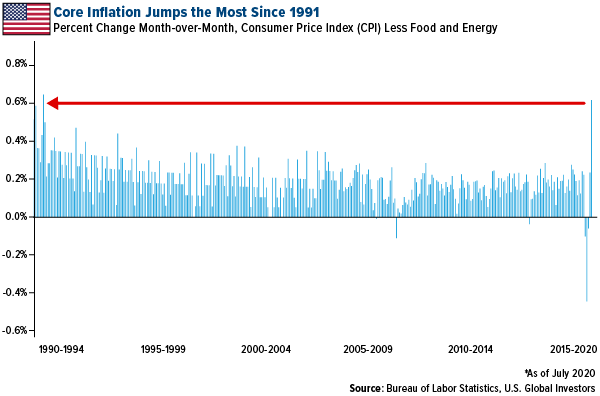 According to the Bureau, the monthly change was led by a sharp rise in auto insurance prices. Other increases were seen in shelter, communication, medical care and used cars and trucks.
Historically, inflation has been constructive for the gold price. As the purchasing power of the Dollar falls, savers and investors may seek other, more reliable stores of value, including the yellow metal.