Gold Prices Regain 'Key' 200-Day Moving Average After Weak US Jobs Data
Friday, 10/07/2016 13:55
GOLD PRICED in US Dollars rose Friday back above its 200-day moving average – a 'key' technical level according to several analysts – after new US jobs data came in weaker than expected.
Gold prices rallied to $1261 following the news, $10 above the 4-month low hit as Asian trading began overnight with China still shut for the end of its National Day holiday week.
China's
Shanghai Gold Exchange
will re-open Monday to find Dollar gold prices almost 5% below Friday last week.
The average of gold's previous 200 days proved solid support for the 125% gain from late 2008 to autumn 2011.
It then capped gold's rallies during the last 12 months of its 45% bear market from 2011 to end-2015.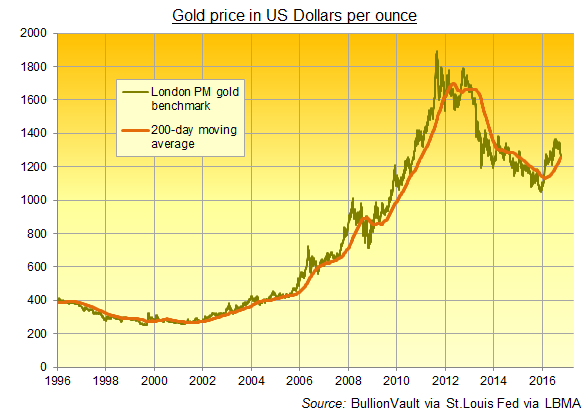 "Needless to say, our forecasts are currently under review," says Dutch bank ABN Amro's latest precious metals analysis, having
turned bullish
in February (when prices had gained 15% from December's 6-year low) and then raising its price forecasts again in July (when prices hit a 2-year peak at $1375).
"[While] we expect the long-term uptrends to remain in place...gold prices need to bottom out around $1257 and silver prices around $17.10 per ounce, where the 200-day moving averages come in.
"If gold and silver prices break below these levels, this year's uptrend is over."
"Next major support is evident at $1258 per ounce," agrees precious metals analyst Robin Bhar at French investment and bullion market-making bank Societe Generale in London – "the location of the influential 200-day moving average.
"Should this level be broken then this year's uptrend could be in danger of unravelling."
But "key will be whether this sell-off prompts bargain hunting and unleashes pent-up physical demand," Bhar says, adding that while India's festival and wedding season – peaking with Diwali at the end of October – will come after a slump in year-to-date demand, it also comes after an "above average" monsoon, likely boosting rural incomes.
"A lower gold price in Indian Rupee terms should also boost demand...[already] evidenced by a much narrower discount to [London wholesale] prices of $1-2 per ounce, compared with a [domestic Indian] discount as high as $75 in July."
"Our recent visit to the trade fair in Delhi," said this week's precious metals note from specialist consultancy Metals Focus, "suggested a level of optimism for the remainder of this year."
Rising consumer and investor demand will likely cushion gold's fall, says a new note from US investment bank and bullion market-maker Goldman Sachs' commodities chief Jeff Currie.
"We would view a sell-off substantially below $1250 as a strategic buying opportunity."
Gold priced in Sterling meantime spiked more than 5% higher overnight as the Pound spiked down to fresh three-decade lows on the FX market at the start of Asian trading.
Hitting £1048 per ounce,
gold priced in GBP
then retreated but held above £1015 per ounce to show a small gain for the week and a 17% gain from June 23rd, Brexit Eve.