Gold Selling Jumps on Best Price Move Since 2012
Tuesday, 3/01/2016 11:07
New gold investment buyers doubled in February, but so did sellers on price jump...
GOLD PRICES track what money managers are doing above anyone else, writes Adrian Ash at BullionVault. And February saw a big jump in new allocations from funds and other big investors.
Shares issued in gold-backed ETF trust funds last month rose the fastest in 6 years. Speculative traders playing US gold futures and options
grew their net betting four-fold
.
Result? Gold prices gained 11% – the fastest 1-month rise versus the Dollar since early 2012.
The number of new buyers also doubled amongst private investors in the West. But the number of sellers grew just as fast.
That's because the price jump gave existing owners the chance to cut losses – or take profits –
after gold fell to 6-year lows
at the end of 2015, down 45% from its September 2011 peak.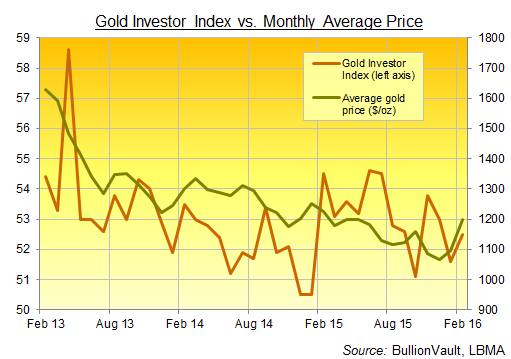 The number of new users on BullionVault, the world's largest physical exchange for private gold and silver investors, rose 110% in February from the previous 12 months' average, reaching the highest monthly total since the price crash of April 2013.
But the number of gold sellers also rose, zooming 108% as existing investors took their chance to sell.
That capped the Gold Investor Index at 52.5, higher from January's 51.6 but below the 53.1 average reading of last year.
A reading of 50.0 on this sentiment index would signal a perfect balance between the number of people starting or adding to their gold bullion holdings with those cutting or quitting. The Gold Investor Index peaked at 71.7 in September 2011, and hit 5-year lows at 50.5 around New Year 2015.
Why the muted response from private investors? Gold prices hit 12-month highs in February against the US currency. The metal hit 10-month highs against the Euro and 2.5-year highs against the British Pound.
On its monthly average in fact, gold's Dollar gain of 9.3% in February was the strongest since it shot to its peak in August 2011, beaten by only 8 months in the last three decades.
But while a fast-growing number of private investors began buying gold as insurance (and rightly so.
Diversifying with gold makes sense
), a similar number used February's sharp price rise to reduce or exit their physical position in gold bullion.
Indeed, client gold holdings by weight overall shrank 0.4% from January's new record high, easing to 34.4 tonnes.
That contrasts with exchange-traded trust funds, where the largest gold-backed ETF – the SPDR Gold Trust (NYSEArca:GLD) – grew by 13%, its fastest expansion since March 2009.
It also contrasts with silver, where BullionVault users as a whole grew their holdings by 0.2% to a new record above 548 tonnes.
Like gold, the Silver Investor Index edged higher, but it crept only from 50.1 in January to 50.5 last month, still signalling a near balance of net buyers with sellers and coming below the 52.8 average of 2015.
Because silver's less dramatic rise still gave existing owners the opportunity to take profits or cut losses – as prices extended their recovery after the New Year's 72% drop from the peak of 2011.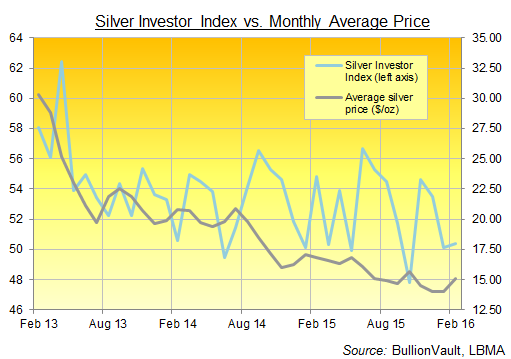 Buying gold or silver for investment only makes sense if you're ready and able to take advantage of price gains. The ability to sell quickly, for full value, is something many new gold and silver investors forget when they first buy. Without researching their choices, some
buy gold coins and small bars without checking costs
or asking how difficult and costly they will prove to liquidate.
What published prices there are for re-selling gold coins show it can be hard to turn a profit, even from popular coins, and even when prices rise sharply. Owning vaulted bullion, on the other hand, in a form readily accepted by the wholesale 'spot' market, can cut the cost and hassle of dealing dramatically.
So yes, a fast-growing number of private investors began buying investment gold during February's price jump. But it also gave existing investors the chance to take profit or cut losses. So long as they owned the right form of gold, ready to sell, in the first place.